Not long ago, wakeboarding meant hooking up a trailer, spending a small fortune gassing up a boat, hauling it to a lake, and then taking turns pulling riders around the busy, bumpy water.


Boats are old-school, yo.
"I had a boat, but I chose this," said John Deere, an employee at Fort Worth's first wakeboard cable park. "You can get a season pass at Cowtown WakePark for less than the price of one boat payment."
He and other new employees spent a recent afternoon being pulled around a man-made pond on cables and ropes, testing out new equipment imported from Germany. Deere was the most adept at using the cables and arm strength to launch himself 10 feet in the air, do flips, and land on his feet.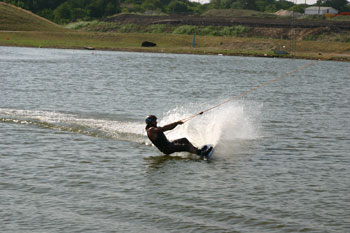 Cowtown WakePark debuts this Sunday with the Liquid Force Free For All, including free rides, refreshments, and giveaways. The park is at 1301 E. Northside Dr., just north of downtown on the Trinity River. The park will make Fort Worth a leader in what is quickly becoming a trendy urban water sport. So far, a dozen wakeboard cable parks are open in the United States, and Texas boasts four of them. Deere has worked at three of the four.
"This one's got a great location and is going to introduce thousands of new people to wakeboarding," he said.
About 25 miles southwest of Fort Worth, Jack Farr opened WakeSport Ranch a year ago in Cresson. It was North Texas' first wakeboarding cable park. He expects another 100 or so parks to open across the country in the next decade. And he's planning to be the one providing parks with his newly designed cable system. He says it will sell for about half the price of the German model currently in use in other parks and require far less maintenance.
Farr's pioneering ways owe more to a chance meeting than anything else. It happened when he stepped into Innov8 Action Sports in Granbury a couple of years ago to buy his daughter a slalom ski. Storeowner Jeff Baker had other ideas.
"Jeff said, 'No, you should get her a wakeboard,' " Farr recalled.
Farr then described his idea to build a private lake for boats and skiers next to his innovative Motorsport Ranch in Cresson, the country's first sports car country club.
"Jeff said, 'No, you need a cable wakeboard park,' " Farr said. "As it turns out, slalom skiing is old hat."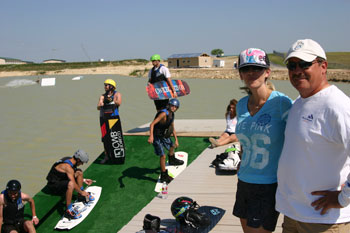 Baker is now managing the cable park, for a sport that he considers cheaper, safer, and more fun than skiing on public lakes. The cable can pull a handful of riders at once, and it doesn't have to be stopped to add or remove riders.
"Skiing is one-dimensional compared to wakeboarding," he said. "This opens the sport to a whole new generation."
That new generation was out in force on a recent Friday afternoon. At a time when a faltering economy and rising gas prices make it tough for many people to afford running a boat on a local lake, WakeSport Ranch was packed. All of Farr's wakeboards and gear were rented out, and young men and women zoomed around the pond, showing off tricks and jumping over ramps.
"I'm glad we've got parks in Fort Worth and Allen now," Farr said. "We can have a dozen parks here [in North Texas] and still be busy."
The German-made cable system, however, leaves much to be desired — at least according to the do-it-yourself Farr. Most cable parks, including about 75 in Germany, rely on the system that German engineer Bruno Rixen designed 50 years ago. But the Rixen system can cost hundreds of thousands of dollars to purchase, deliver, and install. Farr complained of frequent maintenance needs. His frustration in dealing with the German company and battling maintenance and service issues got him to thinking. If other cable park operators were having similar problems, maybe they would jump at the chance to buy a cheaper, better, American-made version.
He formed WakeTronics to manufacture his patented cable system, which he is currently testing on his Cresson property. By the end of the summer, he expects to replace the German system at WakeSport Ranch with his own model. Already he's marketing his system to potential cable park owners and said he's received four orders. His system will sell for about $250,000 — far less than the $400,000 he spent on his Rixen, he said.
Tommy Fambrough at Cowtown WakePark said he's happy with his Rixen system and reported no problems with service or maintenance. "I'm going with the system that's been around since 1959," he said. "There are parks all over the world, and nobody has any trouble."
He's been dreaming about opening a wakeboard park for three years. The longtime wakeboarding enthusiast decided his hometown of Fort Worth would make the perfect spot, and he is now leasing land from the Tarrant Regional Water District in what is expected to become the Trinity River Vision development project. Like most other cable parks, Cowtown WakePark consists of a small lake with an island in the middle to break up the waves created by the numerous riders whizzing around the water simultaneously.
"I've been a competitive wakeboarder even since wakeboarding started" in the late 1980s, Fambrough said. "In this country, the whole cable wakeboard scene is pretty new. I wanted to put one in. Most of the cables in the United States are in the counties away from the cities. I wanted something in the middle of the city with easy access."
The berms surrounding Cowtown WakePark's pond help to block the wind, making for smoother rides. And the height of his cable towers give riders "lift," meaning they can "go bigger and get higher off the water while they're riding," he said.
Farr's pond in Cresson is fed by two water wells and rain runoff. Cowtown Wakepark relies on Trinity River water, which is considered dirty enough that residents are discouraged from eating fish caught there. Fambrough's pond is separated from the river by a valve system, so he too will get rain runoff. Aeration created by numerous wakeboarders constantly churning the water helps keep the pond fresh.
"The water is perfectly clean," he said. "It's been tested and rated for recreational swimming. We're here to change the whole perception of the river."