The fifth track on Heavy Sugar, the latest album from Fort Worth's Calhoun, is a tune called "Heart of Junk," a melancholy, black valentine to a disappointer. A dreamy Fleetwood Mac-ish ballad, the song wouldn't qualify in anyone's book as an out-and-out hit –– and aren't the fifth and sixth tracks on albums always singles? However, the song is melodic, tightly structured, and resonant. "There's a sweet boy in there somewhere; there's a sweet boy," sings frontman and co-songwriter Tim Locke, his voice sturdy but lighter than air. "I don't know what made him disappear / But who cares now? / You can't put me in my tomb / With a guitar and a tune."


A singing zombie: It's an image that could define Calhoun, a band that's been through a lot of turmoil –– including a complete breakup –– but that just won't stop cranking out the fantastic indie rock.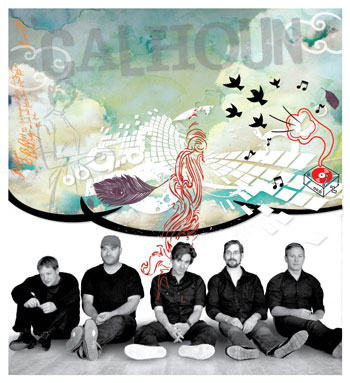 Though the heart of Calhoun is Locke and co-songwriter Jordan Roberts, Locke is the face of the band and the proverbial hand that stirs the pot. The thirtysomething Georgetown native has driven Calhoun's rebirth and renewed popularity. From his first forays into rockdom, via Blue Sky Black and The Grand Street Cryers, nearly 20 years ago, Tim Locke has been regarded by the local cognoscenti as something of an affable genius-shaman, a demigod next door as liable to tap into the mystical as the nitty gritty –– in other words, Locke is a damn fine imagistic, philosophical lyricist and a helluva guitar player. Fort Worth has seen its share of musky rock prophets: gruff, handsome, charismatic singer-songwriters who while they may front bands, huge bands, need only a vocal mic and an acoustic to captivate an audience of three or 300. Brandin Lea (Flickerstick), John Price, Carey Wolff, Chris Johnson (Telegraph Canyon), Stephen Beatty (Stella Rose), and Kevin Aldridge (Chatterton) are a few. In many ways, Locke is just another bro. But in many other ways, he is also sui generis –– maybe his wry, pithy demeanor (onstage and off) is to credit. Or maybe his uniqueness is owing to his lack of raging ego. Rarely do artists who've fronted their own bands for years agree to collaborate with another artist under one band name. Yet almost two years ago, Locke took on the multi-instrumentalist Roberts, who shares equal credit on Heavy Sugar.
What may also separate Locke from the rest is his refusal to stop believing in his music.
"This is the best band I've ever been in –– easily," he said. "I know a lot of people say that, but the five of us right now: That's why I'm still doing it."
Locke said he was happy to retire but is even happier today. "It's a lot of fun right now."
Exhibit A is the band's performance last week at First Friday on the Green, a free monthly outdoor concert series on the Near South Side. Magnolia Green Park, about the size of a football field, was packed, and the band, which includes keyboardist Toby Pipes, bassist Nolan Thies, and drummer Josh Hoover, offered a tight, powerful 45 minutes of pure rockery.
The national consciousness is getting hip to that Calhoun swing. A little. Several Calhoun songs have aired on popular TV shows, including 16 and Pregnant, Chuck, and One Tree Hill. But major exposure isn't telling the whole story: Calhoun's burgeoning success is a byproduct of depth as well as breadth. The band has put out only four albums, but they're all stellar. There's also little doubt that a Calhoun show will be anything less than spot-on, which is one of just many reasons why the band engenders so much respect from local scenesters and peers.
Their admiration, of course, starts with the music. The Calhoun sound is a blend of identifiable styles, a radiant mix of rock 'n' roll, folk, C&W, and, yes, dance music. (With Calhoun's 2006 eponymous album, Locke jokingly patented the genre "crisco," a mix of country and disco.) Locke's lyrics also are unmistakable. His songs have always overflowed with broken hearts, rejected lovers, and unfinished business, with a few passages of positivity and joviality here and there. His satirical bite, while still in evidence on Heavy Sugar, is a little less vitriolic than it's ever been, and the themes are less idiosyncratic, more universal, likely the result of a change in his writing perspective. Until Heavy Sugar, Locke never revised his work. "I was tired of doing it the way I'd always done it," he said. "It's way harder to write this way, to make it have a broader appeal. … I revised so much. … I wasn't trying to write any hits, just trying not to be so inside my own head all the time."
Heavy Sugar is undeniably a statement: against artifice in indie songwriting and decidedly for elegant, smart, beguiling guitar-based simplicity. Though full of concise songs, Heavy Sugar is an album in the traditional sense of the word, hinging on bright melodies that rise and fall through crisp, mostly snappy beats and sweetly harmonic lines. If there's a lyrical theme, it's love –– of both the carnal and spiritual varieties. On "The Engineer," Locke sings, "You say more in a sigh / Than all my sermons, dear / Your tears are brilliant stones / I'll hold / Like silent narrow snow / So softly as you spoke / I melted even so / My heart / Falls dead / And you're the thoroughbred / Butcher each and every one / Alone." On the bubbly, achingly romantic "Ryders," he offers, "And it's sweet / Like honey that was dripping from the comb / Late at night you hit a holy note / And our star / Grows dim / And it's sweet / Walkin' with you through this wicked world / Bombs are going off, and you're still my girl / She's as strong as steel / And it's sweet."
"This record is very hopeful," Roberts said. "In a time when there's a lot of negativity in music and pissed-offedness, this one's very, 'It's OK to be optimistic,' a light-at-the-end-of-the-tunnel sort of thing. … I hear a lot of hope and a lot of love [on Heavy Sugar]."
Heavy Sugar, Locke said, is for "people who've given up on a lot of things, people who are disenfranchised from the whole indie-rock thing, people who've given up on pop songs that aren't totally stupid. I really think [the album] is kind of a throwback. That's what we're going for. People just want to hear songs that are, hopefully, well written."
The songs on Heavy Sugar are exceedingly well written. They're brutally honest and often heartbreaking and buoyed by twinkling guitarwork, steady and occasionally propulsive rhythms, and a kind of unadulterated classic-pop élan. "Indian Melody" revolves around a wordless whoah-whoah-whoah'ing Wall of Sound chorus, a burning rhythm, and slashing synthesized strings. Equally jaunty and sweeping is "Thrown in the Universe," a gorgeous toe-tapper of soft acoustic and electric guitars and a skipping snare. "Don't Let Go" could have been an '80s synth-pop hit, with its buzzing keys and driving beat, and "The Engineer" is built on abstract riffage but never sounds anything less than familiar.
Locke, married and a new father, said Heavy Sugar isn't a record for people who just want to be cool. "I just think that we're just kind of laying it on the table," he said. "If you want it, here it is for your pleasure, totally for your pleasure. That's what I really want people to get out of it. I want you to put this record on and enjoy it. It's not making sure you're listening to the right thing that you're supposed to be listening to."
"Or getting it," Roberts added. "You know those records. 'Yeah, I've listened to it a couple times. I'm gonna have to listen to it about three more times before I fully get it.' That's not this record. You listen to it once and get it. It's all very right there in the open. This is what it is, here's what we did, the end. There's nothing to dig that far into" except the lyrics.
One of the many potential singles on Heavy Sugar is "Knife Fight," the lead-off track. A rollicking number, the song progresses from a quiet yet locomotive beat and Locke's breathy whisper to a mountainous chorus that finds him asserting, "So I bravely grab my guns and I / Brandish them at your knife fight." Like so many Calhoun songs, "Knife Fight" is wrapped up with the charm of interpersonal disconnectedness, the stuff of fantastic movies and novels (and evidently songs). Arguably the album's heart is "Many Happy Regrets," a countrified ballad that's been in circulation for years but never recorded properly. (Local music aficionados may recognize the song by the chorus, "Black coffee and cigarettes, no, I ain't over you yet.") "I can feel it come on," Locke sings, his voice a little cranky. "You're standing right here / But you're already gone." The sentiment transcends the personal to tap into an emotion common to everyone not living in a cave: abandonment. Heavy Sugar is loaded with universal truths that hit home.
Locke and Roberts began working on the album that would become Heavy Sugar about a year ago, not long after the previous incarnation of Calhoun had broken up. The duo shared song snippets written individually and fleshed out tunes during spare moments at Roberts' home recording studio in Fort Worth. After amassing a strong collection of tracks over the course of several months, the co-songwriters decided to do a proper recording –– but with a new outlook. In the past, they'd been content to lay down tracks, play a bunch of shows, and hope for the best. But for Heavy Sugar, Locke and Roberts wanted to go big. They enlisted the help of producer James Barber (Ryan Adams, Hole), who got turned onto the band via an earlier Calhoun album. "I've never done [an album] this way before," Locke said, "just me and Jordan, going in and doing it. We discussed it with Jim. 'You guys write the songs, and you get all your friends,' he said. 'That's the way people did it in the '70s. You get people who are good players, and you give them three passes.' We did a lot of the record like that."
The result "far exceeded my expectations," Locke said, "and I really think, going back to that again, Jim is largely responsible for it. His main part was going through the songs, making us work on them. When we were actually tracking, he'd be on his laptop working –– you wouldn't see him –– and he'd look up and be, like, 'No.' He would only speak up when he didn't like something that he heard. He was kinda letting us do our own thing. That's good. I need more of that."
Calhoun toured Europe in April but really wants to get on a big stateside tour with a marquee act. But the Fort Worth band is a little hamstrung –– Roberts works full time as a graphic designer, and Locke often kiddingly refers to himself as "Mr. Mom," meaning that he's super-busy at home with his son Henry, who's almost 2. "This band is really good live, and [playing live] is so important now," Locke said.
Without getting out in front of people, Locke said, a mostly local indie band is just one of zillions of mostly local indie bands. "We need a connection," Roberts admitted. "We need a big band, their manager sees or hears us and gives us a chance."
Roberts is confident that once people get to hear –– and see –– Calhoun, the music will sell itself. "You can fall through the cracks so easily," he said. "How do you differentiate yourself? How do you get people to notice you and listen to [your record] and be, like, 'Oh, that's good'? I feel like if people hear [Heavy Sugar], they'll like it. I really do feel that way about the record. It'll be different than everything else you've heard."
The album, Locke said, "makes me a little nervous because I think it's so un-cool sounding. It's so not what's going on right now in indie-rock. But that hipster thing is like a death sentence. It paralyzes you, and you miss out on a lot of good things. When hipsters go out, they look like they're scared to move because they don't want to seem un-cool. This record is a reaction to all that. 'Man, fuck all that. I want to breathe.' "
Calhoun
Fri w/Radiant, Menkena at The Kessler Theater, 1230 W Davis St, Dallas.
214-272-8346.