Italian food for lunch isn't for everyone — all those carbs can make napping seem so much more alluring than work. But Riva Mediterranean Grill, which recently opened in an Arlington strip mall, has some solid Italian and Middle Eastern menu selections that provided a stellar, not-too-heavy nosh on a recent hot June day.


We started off on the Italian side of the menu with something called the Antonio Salad. A layer of silky shredded parmesan covering a bed of romaine lettuce, black olive slices, tender artichoke hearts, and thick, hearty mushroom slices, the dish turned out to be delightful. The light vinaigrette dressing was savory but also allowed the vegetables to have their say. It was a marvelously simple salad that managed to be light and filling at the same time.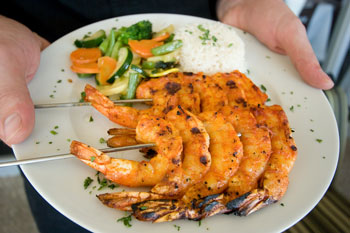 The same could also be said of the falafel mezza from the Mediterranean half of the menu. Fans of Middle Eastern food know that falafels come all kind of ways –– greasy, crumbly, crispy on the edges, doughy on the inside –– but Riva's falafels were models of yummy consistency. Firm, hot, non-oily discs that had a wonderful, almost meaty texture and a slightly spicy after-kick, they were served with a cool and creamy tzatziki sauce (the yogurt-based dressing with crispy bits of cucumber and parsley) as well as plump lemon slices to give each bite a citrus zing.
The penne caprice also scored well in the light summer fare category. Ridged tubular pasta came dressed with a spare amount of sweet-ish, pulpy marinara sauce and small firm cubes of sharply flavored mozzarella. The basil and garlic were nice foils, playing impressive background to the pasta and the cheese flavors.
The mixed grill plate was by far the heaviest dish of the meal, but even it wasn't greasy or too heavily spiced.
An ample portion of seared chunks of beef and chicken were placed alongside pale strips of doner (gyro meat) and two smallish lamb chops. Each piece of meat was lean, juicy, and full of delicate flavor. Although the menu advertised grilled tomatoes and shredded cabbage on the side, the vegetable medley of the day turned out to be crisp grilled broccoli with shreds of spinach and slices of carrot, zucchini, and squash. We didn't complain. Riva Mediterranean turned out to be one of the healthiest and tastiest Italian/Middle Eastern meals we've had in a long time.
Riva Mediterranean Grill
2819 W Park Row Dr, Arlington. 817-299-9743.
Closed Sun. 11am-10pm Mon-Sat.
All major credit cards accepted.
Antonio Salad……………………………….. $ 7
Falafel mezza……………………………….. $ 6
Penne caprice ……………………………… $10
Mixed grill ……………………………………. $20