WED ? 20
Forget the canvases! The Amon Carter Museum's current exhibit, The Allure of Paper: Watercolors and Drawings from the Collection, showcases the museum's works on paper, which range from Edward Everett's stately sketch of the Alamo's ruins to John Singer Sargent's delicate drawing of Claire Stuart Wortley to Arthur Dove's ferocious pastel abstract "Team of Horses." The show runs thru Oct 9 at 3501 Camp Bowie Blvd, FW. Admission is free. Call 817-738-1933.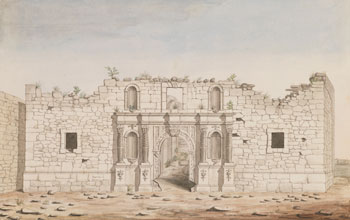 THU ▪ 21
You've probably never seen a grill as big as the Johnsonville Big Taste Grill, which is the size of a semi truck at 65 feet long and 53,000 pounds. The monster barbecue will roll into Burleson this afternoon to serve up a few thousand bratwurst sausages and raise money for Dallas United Way. The event is at 4pm at HEB, 165 NW John Jones Dr, Burleson. Admission is free.
FRI ▪ 22
The Kimbell's latest event isn't a full-fledged show but rather an exhibition of a single painting: Titian's "La Bella" is the recently restored portrait of a beautiful woman in a sumptuous blue dress. The 16th-century Venetian master's command of color and texture are in full glory in this painting, loaned to the Kimbell by the Galleria Palatina in Florence. The painting is on display Jul 22-Sep 18 at 3333 Camp Bowie Blvd, FW. Admission is free. Call 817-332-8451.
SAT ▪ 23
While Lake Simons has an art show at Arts Fifth Avenue (see our "Gallery" section), she also has a performance piece taking the stage at her typical stomping ground, Hip Pocket Theatre. This is the last weekend to catch Wind set-up: a composition for materials and elements. The show runs thru Sun at 1950 Silver Creek Dr, FW. Tickets are $5-15. Call 817-246-9775.
SUN ▪ 24
When you compare a hundred bucks to the price of eating meals at six different gourmet restaurants around Fort Worth, A Dinner Party for Life seems like quite a bargain. The charity event features food prepared by some of the city's best chefs, all to raise funds for Cuisine for Healing, a nonprofit that provides nutritious, digestible meals for seriously ill patients. The dinner is at 5pm at Artspace 111, 111 Hampton St, FW. Tickets are $100. Call 817-239-1634.
MON ▪ 25
Food-service industry professionals (or serious foodies with some cash to spend) can take in the sights at the American Culinary Federation National Convention. Conventioneers can take part in a beer and cheese tasting, a paella competition, and seminars on bread and fish. In addition, TV chef Alton Brown will drop by to lecture on that most basic ingredient, salt. The convention runs Fri-Tue at Gaylord Texan 1501 Gaylord Tr, Grapevine. Passes are $125-825. Call 800-624-9458.
TUE ▪ 26
Old-school video gamers will remember the Tekken martial-arts series that dates back to the arcade games of the 1990s. This evening comes Tekken: Blood Vengeance in 3D, an animated feature film that not only reveals the further adventures of the series' characters but also the newest direction of the game series. The movie screens at 7:30pm at various movie theaters; check Calendar for locations. Tickets are $14-15. Call 818-761-6100.