The four guys in the Quaker City Night Hawks have undeniable chemistry. Co-lead vocalists and guitarists Sam Anderson and David Matsler previously worked together in The Black Bonnets and knew bassist Pat Adams and drummer Matt Mabe from the scene. "I have this idea for a band," Anderson told Mabe one day, "like ZZ Top but with John Bonham on drums."


The pitch worked, and the four played their first show after only 45 minutes of rehearsal. Right before the show. Things went well, evidently. The band is now nearly two years old and recently released its debut album, ¡Torquila Torquila!, recorded in a mere 12 hours, no biggie.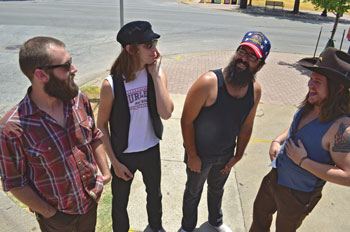 Naturally, the Night Hawks have their shit together. Their live shows are parties, first, but also master classes in technique –– Matsler's a fiery guitar player, and it's not for nothing that Mabe was voted best drummer by readers in the Weekly's 2011 Music Awards. ¡Torquila Torquila! is an excellent showcase of both the band's skill and soul. Pretty evenly divided between ominous, heavy blues rock and extremely catchy boogie, the 10-track gem was recorded in Saginaw last fall and produced by the band and engineer Zaq Bell, a.k.a. Top Hat Dracula (EPIC RUINS, The Burning Hotels, Stella Rose), with help from friends Danny Kalb (Beck, Taj Mahal, Rilo Kiley) and Jordan Richardson (Ben Harper and Relentless7, EPIC RUINS). Available online since May, the album will be released on polycarbonate next month in time for the band's second anniversary.
Sin, drink, heaven, hell, guns, and other hallmarks of the devil's music get due treatment on ¡Torquila Torquila! "The Last Ride of Miguel the Scared" takes a page from Dylan's early electric phase, sans organ, drenching that bluesy psychedelia in whiskey. The group also recalls contemporaries like The Black Keys ("Cold Blues," "Crack at the Bottle"), and on the thundering "Hounds of Hell," the band invokes Robert Johnson's "Hell Hound on My Trail" –– but in name and spirit only. Where Johnson's classic is plaintive and resigned, "Hounds of Hell" has a shadowy, chugging beat that gives way to a funky refrain. Reverential toward what came before, the Quaker City Night Hawks still manage to forge an original, indelible sound.
You'd still be forgiven for hearing a little Creedence Clearwater Revival in the Night Hawks' tuneage: a limiting comparison, to be sure, but one that they inevitably invite. Both bands mine the same roots –– scuzzy rock inflected by country, pop, and R&B –– and Anderson and Matsler both have smoky, soulful voices that aren't far removed from John Fogerty's. The Night Hawks' live repertoire even includes a cover of "Suzie Q." But where the CCR guys aimed to summon the Mississippi River delta bayou from their Bay Area home, the Night Hawks bear no such affectation. Their Lone Star state of mind is bona fide. All of the band members hail from either North or West Texas. There's also no single member whose input or personality dominates the band. Looking at you, John Fogerty. "That's 'cause none of us are as good as him," Matsler said, to much laughter and agreement. "If one of us was, I'd let him."
The guys, hanging out at Benito's on a recent summer afternoon, are just being modest. The musicians are versatile performers and writers. "You'll Never Have Her to Yourself" has the jangle and harmonies of the best of mid-'60s pop, and "Ain't No Kid" evokes the open skies and open roads of the country. There's even a little bluegrass in there, courtesy mainly of the co-lead vocalists. Anderson's voice is smooth and sweet; Matsler's has a natural rasp and can register low. Either way, both singers fit into the band's overall vocal attack. "I'm pretty sure that's why [Anderson and Matsler] picked us as a rhythm section," Mabe said, referring to the fact that both he and Adams sing. The two didn't have to audition their pipes –– it was just assumed that the Night Hawks would be a four-mic band. "Even from the get," Anderson explained, "it was never even a question."
The Night Hawks are likewise unfazed by their current position. ¡Torquila Torquila! will be roughly a year old when it comes out on CD, but none of the guys is really worried about promoting it. The group continues gigging steadily but also is in no rush to embark on a big regional or national tour. "We'll pick and choose opportunities as they come," Matsler said. "We know not to do it until it's worth our while."
Everyone in the band concurs that Fort Worth is providing all of the support required right now. "It's not competitive at all," Anderson said of the local scene. "It's everybody helping everybody."
After all, each Night Hawk has either played in other big local bands or is playing in them now. Anderson is a core member of the stoner-rock super-group EPIC RUINS, Matsler is a standout solo artist (who recently soundtracked a film with Bell), Mabe plays in Stella Rose, Jefferson Colby, and Big Mike's Box of Rock (and with EPIC RUINS in live settings), and Adams has worked with the Whiskey Folk Ramblers and Eaton Lake Tonics and pitched in at The Where House. He's also helping out with the forthcoming Live Oak Music Hall & Lounge in the Near South Side.
As the Quaker City Night Hawks, they focus on the style they all share. They're firmly grounded in the blues –– and they're happy with that. "We were never purposely retro," Adams said. "But our sound will probably just get older."
"Yeah, it's gonna get worse," Mabe deadpanned. "Next it'll be ragtime, then turn-of-the-century Victorian music."
Quaker City Night Hawks
Fri at the Green Elephant, 5627 Dyer St, Dallas. 214-265-1338. • Sat w/The O's, RTB2, The Moonshiners at The Moon, 2911 W Berry St, FW. 817-926-9600. • Sun w/Scott Copeland Band, Josh Weathers Band, Derek Larson & The Leavers, Tommy Alverson, Jason Eady, Charlie Shafter & The Gnomes, and others at Spencer's Corner, 6861C Green Oaks Dr, FW. 817-652-6090.