The Devil's Double (R) Dominic Cooper stars in this drama (based on real-life events) as both Uday Hussein and an Iraqi man hired to impersonate Saddam Hussein's son for security purposes. Also with Ludivine Sagnier, Raad Rawi, Mem Ferda, Dar Salim, Jamie Harding, and Philip Quast. (Opens Friday at Rave Ridgmar)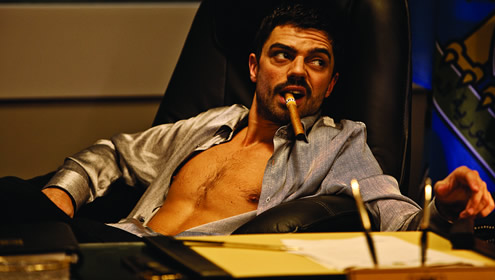 Final Destination 5 (R) They do know that the higher the number goes, the more ridiculous the title is, right? Nicholas D'Agosto and Emma Bell headline the latest in this slasher-flick-without-a-slasher series. Also with Miles Fisher, Ellen Wroe, Jacqueline MacInnes Wood, P.J. Byrne, David Koechner, Courtney B. Vance, and Tony Todd. (Opens Friday)
Glee: The 3D Concert Movie (PG) Documentary footage from the summer 2011 music tour by the hit TV show's performers. Starring Léa Michele, Cory Monteith, Chris Colfer, Matthew Morrison, Dianna Agron, Amber Riley, Kevin McHale, Naya Rivera, Heather Morris, Mark Salling, Jenna Ushkowitz, Harry Shum Jr., Chord Overstreet, Darren Criss, and Gwyneth Paltrow. (Opens Friday)
The Guard (R) John Michael McDonagh's action-comedy about a loose-cannon small-town Irish cop (Brendan Gleeson) and an uptight FBI agent (Don Cheadle) who are forced to team up to bust an international drug-smuggling ring. Also with Mark Strong, Liam Cunningham, David Wilmot, Rory Keenan, and Fionnula Flanagan. (Opens Friday in Dallas)
The Names of Love (R) Michel Leclerc's autobiographical romantic comedy is about the relationship between a conservative middle-aged French veterinarian (Jacques Gamblin) and a promiscuous younger half-Arab left-wing political activist (Sara Forestier). Also with Zinedine Soualem, Carole Franck, Jacques Boudet, Michèle Moretti, and Zakariya Gouram. (Opens Friday in Dallas)
NOW PLAYING:
Bridesmaids (R) A treasure. Kristen Wiig co-writes and stars in this comedy as a woman enduring a rough time when her best friend (Maya Rudolph) gets engaged. This is not a romance, nor is this a female version of The Hangover, despite a few uproariously raunchy set pieces. It's one of the best movies ever about female friendship, and it would still work even if you took the jokes out, though why would you want to? Wiig gives a compelling performance as someone self-destructing as a richer, more glamorous, condescending new friend (Rose Byrne) seems to be stealing away her old pal. An intelligent and moving film, as well as a hilarious one. The supporting cast is stellar, but watch for Melissa McCarthy, stealing laughs everywhere as a foul-mouthed, intense, deadly serious bridesmaid. Also with Chris O'Dowd, Wendi McLendon-Covey, Ellie Kemper, Matt Lucas, Rebel Wilson, Michael Hitchcock, Ben Falcone, Terry Crews, an uncredited Jon Hamm, and the late Jill Clayburgh.
Captain America: The First Avenger (PG-13) Accomplished but empty comic-book adaptation stars Chris Evans as a scrawny asthmatic U.S. Army reject during World War II who submits to a medical experiment that turns him into a warrior with superhuman strength and reflexes. Director Joe Johnston does it all up professionally and prevents the movie from overplaying the patriotism angle. The indistinct characterizations and the blandness of lead actors (Evans and Hayley Atwell as a British agent who's part of the project) are the reason why the movie feels so impersonal. Perhaps he'll be more interesting as part of next year's The Avengers, but here Captain America is a stalwart but boring presence. Also with Tommy Lee Jones, Hugo Weaving, Stanley Tucci, Toby Jones, Dominic Cooper, Sebastian Stan, Richard Armitage, Neal McDonough, Derek Luke, and Samuel L. Jackson.
Cars 2 (G) Better than its rep. Pixar's sequel to its 2006 hit has Lightning McQueen (voiced by Owen Wilson) competing in a grand prix race around the world while Mater (voiced by Larry the Cable Guy) is caught up in an international spy plot when two British secret agents (voiced by Michael Caine and Emily Mortimer) mistake him for an operative. The thriller plot is grafted onto Pixar's customary character-based drama, and the combination doesn't always work. Still, the animation is beautiful and finely detailed as always, the action sequences are neatly done, and the choice of villains (a bunch of outdated lemon cars who work for Big Oil and are trying to discredit alternative fuels) is pretty clever. For pure escapism, you could do a lot worse. Additional voices by Eddie Izzard, Joe Mantegna, John Turturro, Thomas Kretschmann, Bonnie Hunt, Franco Nero, Tony Shalhoub, Jeff Garlin, Jason Isaacs, Bruce Campbell, Cheech Marin, John Ratzenberger, and Vanessa Redgrave.
The Change-Up (R) Better than the similar Hall Pass and Grown Ups, though that's not saying much. Two best friends — a married dad pining for his bachelor days (Jason Bateman) and a single slacker (Ryan Reynolds) — wish for each other's lives and are then magically transported into each other's bodies. The actors squeeze more out of the film's tired premise than you might expect, but for every gag that works there's at least one that's calculated, cynical, and rancid. This movie is occasionally funny, but there are other funny movies out there that don't leave you feeling queasy. Also with Leslie Mann, Olivia Wilde, Mircea Monroe, Gregory Itzin, Sydney Rouviere, Craig Bierko, and Alan Arkin.
Cowboys & Aliens (PG-13) Not bad at all, but given the setup, this movie should have been altogether wilder and wackier. When space aliens invade an Arizona mining town in 1873, a sadistic cattle baron (Harrison Ford) has to team up with an amnesiac (Daniel Craig) who wanders into town and happens to hold the key to defeating the aliens. Adapted from Scott Mitchell Rosenberg's graphic novel, the story is told from the point of view of cowboys with no concept of extraterrestrials, but this doesn't provide as much juice as it should. Jon Favreau directs this fluidly and makes the movie into an agreeable Western with a twist. It still should have been more. Also with Olivia Wilde, Sam Rockwell, Paul Dano, Noah Ringer, Ana de la Reguera, Adam Beach, Walton Goggins, Clancy Brown and Keith Carradine.
---
Crazy, Stupid, Love. (R) Funny, well-made, glib, sprawling in a good way, and crowd-pleasing in a bad way. This ensemble comedy revolves around a man (Steve Carell) who reacts to being left by his wife (Julianne Moore) by hanging out at a singles bar, where a younger wealthy playboy (Ryan Gosling) teaches him how to join the dating scene. Dan Fogelman's soppy script tells us that no relationship is too broken to repair with a little perseverance, even if that shades over into stalker-like behavior. The movie steers just clear of sentimentality thanks to the tidy direction of Glenn Ficarra and John Requa and the efforts of a peerless, fine-tuned cast that doesn't miss a single beat and plays well as a group. Also with Emma Stone, Jonah Bobo, Analeigh Tipton, Liza Lapira, Josh Groban, Kevin Bacon, and Marisa Tomei.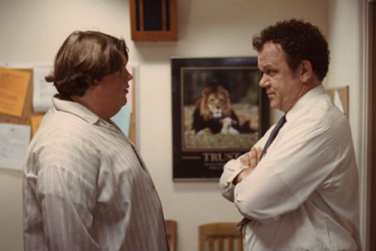 Friends With Benefits (R) Justin Timberlake and Mila Kunis star in this comedy as business acquaintances and friends who, after being dumped by their respective significant others, decide to pursue a sexual relationship without emotions. This movie has so much going for it: The leads are terrific and charming, the characters are layered depictions of two closed-off people, the writing is sharp and funny, the supporting cast is strong and lively, and director Will Gluck (Easy A) brings a great sense of comic timing. The trouble is, the movie can't think of any way to end except in a sappy conventional romance, which is odd given how much time it spends bashing other Hollywood romantic comedies for being sappy and conventional. It adds up to a strangely conflicted experience. Also with Patricia Clarkson, Woody Harrelson, Jenna Elfman, Richard Jenkins, Bryan Greenberg, Masi Oka, Andy Samberg, Emma Stone, and uncredited cameos by Rashida Jones and Jason Segel.
Harry Potter and the Deathly Hallows: Part 2 (PG-13) End of the line! The quest to destroy Lord Voldemort (Ralph Fiennes) leads Harry and his friends (Daniel Radcliffe, Rupert Grint, Emma Watson) back to school for an ultimate showdown. Director David Yates still fumbles a few of the book's key emotional points, and the 3D is unnecessary gilding. On the other hand, there are cool action set pieces and a shattering flashback revealing the hidden motivations of Professor Snape (Alan Rickman). The film stands up well enough on its own, with a lyrical middle bookended by action-dominated sections. Yet it's the slow aging of these kid actors into young men and women that gives unique power to J.K. Rowling's saga of children becoming adults. Also with Warwick Davis, Helena Bonham Carter, Maggie Smith, Michael Gambon, Matthew Lewis, Julie Walters, Mark Williams, Tom Felton, Helen McCrory, Jason Isaacs, Ciarán Hinds, Kelly Macdonald, Bonnie Wright, David Bradley, Gary Oldman, and Robbie Coltrane.
Midnight in Paris (PG-13) Woody Allen's charming paean to the City of Lights stars Owen Wilson as an aspiring writer who's magically transported from present-day Paris to the city in the 1920s, where he gets to rub shoulders with Picasso, Gertrude Stein, and F. Scott Fitzgerald. The contemporary characters like the writer's shrewish fiancée (Rachel McAdams) and her phony ex (Michael Sheen) don't add much, but the movie kicks into gear whenever it takes place in Lost Generation Paris, with frequent laughs and a breezy tone. Watch for Corey Stoll's amusingly brusque performance as Ernest Hemingway. Also with Marion Cotillard, Tom Hiddleston, Alison Pill, Léa Seydoux, Gad Elmaleh, Adrien Brody, Kathy Bates, and Carla Bruni. — Cole Williams
Rise of the Planet of the Apes (PG-13) This sci-fi prequel stars James Franco as a genetic researcher whose attempt to cure his Alzheimer's patient dad (John Lithgow) leads to a race of superintelligent apes. Director Rupert Wyatt does this smoothly, particularly in the middle section when the scientist's cerebrally-enhanced chimp (played by a motion-captured Andy Serkis) is abandoned in a hellish primate facility where he leads a prison break. Yet the plot is too dependent on security breaches and incredible human stupidity. Somehow, the movie is never as frightening or as thought-provoking as it would like to be. Watch for tons of references to the 1968 film. Also watch for the Harry Potter series' Tom Felton as an animal-torturing American zookeeper. Also with Freida Pinto, David Oyelowo, Tyler Labine, and Brian Cox.
The Smurfs (PG) Exactly as bad as you'd think. This rotten family flick features six of the famous magical blue beings transported to live-action present-day New York City — along with their wizard nemesis Gargamel (Hank Azaria) — and enlisting an expectant married couple (Neil Patrick Harris and Jayma Mays) to help them get back home. The 3D animation is lame, with director Raja Gosnell (the Scooby-Doo movies) bringing his non-magical touch to the proceedings. The script is somehow even lamer, cherry-picking all the most obvious cultural references and indulging in product placement that's shameless even for kids' movies. This movie will give you the blues, all right. Also with Sofía Vergara and Tim Gunn. Voices by Anton Yelchin, Katy Perry, Alan Cumming, George Lopez, Fred Armisen, and Jonathan Winters.
Sunny (NR) Kang Hyeong-cheol's soapy, distinctively weird South Korean dramedy stars Yu Ho-jeong as a wealthy housewife who fulfills the wish of a terminally ill classmate (Jin Hee-kyung) by tracking down the members of their circle of school friends, who've named themselves after the Boney M song. The story shuttles back and forth in time between the present and the women's high-school days. The contemporary stuff is straight-up melodrama, and the movie lays it on way too thick near the end. The movie's 1980s sections are much better, with dance numbers, a funny weepy drunken interlude, and a bizarre sequence with the girls fighting a pack of rival girls in the middle of a pro-democracy street riot. There's a pretty nice teen movie hiding in here. Also with Sim Eun-kyeong, Go Su-hee, Kim Min-yeong, Kang So-ra, Lee Yeon-kyeong, Nam Bo-ra, Kim Seon-kyeong, Kim Bo-mi, Hong Jin-hee, and Park Jin-joo.
Transformers: Dark of the Moon (PG-13) Most 3D movies aren't worth the heftier ticket prices, but 3D is the only meaningful way to experience this monstrosity. The latest in Michael Bay's robot saga is the first to use 3D effects, and all the destruction looks good; when future film historians want to know how advanced special-effects were in 2011, they'll have to look this movie up. It's the humans who drag this thing down. The movie would have better, though not necessarily good, if all the characters had been robots. Megan Fox has been jettisoned for Rosie Huntington-Whiteley, and Bay spends a lot of time inviting us to ogle the new girl's ass. If only he'd taken as much care making a movie that doesn't suck. Also with Shia LaBeouf, Frances McDormand, John Malkovich, Patrick Dempsey, John Turturro, Josh Duhamel, Tyrese Gibson, Kevin Dunn, Julie White, and Ken Jeong.
Winnie the Pooh (G) This neglected animated film is actually pretty good, retaining the gentle spirit of A.A. Milne's stories while instilling a creative edge that was missing from Disney's last three Pooh-related films. The adorable, honey-loving bear (voiced by Jim Cummings) is drawn into an adventure when a misinterpreted note from Christopher Robin (voiced by Jack Boulter) leads Pooh and his friends to conclude that the boy has been kidnapped. The story is a bit scattershot, but the inventive visual touches keep the tone from going stale, and retro musical arrangements by Zooey Deschanel and M. Ward add to the movie's feel. Additional voices by Craig Ferguson, Bud Luckey, Travis Oates, Kristen Anderson-Lopez, Wyatt Dean Hall, and Tom Kenny.
Zookeeper (PG) Slightly less awful than you'd expect, but still pretty awful. Kevin James stars in this woefully uncreative comedy as a zookeeper who discovers that his zoo animals can speak when they beg him not to leave his job for his shallow ex-girlfriend (Leslie Bibb). There's a nice sequence with James and Rosario Dawson (as a fellow zookeeper/love interest) dancing on a ballroom floor, but every joke is telegraphed and the lines are witless. A very small child who's never seen a film with talking animals has a remote chance of being entertained. Everyone else should steer clear. Also with Ken Jeong, Joe Rogan, and Donnie Wahlberg. Voices by Adam Sandler, Sylvester Stallone, Cher, Nick Nolte, Maya Rudolph, Judd Apatow, Faizon Love, Jon Favreau, and Don Rickles.
DALLAS EXCLUSIVES:
Another Earth (PG-13) Brit Marling co-writes and stars in this indie sci-fi movie as an astronomy student seeking redemption for an accident she caused on the night a duplicate Earth is discovered in the sky. Also with William Mapother, Meggan Lennon, Jordan Baker, Robin Taylor, Kumar Pallana, and Flint Beverage.
Beats Rhymes & Life: The Travels of A Tribe Called Quest (R) Michael Rapaport's documentary about the legendary hip-hop band and their breakup. Also with Mary J. Blige, Common, De La Soul, Mos Def, Adam Horovitz, Adam Yauch, Ghostface Killah, Ludacris, and Pharrell Williams.
Sarah's Key (PG-13) Kristin Scott Thomas stars in this drama based on Tatiana de Rosnay's novel about a present-day American-French journalist who discovers the hidden connection between herself and a Jewish Parisian family during the Holocaust. Also with Mélusine Mayance, Niels Arestrup, Frédéric Pierrot, Michel Duchaussoy, and Aidan Quinn.
Terri (R) Azazel Jacobs (Momma's Man) directs and co-writes this comedy about an obese 15-year-old boy (Jacob Wysocki) who bonds with his school's ineffectual vice principal (John C. Reilly). Also with Creed Bratton, Olivia Crocicchia, Tim Heidecker, Bridger Zadina, and Diane Salinger.
The Tree of Life (PG-13) Terrence Malick's drama is about a present-day man (Sean Penn) contemplating the loss of his innocence growing up in the 1950s. Also with Brad Pitt, Jessica Chastain, Hunter McCracken, Laramie Eppler, and Fiona Shaw.