A North Texas institution enjoys its last hurrah this weekend. After more than 11 years in operation, Granbury Live holds its final show, called The Best of Granbury Live. Local theatergoers will doubtless find other venues for the cheap-and-easy, Branson-like cocktail of patriotism and nostalgia that the troupe has regularly dealt in, but this last concert is still the final act of a group of dedicated professionals and, as such, is worthy of a salute from us.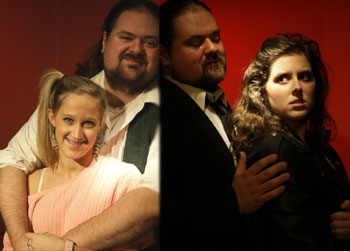 The same weekend, there's a world premiere at Pantagleize Theatre that's just too weird to pass up. Jekyll & Hyde: Special Blend is, as you've probably guessed, based on Robert Louis Stevenson's famous novel about a scientist whose potion transforms him into a murderous creature. However, this new musical by Kristin Spires and Dave Ruffin takes place at a 20th-century Seattle coffee shop. We're not sure why the setting's been changed, but we feel like this play is potentially more awesome than the Frank Wildhorn-Leslie Bricusse Broadway musical version of the story. For theatergoers looking for something they can't get anywhere else, this is the moment.
The Best of Granbury Live begins at 2pm and 7pm Sat at 110 N Crockett St, Granbury. Tickets are $25-29. Call 817-573-0303.
Jekyll & Hyde: Special Blend runs Aug 12-21 at 1115 W Rio Grande St, FW. Tickets are $10-15. Call 817-472-0032.