I've gotta confess: I thought Scampi's Cove was going to be an Italian restaurant. After all, Scampi's (the erstwhile landlocked location) used to be a Near Southside staple until it became Shaw's Burgers & Shakes about a year ago. While I didn't suppose the venerable bistro had pulled up stakes for a lakeside reboot, I just figured the name meant a certain type of cuisine.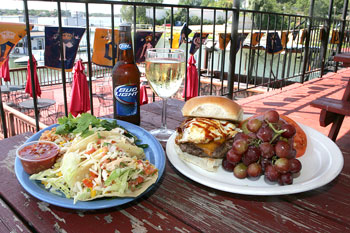 So imagine my surprise when, after winding my way along Boat Club Road to the Fort Worth side of Eagle Mountain Lake, I encountered a sign depicting a cartoony, mustachioed, happy shrimp pointing the way to a large building with an equally large two-story patio. Stepping inside on my first of two visits, it occurred to me that this place wasn't a quiet Italian eatery at all but instead a spot for closing out a day of sunburnt lake partying. (I guess I'd ignored the "Cove" part.) Indeed, as I'd entered the joint, a ski boat pulled out of a nearby slip, crewed by a golden retriever and a man whose skin was the color of raw meat.
I'm not a huge fan of lakes, and just imagining what it must have felt like being Capt. T-Bone in the hot sun made me thirsty, so I ordered a water and a Coke. I started the meal with the Cowboy Dip, which, thankfully, proved to be free of Copenhagen. Rather, it's a hefty plate of tortilla chips around a bowl of chili hiding a chunk of cream cheese and topped with sour cream and shredded cheddar. Another important detail: Much of the Cove's menu consists of comfort food, and it's so comfortable (read: heavy and fatty) that you might nod off on your way home (which might be problematic if you're thinking about partaking in water sports of any sort). Still, the dip was hearty and good, and I had to push it away before I ran out of appetite.
Since Scampi's Cove is near water and all, I figured I'd try some seafood. The restaurant was out of my first choice, the mango mahi mahi special, forcing me to go with something entirely different (and non-fishy), the allegedly popular Sunset Burger, a slab of ground beef topped with a fried egg and served with mango-barbecue sauce. The burger arrived with a huge pile of golden fries and all the fixin's on the side. I cut the burger in two, saucing one side and leaving the other plain. With the mango-barbecue's tang, the burger was pretty tasty, but the unadulterated side had to get by on red onions, pickles, and the meat's seasoning. As a result, it was kind of bland. The egg gave it a little character, but this was by no means a burger to crow about.
On my second trip, I brought a taste-tester with me. We found a table by a window and promptly did battle with a yellow jacket, which my wingman tried to kill with the menu. Of course, like Jason Voorhees and other un-killable spawn from hell, the wasp never actually died; when I later peeked under the pepper shaker my friend used to crush the insect, the black-and-yellow bastard beat its wings and began crawling away. I shuddered and, when our server came back, ordered the Flaming Cheese. Of course.
The chunk of gooey white stuff came with toast points, a shot of bourbon, and two slices of lemon. Our server covered the chunk with the liquor, set it on fire, and then extinguished the resulting flames with squeezes of lemon juice. As we dug in, lemon seeds popped and jumped in the skillet. The cheese was flavorful, crispy on the edges, and really, really salty. Again, you don't go to Scampi's if you're trying stay in shape (even though, yes, some salads are offered).
I wasn't really feeling like having any seafood, but my bud went with the coconut shrimp, served with some kind of relish of corn and pico de gallo and more of that mango-barbecue sauce. The coconut had mostly been fried to oblivion, rendering each shrimp pretty standard. I fared much better with my choice: a giant chicken-fried steak smothered in jalapeño gravy, atop mashed potatoes and a vegetable medley. While the sides weren't gold-star-worthy, the CFS was tender and succulent, and the jap slices in the cream gravy added enough kick to make every bite a real treat.
The service at Scampi's is friendly and efficient, and I gathered that the place probably has a loyal regular crowd. I put the food on par with any other lakeside bar and grill. If you had what I had, though, I'd take the don't-swim-for-30-minutes-after-you-eat rule pretty seriously — in fact, I'd probably triple it.
Scampi's Cove
9216 Live Oak Ln, FW. 817-236-8838.
11am-10pm Sun, 4pm-12am Mon-Thu, 4pm-2am Fri, 11am-2pm Sat.
All major credit cards accepted.
Sunset Burger ………… $9.95
Cowboy Dip ……………. $7.95
Coconut shrimp ………. $8.95
Flaming cheese ………. $8.95
Chicken-fried steak .. $12.95