This cheapskate waiter-hating person I know gave me crap for using this space as a soapbox for the service industry, a crime to which I proudly plead guilty. But I also use it to stump for the rights of professional drunks, potheads, and bands I really like (which would make for a pretty uninteresting Venn diagram), not to mention promoting local businesses trying to get people in the door.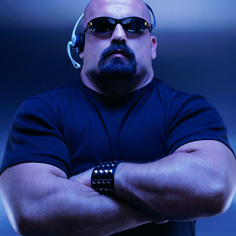 "I'm a customer," he recently sniffed. "You should just write recommendations." I told him he should go read Yelp. Sure, I'll review a place if it provides narrative thrust, but I'm way more interested in the culture of Clubland. To me, every element of a bar, from the vibe and the energy produced by light and sound to the various psychic frequencies emanating from cross-counter relations, is salient to the universal drinking experience. If I remember it the next morning, each night out is an episode in a show about drinking, one that's been airing in my brain since that long-past first pull off a Goldschläger bottle, which also means that every person in a bar is a character.
Of course, I'm really an advocate for the characters who pour your drinks, make your food, and clean up your messes, but for all my ranting about shitty tippers and birthday princesses, I don't think I've ever written about door guys in any depth. It's not like they're unsung heroes or anything, but they are often integral to a smooth operation and usually make a bar a better place. Provided a door guy (or chick, if you're at Lola's or The Basement Bar) is diligent, he is the first line of defense against minors. Door people are also given the unenviable task of being the presence that calms belligerence, the usher at the end of the night, and the person stuck with unplugging the toilet. While bartenders whisk around making money hand over fist (in theory, anyway) and having a good time, door guys are left with sentry duty, ready to dispense buzz-killing justice when needed. Being a door guy can be a boring, irritating, potentially gorge-raising job, and it usually doesn't pay very much.