What did we do on Sundays before brunch? Yes, football and church (for non-heathens), but Chow, Baby (a dyed-in-the-wool heathen) once considered it mostly as a day for getting stuff done: running errands, cleaning house, etc. Now, I'm finding it's mostly a day for plying myself with mimosas and hollandaise sauce (though not in the same vessel). It seems like it wasn't that long ago most restaurants were closed on Sundays. Now, for many, eggs benedict and waffles are just as synonymous with Sundays as pews and pigskin.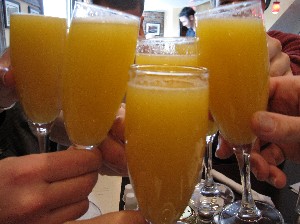 A Chow, Baby brunch favorite is Lambert's Steaks, Seafood & Whiskey (2731 White Settlement Rd., $24 adults, $10 kids). I've found myself there with family in tow on more than one holiday — nothing says "I grudgingly accept that we are related" like Lambert's green chili cheddar grits. That dish is like Chow, Baby nip — buttery, velvety, cheesy, and with just a hint of picante. Makes me want to purr and rub up against someone's legs. Chef Lou Lambert offers both a buffet line, stocked with the usual breakfast suspects, and a superb menu featuring eggs Benedict with prime rib, served with a zesty chipotle hollandaise sauce, and a brioche French toast that is like Christmas morning to a foodie — delicate, battered, airy bread smothered in fresh fruit, whipped cream, and maple syrup.
My first sampling of Taverna's (450 Throck-morton St.) brunch was pretty impressive — although the volume of the massed throngs made talking to my guests a little like trying to hold a conversation on a roller coaster. The downtown Italian eatery doesn't offer a buffet, but the menu has a decent variety of standard brunch staples. There are also some dishes that show a little flair, like the shrimp and asparagus omelet ($11) smothered in a creamy hollandaise sauce and served with pan–fried potatoes, or the eggs al forno all 'olio tartufato ($11), two fried eggs with breakfast sausage, served over garlic bread with truffle oil and potatoes. I'm not usually a fan of truffle oil — applied too heavily, it tastes like gasoline to me — but a scant drizzle of it proved to be an earthy, robust finish to the garlic bread and runny eggs.
Another recent brunch discovery was the Spiral Diner (1314 W. Magnolia Ave.). I felt conflicted as to whether to order the all-you-can-eat pancakes ($5.95) at a vegan place — surely there must be some sort of healthy catch-22 to all that indulgence. My fears were allayed by the pancakes' fluffy, sweet taste, however. A generous application of the maple syrup made me forget all about my trepidation. The "lumberjack" (biscuits and gravy, tofu scramble, and sausage, $7.95) tasted authentic enough but was definitely missing the 18 pounds of butter my grandmother would add. The Spiral version was still delicious and no doubt will keep me alive longer.
The buffet at Buttons (4701 W. Fwy., $22) is served to a soundtrack of live gospel music. The lively upscale soul food restaurant holds its excellent form during brunch. I always love it when buffet lines offer chefs waiting to make you something to order, and the omelet station at Buttons was a must-try. I viewed it as a challenge to see how many ingredients could be fit tedinto an omelet pan. On a recent visit, I ordered up that egg canvas with a kaleidoscope of fresh veggies. Full, but not finished, I made repeated trips to the buffet line, where I piled several helpings of fried catfish, prime rib, greens, and more onto my scandalously full plate.
You can have your Sundays of sanctuary and comfort. For me, it's therapy — glutinous, syrupy, bubbly, creamy therapy.
Contact Chow, Baby at chowbaby@fwweekly.com.