I love all the old breakfast favorites: eggs, sausage, pancakes, French toast, bacon. I just never eat them for breakfast. Who wants to start the day weighed down by gravy and grease? Breakfast for lunch is much saner. The South Arlington location of Good Day Café (there's another, in Grand Prairie) serves "homestyle cooking" (sandwiches, burgers, salads, pork chops, catfish), but a friend and I went for breakfast. At lunch. The midday dining experience was low-key but delicious.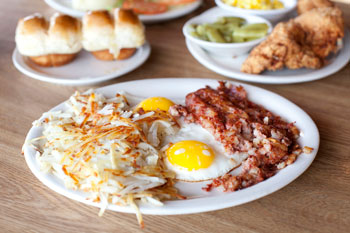 The French toast combination proved to be an excellent deal. For seven bucks, you get four triangles of the toast, two eggs any way, two strips of bacon, and a sausage patty. Good Day doesn't try to impress you with giant, pillowy slices of toast, so beware if you're expecting what we locals call "Texas toast." Instead, you'll be given old-fashioned white bread battered and grilled 'til a dark gold hue, with a sweet, cinnamon-drizzled egg flavor. We ordered our side of eggs scrambled. The chef didn't deliver fluffy, separate chunks of egg –– they were folded together into one marvelously formidable, firm, rectangular slab of eggs that was hot and buttery. We substituted ham for the bacon and received a thick, lean oval of deli-quality ham that was a piece of pig heaven. The substantial dark-brown sausage disc was packed with savory, sage-infused ground pork that wasn't too greasy.
The three-cheese omelet was also a tasty affair. The eggs had been corralled into a mass of unbroken, almost pâté-like thickness and consistency and topped with a thin, stringy layer of American, Swiss, and cheddar cheeses. The combination was harmonious and didn't overpower the eggs. Served with a tender stack of hot and earthy hash browns, the meal was surprisingly light but satisfying.
Biscuits, of course, are a signature menu item at most breakfast houses, and Good Day's biscuits are homemade, distinctive, and delicious: tall and square, with a consistency more like that of cake than biscuits and a slightly sour, salty aftertaste that made them a lot better with butter than a sweet biscuit would have been. The side of cream gravy was smooth and gooey without being gloppy, a little peppery, and savory with the light taste of pork pan drippings.
Overall, the South Arlington location of Good Day Café offered uncomplicated but highly recommended variations on breakfast staples. You'll just never convince me that all of that starch, protein, butter, and gravy is supposed to energize you early in the morning.
Good Day Café
French toast combo ……. $6.99
Three-cheese omelet ….. $6.99
Fried egg sandwich ……. $6.69
Patty melt …………………… $6.89
Good Day Café
6204 S Cooper St, Arlington. 817-375-8662. 7am-3pm Sun-Wed, 7am-9pm Thu-Sat. All major credit cards accepted.