The Moon, the longstanding indie-music venue near TCU, is relocating next to the historic Ridglea Theater on Camp Bowie Boulevard. The new Moon's grand opening is set for early November.


The TCU-area Moon will close at some point over the next several weeks. The landlord is currently in discussions with a potential buyer.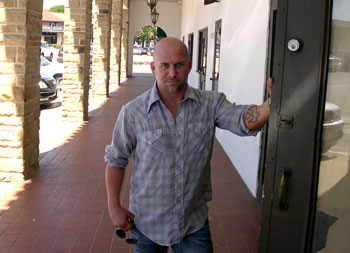 Moon owner Chris Maunder has been looking for a "bigger box," he said, for about a year now. "I want to help spread Fort Worth music," he said. "We've got to have something cool to house it in," quickly adding that he's not saying that venues such as The Moon and Lola's Saloon, in the West 7th Street corridor, are not cool. However, he continued, "you've got to have something different. … I want everything that Fort Worth and the arts are about to be an 'I-remember-when' type thing," meaning that the average music lover will be able to see Fort Worth artists before they go big.
Maunder's journey to the Ridglea began a few months ago, when Casey Mack, the theater's new manager and an acquaintance of Maunder's, popped into The Moon one night. Mack waxed poetic about plans for the Ridglea to become a major venue for touring artists, piquing Maunder's interest. A few weeks later, 35-year-old TCU grad Maunder met with Jerry Shults, the owner of the Gas Pipe, a Southwest chain of smoke shops, who saved the theater from certain demolition about a year ago ("Ridglea Purchased by Gas Pipe Owner," Blotch, Nov. 22, 2010). "I'm real excited about [The Moon]," Shults said. "It fits into my whole idea of this being an entertainment complex," one that will also include a bar-bar.
Maunder assessed his strengths and weaknesses. "I did my due diligence," he said. "I asked myself, 'Am I good enough at what I do to handle a room of that size, to handle [500 to 600] people after [200 to 215] people at The Moon?' … It didn't take me long [to decide]. It was a no-brainer."
When Maunder saw the room, he fell in love with it: 4,800 square feet with street-level entrance around the corner from the Ridglea's front doors, with a massive stage, green room, and lounge area –– the space is about three times the size of the TCU Moon. "Just as much as the musicians have challenged us to grow as venues, we need to keep on top of new bands and different things and the industry as a whole," Maunder said. "This is now my opportunity to help [local bands] get to the next level."
Unlike the forthcoming Live Oak Music Hall & Lounge on the Near South Side ("Readying for Live Oak," Aug. 24), the new Moon will focus on North Texas bands. "I obviously want the exposure that the theater's going to bring," Maunder said. "It's not about the money. It's about pushing our artists into a bigger venue. We haven't had a mid-size room [for North Texas indie-rock] in a long time."
But not all of his North Texas bands will be indie-rockers. Thursdays will be devoted to Americana artists, and Sundays will belong to purveyors of hip-hop and dubstep.
The new Moon and Ridglea Theater will not compete, Maunder said. "It's about developing bands," he said. "When there's country at the Ridglea, there's rock at The Moon, so we have a bunch of different genres and different tastes right there."
The new Moon, Maunder said, will also be heavily involved in the community, hosting various fundraisers. "If somebody needs help," he said, "I want them to know that somebody is there for them, and through our arts we can help you. We can raise awareness to your cause and raise money."
Maunder has a lot of work to do before the grand opening, including remodeling pretty much the entire interior. A team of designers, including noted local architect Joe Self of Firm 817, will help realize Maunder's vision of a '60s-mod look but one that's comfortable, not cold.
Maunder has been hiring and hopes to have 15 staff members, more than twice his current staff size at the TCU Moon. "I'm really looking forward to these new people coming on," he said. "I wish I could hire more, and, hopefully, at some point, I'll be able to. I don't see me stopping at any point now. It's 'What can I do next?' "
The opening of the theater, Maunder said, will "create demand again." Too many musicians, he said, are playing bars instead of larger venues, thanks to huge payouts from the pockets of bar owners and some booking agents. "The person who's booking [the artists] isn't booking them for the music, just bar sales," he said. "Where people like [Lola's owner] Brian [Forella] and me …. we are thinking about our bands. … We just wanna see our buddies blow up and do cool stuff and live out their dreams."
Fort Worthians such as Telegraph Canyon, Calhoun, Burning Hotels, The Orbans, and The Hanna Barbarians are the types of artists Maunder will be looking to book. Some have played the TCU Moon –– but have packed the place to over-capacity. The new Moon, Maunder said, will relieve the stress of cramming. "I've got to grow up, too," he said. "Like I said, it's time for a challenge."