On Saturday night, it finally happened. For the first time in recorded history, I wasn't the highest person at a Whataburger. That title belonged to the guy at the Hemphill Street location who was so baked he could have doubled for an Entenmann's truck. I discovered him about 8:30 p.m., when I'd popped in for some pre-party grease to sop up the bottle of Seagram's that I'd brought along for later. His Real Highness asked if I'd been to The Where House, and when I said yes, he got really excited. "Oh man," he said. "You get to hear ZZ Top?"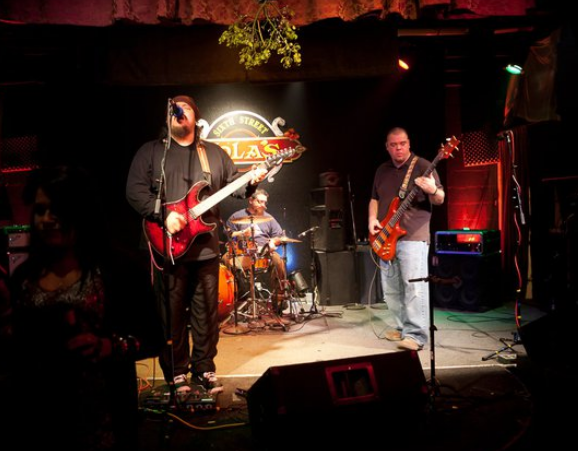 Indeed, I had, having just watched reggae-ish newcomers The Neptune Locals perform "Tush" (I think) as part of their set during the inaugural Fort Worth Rock Assembly. The FWRA, organized by Tony Diaz (Goodwin, The Missile Men, The Good Show), was a three-night stand during which North Texas bands slotted a third of their sets for covers of classic-rock bands, picked earlier this summer in a "draft." Without getting too hyperbolic, if you stayed at home with "friends" or "relatives," you missed out on a lot of good times, including Pablo & The Hemphill 7 nailing Thin Lizzy, RTB2 slaying an entire set of pre-'70 Stones tunes, and The Me-Thinks killing everyone with a tastefully loud and weirdly uplifting rendition of Floyd's "Fearless." The highlight for me –– and for a lot of other folks, evidently –– occurred on Saturday, when Toadies' frontman Vaden Todd Lewis joined Here Holy Spain on vocals for AC/DC's "Whole Lotta Rosie." The room was packed with people holding up iPhones and video cameras, which I argue is this century's answer to the encore-baiting cigarette lighters in Bon Jovi videos. Frankly, it was awesome. I'm not sure who stayed home, because the place was slammed all three nights. Better still, the bands all had fun. It may have been a little frustrating to take time away from working on new material to worry about a T-Rex solo for a month or whatever, but every participant I talked to had a blast and can't wait to do it again next year.
Anyway, getting back to The Highest Guy to Ever Get Comfortable in a Whataburger Booth, he started grilling me about a band that I assumed was The Neptune Locals. He wanted to know if they were still playing. I replied that they had just finished. "What're they doing now?" he said, his eyes widening as far as the THC would let them.
"I dunno," I said. "Watching the next band, I guess."
"What?!" he gasped. "Do you think they'll sign an autograph?"
That's when I caught up to his speed. This dude, stoned out of his mind, dressed in his work clothes, and apparently on his way to work, was under the impression that the real ZZ Top had shown up, played a 45-minute set of their hits (semi-reggaefied, mind you!), and then sat around watching a bunch of young North Texas bands. I didn't want to ruin his night.
"Yeah, maybe they will," I said. "They seem like pretty cool dudes." –– Steve Steward
Player One
So apparently some people like to play videogames while drinking something other than Diet Coke, specifically booze, and noshing on something other than Doritos, specifically burgers, sandwiches, and pizzas. I kid you not. A nice crowd materialized in So7 last Thursday evening for the grand opening of Barcadia (816 Matisse St), a regional bar/restaurant/arcade chain with locations in Dallas and Houston (and one forthcoming in New Orleans). The place was packed but comfortable –– there weren't any empty seats, but there also weren't nine million people standing shoulder to shoulder at the bar. All of the machines, all dozen-plus of them, were free, which led to mucho hilarity. A child of the '80s, I played all of the great games as a kid. My moves were never really any good, and, apparently, decades of un-use haven't really helped, much to my onlooking friends' delight. (For the record, they weren't particularly awesome, either.) Now, Barcadia So7 has a lot of great ol' videogames, including Donkey Kong, Mrs. Pac-Man, Frogger, Tempest, Q*bert, and Galaga (although with a severely faulty fire button), but the joint does not have all of the greats (no Asteroids, no Defender, no Joust, no Dig-Dug, no Space Invaders, no Missile Command, no Centipede), so don't expect to play everything you ever loved. I don't know if there were any bottled domestic beer specials, but my tab at the end of the night was pretty darn reasonable. The service was fine, and the clientele skewed pretty young. Can you imagine? There are video games older than some people able to drink in bars legally? Who knew. –– Anthony Mariani
Contact Last Call at lastcall@fwweekly.com.