Oh, damn, Ryan Gosling is cool. He's so cool that it hurts you deep inside. He has become famous as a romantic lead, and indeed his half-smile is enough to melt the stoniest heart. He flashes it occasionally in Drive, but that's not all he does. In the movie's masterful opening sequence, his character engages police in a low-speed nighttime car chase through the side streets of downtown Los Angeles, and Gosling's gaze burns a hole in the windshield as he executes an ingenious series of maneuvers behind the wheel while listening intently to both a police scanner and a live broadcast of a Clippers game.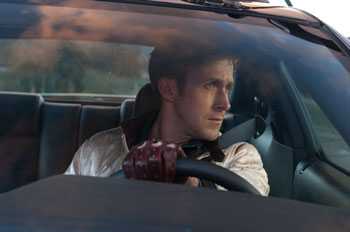 Elsewhere in this action thriller, he seems alert to every danger, registering new circumstances with a slight darkening of his expression or a tilt of his head. His character is the hero, yet the actor never lets you forget how dangerous he is. Gosling projects lethal calm and seriousness of purpose when he verbally threatens an overly chummy ex-cohort in a diner. Later, he physically threatens an ex-stripper who has sold him out to the mob (Christina Hendricks), and the soft-spoken, meticulous way he goes about it is what makes the scene so harrowing. Not since 2002, when Gosling portrayed a neo-Nazi in The Believer, has this actor been called on to scare the living crap out of an audience. He does so here, and his performance helps power one of this year's best and strangest movies.
Gosling's character, whose name we never learn, is a stunt driver for Hollywood films. He also moonlights as a getaway driver for armed robbers at the behest of his mobbed-up garage-owner boss (Bryan Cranston, leaking "desperate loser" vibe all over the screen). The driver starts to see the possibility of a different life when he meets Irene (Carey Mulligan, giving the movie some badly needed softness and radiance), who lives in the cheap apartment down the hall from him with her young son Benicio (Kaden Leos). Inauspiciously, her husband (Oscar Isaac) returns home from prison heavily in debt to mobsters, and he needs the driver's services so that his family won't be killed.
Based loosely on a pulpy 2005 novella by James Sallis, the material would seem to lend itself to a high-octane film treatment like The Fast and the Furious. Instead, Danish filmmaker Nicolas Winding Refn pulls way back on the throttle in this, his first Hollywood movie. He gives the film a spaciness that's reminiscent of David Lynch's take on L.A.'s seedy underside in Mulholland Dr. The deliberate pace helps draw us into this protagonist who's an ideal action hero because he's missing most of his soul. The only part of the driver that's human is the part that wants to protect Irene and Benicio, and Gosling is somewhere close to moving in the way he depicts the driver bonding with these two, maintaining bashful silence in Irene's presence or sitting ramrod-straight on a couch while watching TV with the little boy. Cinematographer Newton Thomas Sigel paints these early scenes in dreamy hues lit by golden California sunshine.
That only heightens the impact of the film's brutal and graphic outbursts of violence, which pile up in the second half. Refn is fond of making movies about men who are psychopathic killing machines, whether they're a 1970s British criminal (2009's flamboyantly theatrical Bronson) or a medieval Viking gladiator (last year's lyrically nutso Valhalla Rising). This movie's present-day American hero is cut from the same cloth, though he's far from the only instigator of bloodshed here. A great, shocking revelation comes when the film's most innocuous and reasonable-seeming man suddenly and dispassionately kills a low-level mobster in a particularly messy and painful way.
Perversely, the violence heightens the romance, too, most notably late in the film when the driver and Irene are trapped in an elevator with a hitman. Just before the assassin pulls his gun, the driver expresses his love for Irene by nudging her into the far corner of the elevator and tenderly kissing her. It's a gorgeous, insane, and utterly breathtaking moment. Then the driver knocks the hitman to the floor and stomps on his head repeatedly until there's no head left any more. Which is insane and breathtaking in a whole other way.
Refn obviously relishes staging such sequences, and there are enough of them here (including a crisply executed high-speed car chase midway through) to satisfy the popcorn-thriller crowd. However, they're only part of a fully integrated whole that includes bits of deadpan humor and sequences that build up the story's tension to an operatic pitch. No wonder Refn won the Best Director prize at this summer's Cannes Film Festival for his work here. Compared to other Los Angeles-set crime thrillers, Drive has neither the scope of Pulp Fiction or The Limey, nor the puzzle-box structures of Memento or the aforementioned Mulholland Dr. Yet this movie is nevertheless in the same league as those great recent films: audacious, superbly stylish, with a romantic and alienated feel all its own. Even with the many stops on this Drive, you'll still step out of it feeling like you've been on a 200mph joyride.
Drive
Starring Ryan Gosling and Carey Mulligan. Directed by Nicolas Winding Refn. Written by Hossein Amini, based on James Sallis' novelette. Rated R.