In our post-Oprah era, the overachieving mother who balances a high-profile job with keeping a perfect house and happy marriage should make for a fairly interesting film, one in which the compulsions to get everything 100 percent correct lead to a woman's ultimate breaking point. I Don't Know How She Does It is not that film, though it certainly wants you to believe it is. Rather than dig into the angst created by the pressure to perform on every level, the movie hedges its bets by sliding into easy, mom-friendly jokes and a celebratory "you go girl!" spirit.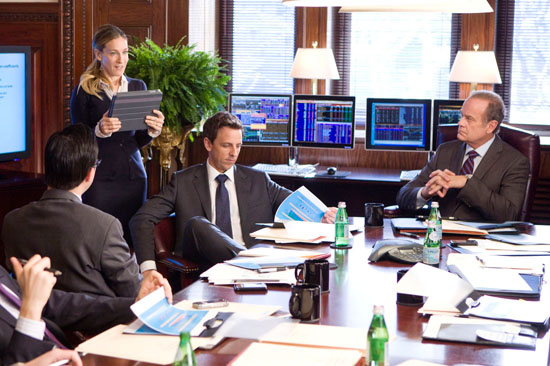 Based on the best-selling book of the same name, I Don't Know How She Does It stars Sarah Jessica Parker as Kate Reddy, a Boston-based investment analyst, wife, and mother to two precious young children. With the possible exception of her marriage, everything in her life is treated as high stakes, from the make-or-break business pitch in New York to the bake sale at her daughter's kindergarten. Even when she falters, we're reminded how she's still amazing at everything via fake off-camera interviews with her best friend (Christina Hendricks), her tightly wound assistant (Olivia Munn), her nanny (Jessica Szohr), and a domestic goddess/rival mother (Busy Phillips). When Kate successfully pitches a new financial product to her boss, Jack Ablehammer (Pierce Brosnan), her schedule gets even crazier. Over the next two months, we watch her free time disappear, increasing her daughter's resentment and her husband's distance. When her mother-in-law (Jane Curtin) criticizes her for her 2-year-old son's delays in learning to talk, Kate starts to crack, but her job ramps up, leaving her with no other choice but to say, "I'll be there." The job pushes her to the point of alienating her family, and that's when she finally learns that to achieve balance, sometimes she has to say, "I'll be there later," all while dropping chick-lit chestnuts about mammograms, dresses stained with kids' messes, and, yes, blowjobs.
Throughout the film, the asides and interviews beat you over the head with how hard and unfair it is to be a successful professional woman and super-mom at the same time, contrasted with the comparative ease enjoyed by men in the same roles. This theme gets tiresome, especially because her husband Richard (Greg Kinnear) does everything he can to help. In fact, Richard has a major deal with his own job, and he still manages to get the kids to school on time. Since the film was apparently made for harried mothers, the humor is mostly of the know-what-I'm-talking-about? variety, and to the movie's credit, it doesn't rely on too many kiddo-gross-out barf gags. Still, you've probably seen most of these jokes on network sitcoms.
Douglas McGrath directs with enough grace to keep the movie moving through so much sticky schmaltz, given that Parker plays Kate like a Carrie Bradshaw who listened to her biological clock. Unfortunately, Kate is pretty boring. When the awfully named Ablehammer earnestly hits on her, she's barely tempted, despite some ham-fisted innuendoes drafted as instant messages that she doesn't end up sending. Kate's daughter is forgiving, her husband still loves her, and she ends up pulling more weight at the office. I Don't Know How She Does It is never bitingly funny, nor is it particularly insightful. It's just a one-sided, inoffensive fantasy about getting everything right.
I Don't Know How She Does It
Starring Sarah Jessica Parker, Greg Kinnear, and Pierce Brosnan. Written by Aline Brosh McKenna, based on Allison Pearson's novel. Directed by Douglas McGrath. Rated PG-13