Customer Service
Readers' choice: Feed Your Head, 3415 S Cooper St, Arl
Critic's choice: Carolyn Wilson, Texas Health and Human Services, 1540 New York Av, Arl
The economy's been growling for years. We're not talking Gentle Ben bearish, but a hungry, grizzly kind of recession that decimates families. People seeking food and medical assistance are relieved when they come face to face with scheduling clerk Carolyn Wilson. For 20 years she's been treating clients with kindness and respect, remaining upbeat while giving folks hope during rough times.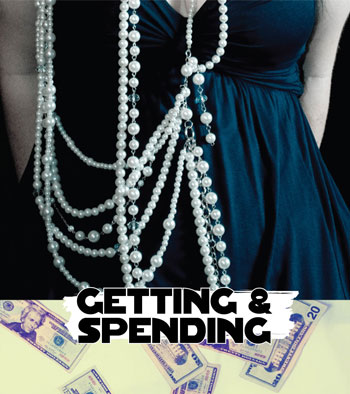 Hair Salon
Readers' choice: Salon Purple, 3124 E Belknap St, FW
Critic's choice: Salon 70, 5730 Locke Av, FW
The staff is sweet and friendly at Salon 70, no doubt influenced by owner and principal hairdresser Judi Perrotti, who's been plying her trade in the Fort for more than 20 years. The salon itself is an elegant, calming, charming place, with warm earthtones that invite relaxation and comfort.
Tattoo Parlor
Readers' choice: Knuckle Up, 2467 N Main St, FW
Critic's choice: Elite Tattoos, 5936 Curzon Av, FW
It's hard to compete against Elite. Owner Roxxy Burrus' color work (and every other type) is probably the best in town. He has a clean, professional shop, and his stable of regular and guest artists gives you plenty of options for fleshing out your sub-dermal fantasies. Whether you're looking for flash, portraiture, or something out of H.R. Giger's worst dreams, go for the upper echelon of body art at Elite.
Thrift Store
Readers' choice: Thrift Town, 2444 Jacksboro Hy, FW
Critic's choice: Family Thrift Outlet, 1950 Ephriham Av, FW
Disappointed with the downward quality (and upward prices) of some veteran Fort Worth thrift stores? Discerning cheapskates would be wise to take note of the Family Thrift Outlet. Merchandise starts at $1.75 on Thursdays and drops a quarter every day until reaching 25 cents by the following Wednesday. While you won't find any housewares, books, or music, the selection of clothing, purses, and shoes is probably the largest in town. More importantly, it's a thrift outlet, which is pretty funny — and no doubt a godsend in this economy.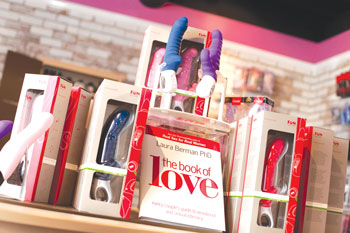 Enviro-Friendly Business
Readers' choice: Spiral Diner,1314 W Magnolia Av, FW
Critic's choice: Marshall Grain, 2224 East Lancaster Av, FW
This friendly feed store has been doing business in one form or another for almost a century and opened the store on Lancaster in 1946. About 30 years ago, its proprietors heeded the call of nature, so to speak, and started stocking organic products. Now they're a major part of the gardening line. Beyond that, the stores (there's a second location in Grapevine) offer seminars on topics like rainwater harvesting and xeriscaping, both generally preaching the gospel of water conservation.
Fashion Fad
Critic's choice: Sundresses and cowboy boots
Go hang out a bit on the TCU campus, and it quickly becomes clear that the uniform of the day for women is flowery sundresses with colorful boots. Some think this is a cliché — but hey, looking alike is, you know, what you do when you're in college in Fort Worth.
Guitar Shop
Readers' choice: Guitar Center, 5250 S Hulen St, FW
Critic's choice: Competition Music, 3136 E Lancaster Av, FW
Just like video killed the radio star, the advent of eBay killed mom-and-pop guitar shops. Fort Worth once boasted about a dozen little shops selling used guitars and equipment. Those shop owners scoured pawnshops, garage sales, and estate sales for much of their vintage inventory, but now that stuff goes straight to eBay. The middlemen got squeezed out. That's why Competition Music is so special — it's one of the last independent shops that deals in used instruments and isn't afraid to buy, sell, swap, barter, or otherwise wheel and deal.
Toy Store
Critic's choice: Owl's Nest Toys, 1220 Prospect St, Southlake
Having been saved from bankruptcy a couple of years ago, this independent shop tucked into one of Southlake Town Square's less-traveled corners features a wide variety of toys, games, and dress-up articles, none of which are from the giant corporations that dominate the toy market. With the store's gift coin program and personalized touch, it's no wonder that customers in northeast Tarrant County keep coming back.
---
Head Shop
Readers' choice: Feed Your Head
Critic's choice: Fusion Smoke Shop, 2205 W Berry St, FW
You'd think all there is to running a good head shop is keeping a good inventory of water pipes, some black-light posters, and a bunch of crystal wizards or whatever, but that's not true. Sure, Fusion has a huge selection of pipes, vapes, and everything else required for getting magically fumigated, but it's a lifestyle destination, man, which means you can also grab disc golf supplies, artwork, and even local tunes. Fusion's music rack includes CDs and vinyl hand-picked and solicited by the staff from the bands themselves for the store's couchlock-enhancing sonics. Plus, the hookah lounge ain't too shabby either.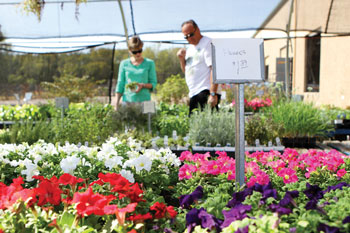 Skate Shop
Critic's choice: Index Skateboard Supply, 725 Airport Frwy, Hurst
ISS has plenty of boards in stock, but it goes beyond that. They've got tons of clothing, including Brixton hats, caps, and beanies and cool shoes like Etnies, Lakai, and laceless Janoskis. And the boards also have a cool vibe. One line is dedicated to The Simpsons. You can buy a Bart Simpson board like the one he rides in the TV show's opening credits or get one with a big Homer head. Or stand on the Duff Beer logo.
Bike Shop
Readers' choice: Trinity Bicycles, 207 S Main St, FW
Critic's choice: Colonel's Bicycles, 3053 University Dr, FW
Colonel's has been a staple of the TCU area for decades, offering quality products, great service, and friendly technicians. But this fall the bike shop will be moving to a larger location in the West 7th corridor, allowing Colonel's to expand its sales and service and tap into a new pool of urban trendsetters.
Gym or Health Club
Readers' choice: Uberkinetics, 3001 Shamrock Av, FW
Critic's choice: Smart Barre, 3911 Camp Bowie Blvd, FW
There's no shortage of well-equipped, clean, friendly healthy clubs, but there's only one Smart Barre. The recently opened studio/gym specializes in a regimen that blends Pilates, yoga, and ballet barre, targeting trouble spots such as the core, hips, thighs, seat, and arms, strengthening and lengthening muscles. And while a barre is used, tutus are not required. For prices and a schedule, visit http://smartbarrebody.com.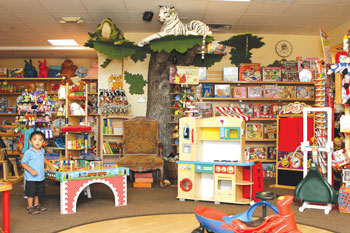 Gun Store
Readers' choice: Cheaper Than Dirt!, 2522 NE Loop 820, FW
Critic's choice: Cheaper Than Dirt!
There's a tasty little gun store that's opened up recently in Joshua that we'd love to give the nod to, but we just can't, because it's got nothing on perennial all-star Cheaper Than Dirt!, the super discount gun store that offers just about every man-killing, animal-shredding, hell-raising, pain-inflicting handgun, rifle, and shotgun in creation. Whether you just like to shoot at tin cans in the backyard or plan to survive for years in the wilderness after the country finishes flushing itself down the tubes, this is your place. Need a pink rifle for the little lady in all of us? Check. A .50-caliber to show everybody you've got the right stuff? Got it. Gas masks in case they try to gas you out? Right there. Come Armageddon, head for CTD.
Liquor Store
Readers' choice: Goody Goody Liquor, 4740 SW Loop 820, FW
Critic's choice: Goody Goody Liquor
The strip mall surroundings don't do justice to the patrician quality of the Goody Goody hooch superstore. The cavernous interior is divided into the theme park-like World of Wines and a more pedestrian room full of metal shelves and cardboard boxes containing most imaginable liquors. Probably because the chain can buy in bulk, the prices are more than reasonable. If you're craving a rare Japanese scotch or a new Texas tequila, Goody Goody is probably the only Tarrant County store large and adventurous enough to carry it.
---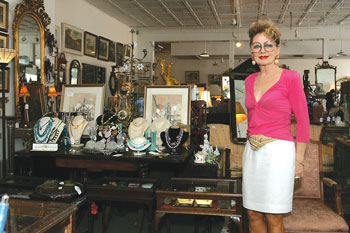 Hardware Store
Critic's choice: Jabo's Ace Hardware Westcliff, 3548 S Hills Dr, FW
For those who aren't professional builders, wandering through the small towns camouflaged as big hardware stores can be pretty intimidating. Not so at the Westcliff Ace, where friendly employees ask what kind of help you need the second you walk through the door. Too proud to seek help? The store is well organized and big enough to carry the right-size screw or color of paint but small enough to make you feel that, yes, you too can accomplish those frightening home repairs.
Tech Store
Readers' choice: Apple Store, 1620 S University Dr, FW
Critic's choice: CompUSA, 1600 I-20 W, Arl & 2800 Hwy 121, Euless
Are you surprised that these stores still exist? Us too. The Miami-based chain isn't a fixture of every third strip mall the way it was in the 1980s and '90s, but after a corporate reorganization a few years ago, it has come back with a few stores scattered across the country and more than a few in Florida and Texas. With their extensive selection and competitive pricing of tech gadgets and office supplies, who needs the spiffy décor of Best Buy? These shops, conveniently located off major highways, are stripped-down alternatives to the big chains.
Gift Shop
Readers' choice: Earthbones, 6220 Camp Bowie Blvd, FW
Critic's choice: National Cowgirl Museum and Hall of Fame, 1720 Gendy St, FW
You know it's a good place for buying gifts when we recommend it in spite of the fact that you have to pay to shop there (for parking, that is, not entrance fees: $5 close in, $3 across the street). So here's a double-barreled suggestion: Go with a list. Park once, shop two or three times — start at the Cowgirl, and if you don't find what you want there, try the Fort Worth Museum of Science and History. If you have the time, energy, and items still to get, then by all means try the Amon Carter Museum across Lancaster Avenue to the north. Back to the Cowgirl, though: It has beautiful jewelry, classy housewares, books on the West that you'd be hard-pressed to find elsewhere, picture frames, stuff for kids. True, it's aimed more at women than men, but there's plenty for both — and really, wouldn't the guy on your list go for a tasteful Christmas ornament bearing John Wayne's visage?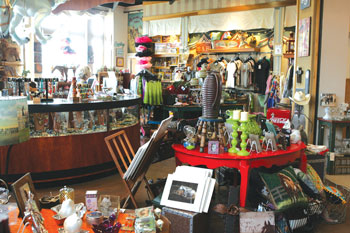 Car Wash
Readers' choice: Red Carpet, 5829 Camp Bowie Blvd, FW
Critic's choice: Burleson Car Wash, 537 SW Wilshire Blvd, Burleson
How do used-car dealers get that "new car smell" in the old junkers they buy for $1,800 and turn around and sell for $8,995 "like new!"? Well, they get rid of the gum stashed under the seats, eliminate the sweat stains on the arm rests, and clean it within an inch of its life. You can get the same treatment for your ride at several dealerships around town, but our favorite is the Burleson Car Wash. It's not cheap — the full enchilada, including undercarriage, motor, and entire interior is $155. And it's by appointment only. But trust us: Once every year or two, it's worth it for that new car smell.
Barbershop
Readers' choice: Race Street Barber Shop, 2921 Race St, FW
---
Spa
Readers' choice: Perfect Touch, 3023 Bledsoe St, Ste 103, FW
Critic's choice: European Skin Care, 6038 Camp Bowie Blvd, FW
From aromatherapy massage to youth-recovery peel, the services offered at this Westside spa number more than 50 and range from pampering your face to prettifying your tootsies. The staff seems more than up to speed (Hi there, Theresa!), and everybody gets extra points for making low-maintenance journalists feel like superstars.
Motorcycle Shop
Readers' choice: Cycle Gear, 3032 Alta Mere Dr, FW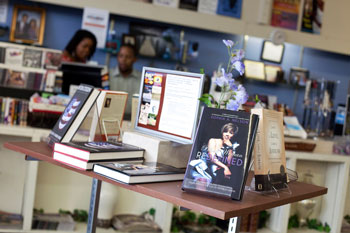 Place To Buy:
Books
Readers' choice: Half Price Books, 5417 S Hulen St, FW
Critic's choice: The Dock Bookshop, 6637 E Meadowbrook Dr, FW
The shuttering of Borders is the biggest casualty so far in an ongoing, industry-wide decline, but don't expect brick-and-mortar indies to benefit, as sales move online. Still, now's as good a time as ever to highlight the Dock, one of the last remaining independent booksellers in town. Perched on Fort Worth's East Side, the shop's selection of new African-American (and African) fiction and nonfiction is notable for its mix of popular, literary, academic, and regional books. There's also a small used section that carries some general-interest titles. More than a bookstore, the Dock is a force for good in the community, regularly hosting panel discussions, author talks, and film screenings.
Comic Books
Readers' choice: Lone Star Comics, 1215 S Cooper St, Arl
Critic's choice: Lone Star Comics, 5429 S Hulen St, FW
Other stores may carry a large selection of comics and related merchandise, but Lone Star Comics on Hulen stands head and shoulders above others thanks to its superb customer service. While this store may lack a deep back-issue archive or an exceptionally large gaming area, the staffers are warm and helpful — they know their comics and are friendly to regulars and newcomers alike. They're always ready with a reading recommendation and are happy to introduce people to hobby gaming, with weekly gaming nights for everything from card games like Magic: The Gathering to miniature games such as Warhammer 40,000. Throw in events like organized screenings for the latest superhero flick, and it's obvious this operation isn't based only on what sells; it's run by people who make it a welcoming place for fans to get their four-color fix.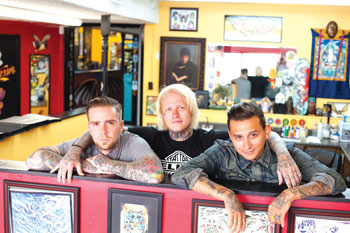 Used CDs/Records
Readers' choice: Half Price Books, 6912 Ridgmar Meadow Rd, FW
Critic's choice: Doc's Records & Vintage, 2111 Montgomery St, FW
How many times can one store win this award? As many times as possible, apparently. For the serious audiophile and vinyl freak, Doc's Records & Vintage remains an oasis in a barren retail landscape. The aisles are chock-full of classics and nuggets, and Doc's even recently added a local CD section.
---
New or Used DVDs/Videos
Readers' choice: Movie Trading Company, 4604 SW Loop 820, FW
Critic's choice: Borders Books and Music, various locations
When the Ann Arbor, Mich.-based chain announced a few months ago that they were shuttering all their stores, the result was a bonanza for DVD enthusiasts. The chain had gone all in on multimedia at the expense of books (one of several bad decisions that resulted in the chain's demise), so at the end they had tons of recent and vintage feature films, exercise videos, nature documentaries, concert movies, and TV box sets, all for sale at bargain-bin rates. You could even buy their shelving to house all your shiny new discs. While we feel for the book-loving employees thrown out of work, we're glad for the kung fu films and season of ER bought for pocket change.
20th-Century Relics
Readers' choice: Montgomery Street Antique Mall, 2601 Montgomery St, FW
Critic's choice: Cattle Barn Flea Market, Gendy Street at Harley Avenue, FW
If you want to wander through air-conditioned booths looking for collectibles and pricey furniture, try Montgomery Street Antique Mall just up the road. But if it's a Saturday or Sunday and you like a little more adventure in your secondhand safari, check out Cattle Barn 1 in the Will Rogers complex. The flea market has been operating on weekends there for many years, and folks from around the state know about it. The ripoff $5 parking fee that the city now charges has reduced the number of customers, but hey, that means more tarnished treasures left for you.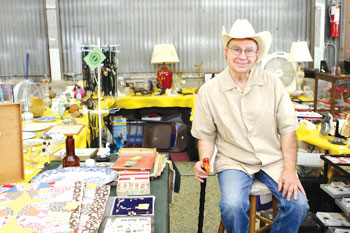 Antiques Shop
Critic's choice: K. Flories Antiques, 3915 Camp Bowie Blvd, FW
This shop has an impressive selection of furniture and accessories, rugs and art works from 300 years ago to the present, from Europe, Asia, and America, all moderately priced. A collectible shoppers' dream place, there's serious antiquing too. The shop buys as well as sells, and merchandise is replenished almost daily.
Jewelry
Readers' choice: Bess and Evie's, 931 Foch St, FW
Critic's choice: Uncommon Angles, 2600 W 7th St, Ste 115, FW
There's plenty besides jewelry in this beautiful shop in Montgomery Plaza, but the excellent selection of wearable art, amid all the other don't-need-it-but-really-want-it items, makes this one of our favorite places. Drop in after lunch or before you stop in for that caffeine refill at Starbucks. Browse, spot your favorites, and then go whisper in the ear of someone who's looking for a way to make you happy. Of course, you can also buy one-of-a-kind earrings, rings, pins, and necklaces there for other people. If you have to.
Adult Toys
Readers' choice: Velvet Box, 9100 North Fwy, Ste 124, FW
Critic's choice: Velvet Box, 2917 Morton St, FW
The store — which also has a location in the Sam Moon Shopping Center — has a motto: Be fearless. Which is exactly what it takes for most of us to head into an adult toy store. Asking which stimulator provides the best bang for the buck isn't an easy thing to do. Neither is watching your wife say to the clerk, "I could sure use something like this! I don't have anything like it at home." But if you can summon up the courage, the Velvet Box offers some of the most, um, rewarding toys in town.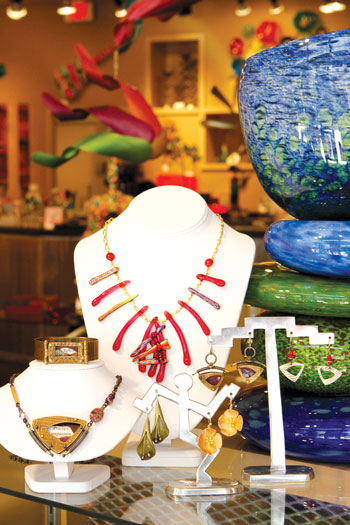 Video Games
Readers' choice: Game Stop, 2821 W Berry St, FW
Critic's choice: Movie Trading Company
We give up. Local video game retailers have come and gone (mostly gone), but no one has come close to matching the stores run by this subsidiary of Blockbuster Video. With selections that easily outdistance the big-box retailers and pricing that rivals the likes of Half Price Books, these stores are the reigning undisputed champ and will be until someone else knocks them off their perch.
Cigars
Readers' choice: Pop's Safari, 2929 Morton St, FW
Critic's choice: Pop's Safari
Whether you're a bona fide tobacco connoisseur or just want to sit in a nice chair with a good beer, Pop's is the number-one destination for relaxing with a stogie. Its humidor is practically spilling over with top-quality names, and if you don't recognize any, the staff will be happy to help, as well as keeping burgeoning aficionados from doing it all wrong and ruining a good smoke. The room's comfortable, Victorian-social-club vibe also plays host to regular acoustic gigs from area singer-songwriters, too.
Cheap Threads
Readers' choice: Plato's Closet, 4625 Donnelly Av, FW
Critic's choice: Plato's Closet
Ah, life in the land of plenty. Before the recession kicked us into crunch mode, young adults could go to the mall and pick up the latest fashions at their favorite stores. When the seasons changed — or Suzie showed up at school in a too-similar outfit — the same young adults could sell those clothes to Plato's Closet and then repeat the whole cycle. Plato's now has a huge reserve of slightly out-of-fashion but still wearable clothes for those of us unable or unwilling to shell out big bucks for a new wardrobe.
Place to Blow Money Accidentally
Critic's choice: The Flying Saucer Draught Emporium, 111 E 4th St, FW
Even if you haven't signed up for the Flying Saucer's UFO program (the 200-beer quest for a plate on the wall), it's easy to go broke diving into the downtown draught emporium's seemingly endless supply of suds from around the world. From Abita to Ziegenbock and all the crème de la crème Trappist ales in between, you'll get pleasantly lost and happily destitute in an international trip through the world of craft beers. Just be sure you squirrel away some money for the cab ride home.