Late-Night Dining
Readers' choice: Taco Heads
The food truck trend has changed the late-night game, but it also seems that, every year, more sit-down and drive-thru restaurants get the message: People get hungry after midnight.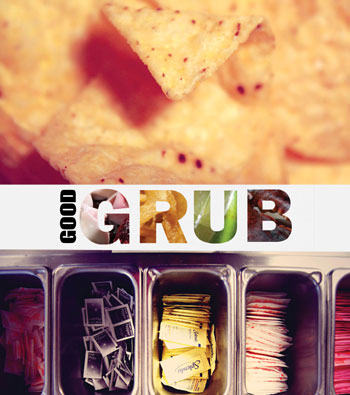 One of the new standouts, Café Brazil (2880 W Berry St, FW), is open 24 hours and offers great variety and quality. The much ballyhooed In-N-Out Burger (2900 W 7th St, FW) is serving the burger-craving masses until 1am on weeknights and 1:30am on weekends. Everything is fresh, never frozen, and the service really will get you in and out.
As for food trucks, all of a sudden, the mobile kitchens are like spiders — you're never more than a few feet away from one. The after-closing-time crowds now have a rich variety of options, all within stumbling distance of several bars. In West 7th, Trough Burger Wagon (2801 Crockett St, FW) keeps grillin', chillin', and thrillin' until 2am Thu-Sat; Taco Heads (2700 W 7th St, FW) mines late-night taco gold until 2am Wed-Sat; and The Wiener Man (700 Carroll St, FW) throws a delicious sausage party until 2:30am Wed-Sat. Late-night stalwart Salsa Limón (2916 W Berry St, FW) keeps truckin' until 2am every night, and its stationary location at La Gran Plaza slings gourmet tacos until 2am on Fridays, 3am on Saturdays. The food is actually healthy, and the ingredients are muy fresh.
Some of the old stand-bys still warrant applause. Every weeknight, El Mil (3910 Hemphill St, FW) stays open until 3:30am (and 4am on weekends), and the food is alcohol-absorbing, greasy brilliance. Taco meccas Ernesto's Taqueria (4050 Hemphill St, FW) and Juanito's Taqueria (4150 Hemphill St, FW) stay open past 3am on weekends. Benito's (1450 W Magnolia Av) keeps the Mad-nolia crowd full of authentic Mexican fare until 2am. Fuzzy's (2917 W Berry St, FW) serves outstanding fish and shrimp tacos all day, but on weekends they keep 'em coming until 3am for TCU-area nightowls.
All-Star Mexican Food
Soup: Mexican lentil at Lili's Bistro, 1310 W Magnolia Av, FW. Spicy, earthy goodness, the only sopa we know that can beat out the bean soup at La Familia.
Tacos: The El Capitan at Salsa Limón is crazy good: beef, melted cheese, and pickled cabbage on a flour tortilla. 4200 S Fwy, Ste 1099, FW.
Enchiladas: Pick a sauce, any sauce (we're partial to the jalapeño cream) to top your chipotle shrimp enchilada, and you're in wrap heaven. Salsa Fuego, 3520 Alta Mere Dr, FW.
Chiles rellenos: Giant battered-and-deep-fried chile, served in a tasty broth and stuffed with gooey cheese and meat. Benito's.
Guacamole: Can guacamole be so fresh it sparkles? It does at El Asadero, 1535 N Main St, FW.
Seafood cocktail: Go for the shrimp version at La Playa Maya, 1540 N Main St, FW. The red juice/sauce is sweet and hot at the same time, the shrimp big, fresh, and tasty.
All-Star Barbecue
Brisket: There's a wallop of mouthwatering, meaty goodness inside every slice at Wilson's Bar-B-Q, 6513 Brentwood Stair Rd, FW.
Chicken: Among the dozens of other reasons for the multi-decade longevity of Angelo's Bar-B-Cue, the bird –– hearty, peppery, and dripping with flavor –– is one of the biggest. 2533 White Settlement Rd, FW.
Pork chop: You'd be hard-pressed to find one better than the smoky, succulent, gut-busting two-incher at The Smoke Pit, 2401 E Belknap St, Haltom City.
Ribs: So big you'd think they came from a brontosaurus. They're also juicy and fall-off-the-bone good at Woody Creek Bar-B-Q, 6996 Green Oaks Rd, FW.
Sausage: Unlike the handiwork of imitators, the jalapeño-and-cheese link at Roscoe's Smokehouse ain't no gimmick. It's an explosion of sweet-and-salty spiciness that will make your tastebuds party. 1541 SW Wilshire Blvd, Burleson.
Sauce: Doesn't get much better than the dense, creamy, and tangy but not overly syrupy sauce concocted by old man Robinson at Robinson Bar-B-Q. Better still, he bottles the stuff for sale. 1028 E Berry St, FW.
Turkey: The big bird is smoky and melt-in-your-mouth –– and not the least bit dry –– at Texas Pit BBQ, 324 S Saginaw Blvd, Saginaw.
Sides: The potato salad is chunky and rich yet goes down smooth at David's Barbecue, 2224 W Park Row Dr, Arl. (The 'cue is also pretty darn tasty.)
---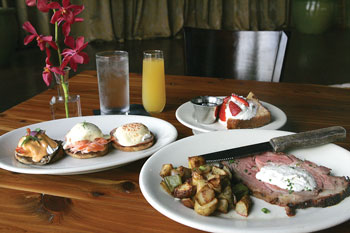 All-Star International
Drink: Salty preserved-lemon soda is an acquired taste, for sure, but there's nothing better for washing down a pork-and-pâté sandwich. Acquire yours at Ba-Le Vietnamese Restaurant, 2240 Browning Dr, Arl.
Bread: The wonderful lunch buffet at Star India almost has it all — but do go a la carte for the paneer kulcha, a puffy, fresh-baked flatbread stuffed with raisins and homemade cheese, to sop up all of the other stuff. 703 W Park Row Dr, Arl.
Appetizer: How do you like your stuffed grape leaves? Lebanese style, with an extra sparkle of lemon and tomato, or Greek, with a dip of housemade tzatziki sauce? No need to suffer the anxiety of choosing; Al Wadi Café does a fabulous job with both. 2712 Brown Tr, Bedford.
Soup: Pho Que Huong, in the upscale strip mall by Central Market, calls itself a "bistro," but appearances are deceiving — the rich beef pho here is the real deal, the nine-hour-simmer kind, just like you'd find along Belknap Street. 4601 W Fwy, FW.
Salad: But where's the lettuce? Gone, to make more room for tomatoes, cucumbers, onions, bell peppers, and feta cheese. Feta salad at Chadra Mezza & Grill, 1622 Park Place Av, FW.
Entrée: It's hard to figure how chicken chunks can be grilled so crispy on the outside yet remain so tender and juicy within. Ancient Syrian secret or a simple garlic-lemon marinade? Probably both. Shishtawook at Semiramis Café, 803 W Park Row Dr, Arl.
Sides: You have to order an entrée to get access to Korea House's bottomless side dishes — kim chee, fish cakes, soybean sprouts, seaweed, and many more, all as tasty as they are lovely — but trust us, that's no hardship. Korea House BBQ, 4750 Bryant Irvin Rd, FW.
Dessert: Ah, strudel. Is there any dessert more perfect than a buttery, crisp pastry with a warm apple-walnut filling? Answer: No. Apple strudel at Blue Danube, 2230A W Park Row Dr, Arl.
All-Star Home Cooking
Meatloaf:The best way to avoid shame when you take your grandmother out for meatloaf is to find her a booth at Montgomery Street Café, 2000 Montgomery St, FW. The loaf is homemade, delicious, and covered in brown gravy.
Chicken-Fried Steak: Perhaps the most important dish in the chicken-fried capital of the world, no one does it better than Babe's Chicken Dinner House, 114 W Pearl St, Granbury. The generously portioned steak is slathered in cream gravy and crisp to perfection.
Chicken Livers: There aren't many places that serve the most under-rated part of the bird, but Paris Coffee Shop, 704 W. Magnolia Av, FW, does it right. The little morsels are lightly battered and slathered in gravy.
Pork Chops: Rosebud Café, 1519 W Rosedale St, FW, doesn't do anything fancy with the chops, but they are always tasty, comforting, and well-portioned.
Desserts: The various fruit-filled pies at Division Street Diner (1800 W Division St, Arl) are good enough to eat first. They're made daily, in-house, with flavors dependent on what fruit is in season.
All-Star Chain Dishes
Appetizer: It's a mystery why a chain restaurant named after a traditional Southwestern dish associated with cowboys and settlers would be able to serve such flavorful egg rolls, but it's a happy mystery. The egg rolls rock at Chili's.
Salad: You'll crunch away with tasty, nutritious zeal when you get the spinach salad at The Keg Steakhouse & Bar.
Entrée: The garlic cream in the Pasta Milano is good enough to be named a national treasure, and when you add roasted chicken, sun-dried tomatoes, and mushrooms, it's a bowl of heaven at Romano's Macaroni Grill.
Sides: The homestyle sides are so good, you might just be tempted to order the veggie plate and make it a meal at T.G.I. Fridays.
Dessert: For many of us, the cone is as important as the topping when deciding on a little frozen after-dinner treat. The waffled bad boys hit the spot at Marble Slab Creamery.
Burgers
Readers' choice: Fred's Texas Café, 915 Currie St, FW
Critic's Top Five:
Sure, if all you're after is filling your tummy right this second, hit the drive-thru of one of the national burger chains that have been popping up on seemingly every corner in the county. You'll get a predictably decent burger and fries. But if you have a few minutes to spare, try actually going into a real burger joint. Sit down. Relax. Enjoy something better, fresher, a bit more imaginative. Our favorites this year:
• Hefty enough for two, but you won't want to share: The aptly named Extreme Burger is made with fresh-ground beef and topped with two cheeses, real bacon, and fresh-from-the-farmers-market portobello, avocado, lettuce, and tomato. Christie's Extreme Burgers, 5209 Rufe Snow Dr, NRH.
• The updated traditional cheeseburger: Grass-fed, locally raised beef is seasoned and grilled just right, then finished with a classic yellow square of all-American goodness and super-fresh toppings. And of course, it's found in a gas station-slash-diner. Chef Point Café, 5901 Watauga Rd, Watauga.
• If breakfast is the most important meal of the day, let's have it on a burger: The Magnolia Custom stacks chicken-fried bacon, country ham, and a fried egg atop one delicious hot rod of a patty. Magnolia Motor Lounge, 3005 Morton St, FW.
• When in Texas … don't be afraid to try something different. The Carolina, a char-grilled mixture of ground beef and slow-smoked pulled pork topped with bold Carolina-style barbecue sauce, will have you shouting yee-haw (in a funny accent). Chop House Burgers, 1700 W Park Row Dr, Arl.
• Sometimes you just want a simple, classic, perfect American cheeseburger. And sometimes you want a Belly Buster, a half-pound of fresh-never-frozen ground beef sautéed in Worcestershire and topped with the usual fixings — plus onion rings, jalapeños, grilled onions, bell peppers, bacon, and two kinds of cheese. Go to either extreme at Pop's Burgers & Grill, 4400 Benbrook Hwy, FW.
---
Steaks
Readers' choice: Del Frisco, 812 Main St, FW
Critic's Top Five:
• Best too-pretty-to-eat (almost). Gorgeously seared shell, juicy pink mantle, warm red core — exquisite. We hated to make it disappear, but luckily this steak tastes as good as it looks. Filet mignon, Ray's Prime Steakhouse & Seafood, 3206 Winthrop Av, FW.
• Best use of pan juices. Added-in brandy, mushrooms, shallots, butter, and cream don't hurt, but it's those little brown flavor crystals that make the Steak Diane a goddess. Lambert's Steaks, Seafood & Whiskey, 2731 White Settlement Rd, FW.
• Best omigod-that's-spicy. This is a steak for Texans –– big, bold, chipotle'd, Shiner-marinated — a steak that melts in and warms up your mouth all at once. Rib-eye at Fred's Texas Café, 95 Currie St, FW.
• Best pairing. Skinny and double-fried, with crispy outsides and soft warm insides — the frites here are the best in town, the rib-eye is perfectly cooked, and the peppercorn cream sauce joins the two in holy scrumptiousness. Steak frites at Sapristi! Bistro & Wine Bar, 2418 Forest Park Blvd, FW.
• Best bargain. The flavor of a strip steak, the tenderness of a filet, the price of a couple of gourmet burgers. Flat-iron steak at Cat City Grill, 1208 W Magnolia Av, FW.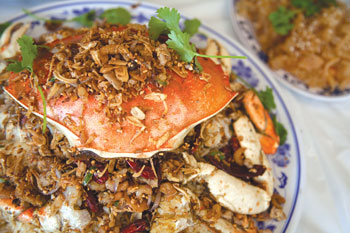 Taqueria
Critic's choice: Salsa Limón, 4200 S Fwy, Ste 1099, FW
Taco impresario Ramiro Ramirez follows a single un-fussy formula: fresh, simple, and authentic. The result is something refined and elevated. Salsa Limón offers all of the various parts of pigs and cows that most gringos shy away from, and yet Ramirez' star is rising with the mainstream while maintaining credibility with Hispanics.
Breakfast
Readers' choice: Ol' South Pancake House, 1509 S University Dr, FW
Critic's choice: Montgomery Street Café, 2000 Montgomery St, FW
When assessing a restaurant for being the best at some style, you must take into account the sum of the parts. Montgomery Street Café's breakfast wins hands down. Atmosphere: old-fashioned diner with counter seating. Service: old-school waitresses who are efficient and friendly. Food: solid and traditional. (We love the bowl of oatmeal with raisins and brown sugar.) Value: Now this is the best part. Two eggs, bacon or sausage, hash browns or grits, and biscuits and gravy or toast for $3.99. The biscuits –– homemade, huge, and fluffy — served with the cream gravy are a meal in themselves.
Coffee
Readers' choice: Avoca Coffee,1311 W Magnolia Av, FW
Critic's choice: Buon Giorno, 915 Florence St, FW
This Grapevine staple recently opened a downtown Fort Worth location, where locals have been lining up for tasty cups of joe made from beans roasted in the home base up the road. The downtown establishment is comfy, the staffers are knowledgeable and nice, and the brews are flavorful –– all of which indicates that the people behind these roasts know what they're doing. Sit down with your laptop (free WiFi, natch), get your Garry Kasparov on with a game of chess, or play Words with Friends the old-fashioned way — with Buon Giorno's complimentary Scrabble board. The people-watching is good too.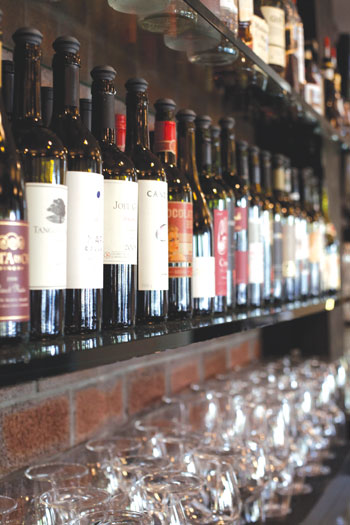 Coffee House
Readers' choice: Avoca Coffee
Critic's choice: Avoca Coffee
Avoca Coffee is just one more thing that makes the South Side the envy of all other neighborhoods in the Fort. Yes, the coffee served here is a little more expensive than what you'd get at Starbucks, but it's twice as good, locally owned, and with beans roasted in-house. The dining room/lounge area is stylish, artsy, and comfortable, and the staff is friendly and prompt.
Brunch
Readers' choice: Blue Mesa Grill, 1600 University Dr, FW
Critic's choice: Lambert's Steaks, Seafood & Whiskey, 2731 White Settlement Rd, FW
At Lambert's all-you-can-eat Sunday brunch buffet, help yourself to house-smoked salmon, smoked prime rib with horseradish cream, migas with fresh salsa, maple-glazed pork loin, and griddled potatoes until you're too stuffed to move — but wait, there's more. Included in the price of the buffet are cooked-to-order dishes like salmon or prime rib Benedict, brioche French toast, eggs any way you want them, and Lambert's renowned green-chili cheddar grits. We dare you to save room for dessert –– or even dinner.
Lunch Bargain
Readers' choice: Nizza Pizza, 401 University Dr, FW
Critic's choice: Rosebud Café, 1519 W Rosedale St, FW
It may not be the height of culinary achievement, but Rosebud serves up good home-cooking that won't dent your wallet. With lunch specials as low as $3.99, Rosebud exists for the working men and women who appreciate good value and tasty grub.
---
Kids' Dining Venue
Readers' choice: Fuzzy's Tacos, 2917 W Berry St, FW
Critic's choice: Curly's Frozen Custard, 4017 Camp Bowie Blvd, FW
Though it's been around for only about 10 years, Curly's is an institution. And with good reason: Their frozen custard cones and sundaes are the best in town, and nobody can touch their Nathan's hot dogs. Whether you've got the kids on a 100-degree summer day in a car with no air conditioning or just want to bring out your inner child, Curly's banana splits, slushes, malts, floats, and simply amazing "concretes" — vanilla or chocolate custard with your favorite candy, fruit, or nuts mixed in — will do the trick. Best of all, the prices are so reasonable you can bring a carload of youngsters and not feel the pinch.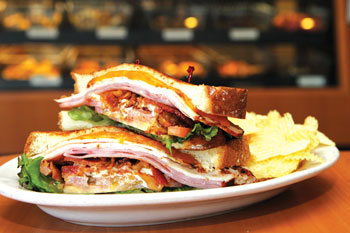 Romantic Atmosphere
Reader's choice: Sardine's Ristorante, 509 University Dr, FW
Critic's choice: Reata Restaurant, 310 Houston St, FW
So, it's not particularly feminine, luxurious, or fluffy –– that's a plus. A staggering number of folks go to Reata for engagements, anniversaries, and other special occasions. Every night there's at least one couple celebrating something and upward of a dozen such couples or groups on the weekends. Maybe that's because Reata manages to be both upscale and spectacularly comfortable –– definitely a plus for men (and women) who like their romance a little more understated. The service is usually impeccable, and the menu offers consistently fine cuisine.
Home Cooking
Readers' choice: Buttons, 4701 W Fwy, FW
Critic's choice: Montgomery Street Café
Montgomery Street Café is a throwback to the era when the waitresses called you "Hon," people sat on stools and ate at the counter, and the food was hot, reasonably priced, filling, and delicious. It's the kind of place that Grandma would endorse and that everyone else should support.
Deli
Readers' choice: Carshon's Deli, 3133 Cleburne Rd, FW
Critic's choice: Taste of Europe, 1901 W Pioneer Pkwy, Arl
This multifaceted place, with its tchotchkes, antiques store, jewelry shop, and military-collectibles depot, somehow also finds room for a small delicatessen, whose smorgasbord of Eastern European lunchables includes Hungarian bacon, German bologna, Estonian salami, Polish knockwurst, and cheeses from nearly every post-Soviet republic. And, not surprisingly, the finest borscht in town.
Greasy Spoon
Critic's choice: Vickery Café, 4120 W Vickery Blvd, FW
Fans of down-home cooking, fast service, and reasonable prices should make Vickery Café a regular lunch stop. Though some recent remodeling has made the restaurant a little less dive-y, it still holds its charm and churns out chicken-fried everything.
Indian
Readers' choice: Bombay Grill, 4625 Donnelly Av, Ste 109, FW
Critic's choice: Star India, 704 W Park Row, Arl
Honestly, finding good Indian food west of Hwy 360 is tough, but there's a couple of tips you should always keep in mind: Seek out a hole-in-the-wall and, when possible, opt for the buffet. Variety is key, and choosing from the buffet will also help you approximate a full, balanced, home-cooked meal. Star India's well-rounded selection would suit vegans and omnivores alike. In some ways the place is atypical for an Indian restaurant, since you might find the dal (lentils) conspicuously missing from the buffet and beef-based dishes available. This hearty North Indian fare, not too tough on the wallet, is perfect for any casual diner with a curious palate.
Cajun
Readers' choice: Boo-Ray's, 3039 Fort Worth Hwy, Hudson Oaks
Critic's choice: Pierre's Mardi Gras Café, 2816 S Cooper St, Arl
We gave "Best Cajun" to Pierre's Mardi Gras Café twice before, in 2007 and 2009, and a visit earlier this year confirmed that opinion: Pierre's continues to roll out the most reliably tasty and authentic N'awlins staples in Tarrant County, if not North Texas. The meat-and-seafood-loaded gumbo is still a hot mess of delicious flavors, the fried oysters are silky and delectable, and the jambalaya spicy and savory.
French Cuisine
Critic's choice: St. Emilion Restaurant, 3617 W 7th St, FW
St. Emilion is stubbornly traditional. And that's not a bad thing, considering that French culinary tradition involves honoring fresh ingredients; creating big, rich, flavorful food; and executing it perfectly. Every night, Chef Mark Hitri and his staff create a window into the origins of modern American Nouveau, a style that borrows heavily from French cuisine, while transporting patrons to the French countryside.
---
Chinese
Readers' choice: P.F. Chang's, 400 Throckmorton St, FW
Critic's choice: ABC Seafood, 2420 E Arkansas Ln, Arl
The 265-item menu at this warehouse-size Chinese restaurant includes plenty of fire pots, sizzling platters, shark-fin dishes, and stir-fries, but the best reason to go is dim sum (11am-3pm every day but Mondays). Kick back while the cart ladies trundle by with dumplings (fried or steamed, stuffed with shrimp, pork, leeks, and/or other yummies); steamed buns (pork or red bean); fried shrimp balls; sticky fried rice, marvelous barbecue pork; and plenty of dishes featuring tofu, beans, and vegetables. Point at what you want, smile, and enjoy.
Tex-Mex (Under $10 Entrée)
Readers' choice: Taco Heads, 2700 W 7th St, FW
Critic's choice: Amy's Restaurant, 1537 N Main St, FW
The building isn't fancy, just a little old storefront on the North Side. But inside, Amy's serves authentic, basic, quality Mexican food at low prices. Breakfast specials are only $4; lunches are $6. This nondescript hole-in-the-wall has been incognito for too long. Amy deserves your love.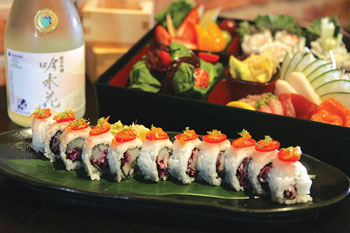 Tex-Mex (Over $10 Entrée)
Reader's choice: Mi Cocina, 4601 W Fwy, FW
Critic's choice: El Gabacho, 408 W Abram St, Arl
Some of the best Tex-Mex in the area can be found at this family-owned, family-run restaurant, tucked into a pretty little shopping center in central Arlington. Over the last two years, David Govea and nephew/co-owner Ryan have made some modifications — bigger patio, flat-screen TV in the bar. But the deals are still the same, and much of the menu hovers right around $10. Try the fajita enchiladas: three huge, gooey cheese enchiladas covered in chicken fajita meat, then smothered in tangy ranchero sauce. The Tex-Mex tour runs about $20, but the selection of quesadillas, chicken-stuffed fried jalapeños, flautas, and crunchy tacos easily serves a party of four.
Italian
Readers' choice: Nonna Tata, 1400 W Magnolia Av, FW
Critic's choice: Fortuna Italian Restaurant and Pizza, 5837 Camp Bowie Blvd, FW
As a small, independent, moderately priced restaurant specializing in tasty Northern Italian dishes, Fortuna's has few peers. It still serves hearty pastas in tomato sauce and tempting pizza combinations, but its triumph is the savory cream and wine sauces it brings to meat and seafood entrées. If you still have room, the tiramisu, spumoni, and cappuccino-ice-cream pie are sinful.
Pan-Asian
Readers' choice: Pappa Chang Asia Bistro, 1526 Pennsylvania Av, FW
Critic's choice: An Zen, 2740 Western Center Blvd, Ste 516, FW
No discussion about pan-Asian food in town is complete without An Zen, a stylish, friendly, and often-overlooked spot in a North Fort Worth strip mall (a few parking spots away from Fred's North). Though the menu contains adventuresome signature rolls, the classics get the job done, and whether you've ordered some Thai food (awesome), curry (spectacular), or Chinese –– the kung pao chicken is not only plentiful and mouthwatering but wonderfully presented –– everything that arrives is gourmet quality: fresh, perfectly prepared, and delicious. (And the price is always right.)
Vietnamese
Readers' choice: Pho Hung, 4125 E Belknap St, Ste 107, Haltom City
Critic's choice: Tu Hai Restaurant, 3909 E Belknap St, Haltom City
With all of the new Vietnamese restaurants popping up throughout North Texas, it's easy to lose sight of the stalwarts. But Tu Hai –– family-owned and operated for more than two decades –– continues to deliver the goods. The pho soups are delicious, with the right blend of heat, sweetness, and mint. The bun noodle bowls (our favorite is bun thit nuong, a beef-and-vermicelli concoction) are filling, and the spicy sauces add to the flavor. Same with the banh xeo: crepes stuffed with shrimp and pork. And don't miss the spring rolls, accompanied by the best peanut sauce around. The care that Tu Hai gives to food preparation and service is a part of family pride. Only one (small) problem: cash only.
Thai Food
Readers' choice: Thai Tina's, 600 Commerce St, FW
Critic's choice: Sweet Basil Thai Cuisine, 977 Melbourne Rd, Hurst
This little place near Northeast Mall has "sweet" wrapped up, from its décor –– cinnamon walls, tasteful art –– to the lovely presentation, generous portions, and top-notch flavors of the food. Try the peanut chicken: The al dente broccoli and snow peas plus a sweet and spicy (not gloppy) sauce raise the traditional dish to new levels. Even lowly egg rolls are works of art on the plate here.
Middle Eastern
Readers' choice: Chadra Mezza & Grill, 1622 Park Place Av, FW
Critic's choice: Chadra Mezza & Grill
Chadra's Mediterranean buffet on Friday and Saturday nights is truly a bargain, with all-you-can-eat lamb chops, the to-die-for Heavenly Chicken, and lots of other yummy Lebanese and Italian dishes that we never seem to have room for after our lamb and chicken appetizers, main course, and dessert. (That's why other nights are also a great time to visit this pretty restaurant — no lamb chop competition.) From the full menu, start with muhamarra or foul maudamas; finish with pomegranate ice cream or sweet hummus; along the way, enjoy best-in-show kibbeh, ablama, or Shaik al Meshe. Not familiar with these dishes? Well, you could try sampling them at the weekend buffet before you go ordering a whole plate, but don't say we didn't warn you about lamb chop distraction.
---
Latin/Caribbean
Readers' choice: Gloria's, 2600 W 7th St, FW
Critic's choice: Jamaica Gates, 1020 W Arkansas Ln, Arl
Executive Chef Barbara Renfro keeps expanding her fan base with the richness and complex spiciness of Jamaican cuisine served at her laid-back family restaurant. Besides delightful versions of jerk shrimp and brown stew chicken (a must-have), Renfro has opened up her menu to more daring Jamaican favorites like Mannish Soup, a spicy dumpling soup with goat meat, green bananas, garlic, and peppers.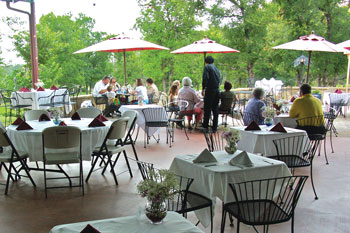 Vegetarian Meal
Readers' choice: Spiral Diner & Bakery, 1314 W Magnolia Av, FW
Critic's choice: Vegetable Fajita Especial, Uncle Julio's, 5301 Camp Bowie Blvd, FW
More people would probably eat vegetables if they could taste them fresh off Uncle Julio's grill. The chefs cut squash, portobellos, peppers, onions, and zucchini into thick slices, marinate them in citrus and oil, then throw the whole colorful array on top of the flames. Served in conjunction with fresh guacamole, Julio's smoky salsa, and hot, handmade flour tortillas, these fajitas get high ratings from both health and flavor standpoints.
Barbecue
Readers' choice: Railhead Smokehouse BBQ, 120 South Ranch House Rd, Willow Park
Critic's choice: Longoria's BBQ, 100 Christopher Dr, Everman
The ribs are meaty, the turkey is juicy, the finely chopped beef is ultra-flavorful, the pinto beans are bacon-y — but don't miss the blow-you-away item at this country-style shack: Longoria's brisket sausage. Thanks to the crispy casing and coarse grind that together ensnare all of the oak-smoke goodness, this sausage is lean yet pops with pure Texas barbecue flavor. We recommend the triple-meat plate — make at least two of them sausage.
Chicken-Fried Steak
Readers' choice: Cat City Grill, 1208 W Magnolia Av, FW
Critic's choice: Stevie's Diner, 5500 N Tarrant Pkwy, FW
Doesn't get much better than the CFS at this recently opened retro diner in North Fort Worth. Stevie's chefs judiciously bread a piece of tender, succulent steak, fry it 'til perfectly golden, and serve it with some peppery cream gravy (and bunches of sides). From 11am to 3pm Mondays through Fridays, Stevie's offers blue-plate specials for only $5.99 each, and the chicken-fried steak is often featured.
Tamales
Readers' choice: Hot Damn Tamales, 713 W Magnolia Av, FW
Critic's choice: La Tortilandia Mexican Restaurant, 1112 W Berry St, FW
The tamales served at this Mexican comfort-food restaurant are fat and happy, filled with tender, spicy shredded pork folded into a tasty, just-right masa dough and steamed to perfection in corn husks. You can order them four to a plate with refried beans, Spanish rice, and the hottest salsa this side of the border and eat them off white tablecloths in elegant surroundings on a not-too-elegant stretch of Berry Street — or take a dozen home for $10. If you eat in, a full bar offers whatever you need to wash them down with.
Queso
Readers' choice: Fuzzy's, 2917 W Berry St, FW
Critic's choice: Rio Mambo,1010 Houston St, FW
This Rio's is a modest cousin of the Rio Mambo's Tex Mex y Mas in Cityview — plainer, catering to downtown workers and guests at the also-modest Park Central Hotel. But even though lunch came served on plastic platters with salsa in a Styrofoam cup, it was good, and the mild-looking queso was better, with a smoky edge to it: great for dipping the chips in or, better yet, the brisket quesadillas.
Red Salsa
Readers' choice: La Familia, 841 Foch St, FW
Critic's choice: Original Mexican Eats Café, 4713 Camp Bowie Blvd, FW
The interior of this long-standing Tex-Mex eatery may be getting a sleek, new look, but one thing hasn't changed: the salsa. The Original's salsa is fresh and spicy but not tear-inducing and features loads of veggies. Though it's available by the jar at Central Market, it seems to taste best at the restaurant (and, preferably, while sipping on a margarita).
Green Salsa
Readers' choice: Taco Heads
Critic's choice: El Barrio Tacos Y Platos Mexicanos, 1329 N Main St, FW
Fort Worth folks love nothing better than spicing their tortilla chips, tacos, and nachos with tomato-heavy red salsa, but any self-respecting salsa freak knows the best flavor is found in the jalapeño-based green variety. Problem is, most restaurants don't carry salse verde, and those that do often go overboard with the tomatillo. El Barrio Tacos Y Platos Mexicanos uses serrano and jalapeño peppers for maximum flavor but only a touch of tomatillo to tone down the heat.
Quesadillas
Readers' choice: Blue Mesa Grill
Critic's choice: Tillman's Roadhouse, 2933 Crockett St, FW
The elegant quesadilla caddie served up by this So7 eatery is a meal unto itself, with smoked brisket playing well off the Mexican cheeses inside. Additional points for the lime sour cream dip that comes alongside.
Sushi
Readers' choice: Shinjuku Station, 711 W Magnolia Av, FW
Critic's choice: Blue Sushi Sake Grill, 3131 W 7th St, FW
This Omaha-based sushi place is on quite a roll (rim shot). The sushi is consistently fresh and flavorful. The specialty maki roll menu features some innovative takes on the traditional Japanese staple. Take the Rodeo Roll, for example: seared tenderloin, crispy crawfish, avocado, cilantro, radish sprouts, crispy sriracha onions, and Fresno pepper aioli. That's just one of many reasons Blue sits atop the sushi hierarchy in Fort Worth.
---
Pizza
Readers' choice: Mama's Pizza, 5800 Camp Bowie Blvd, FW
Critic's choice: Brooklyn's Best Pizza & Pasta, 2425 SE Green Oaks Blvd, Arl
They'll make you a mighty fine deep-dish Sicilian, white pizza, or stuffed pie if you want, but Brooklyn's Best's best is old-school Noo Yawk: a razor-thin, fight-you-back crust topped with bubbly-hot fresh mozzarella and a schmear of fresh tomato sauce. Add pepperoni, Italian sausage, or savory housemade meatballs; grab a fork (if you're Donald Trump), or fold the slice (if you're a normal person); and enjoy. The grease and cheese that dribble on your shirtfront? Dessert.
Seafood
Readers' choice: Eddie V's Prime Seafood, 3100 W 7th St, FW
Critic's choice: La Tortilandia Mexican Restaurant
Seafood fans have long known that some of the best places in town for catfish, tilapia, and shellfish are Mexican restaurants, and La Tortilandia has established itself as a proud purveyor of the fruits of the sea. Oysters fried or raw, whole grilled catfish, savory and spicy ceviche on nachos or tostadas, large fried shrimp, and an excellent shrimp cocktail are all on the menu here.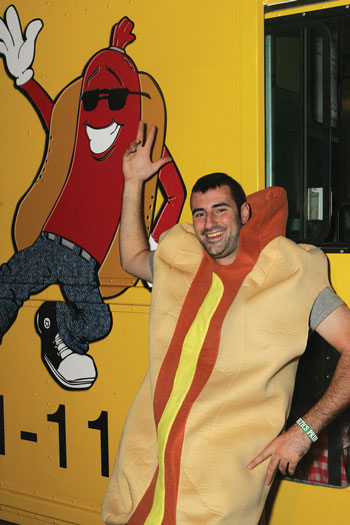 Fried Chicken
Reader's choice: Babe's Chicken Dinner House, 230 N Center St, Arl
Critic's choice: Babe's Chicken Dinner House
Picking the best fried chicken is, even in a perfect world, dicey. Fried chicken purists are damn picky. This year, the winner is the always-tasty offering from Babe's Chicken Dinner House. We're fond of the new Arlington location, but the locally owned chain has outposts in Burleson and Granbury as well as several in Dallas. The bird (and anything else you order) is served family-style. The chicken is breaded in batter that manages to be peppery and thick, as well as surprisingly delicate. Even the breast (which tends to dry out easily) is crunchy and moist. The slightly chunky cream gravy provides a lovely accent, but the bird is good enough to stand (or fly) on its own.
Sandwich
Readers' choice: Great Outdoors, 3204 Camp Bowie Blvd, FW
Critic's choice: Club sandwich at Yogi's Bagel Café, 2710 S Hulen St, FW
A Yogi's club sandwich is nothing more than turkey, ham, bacon, cheddar, lettuce, tomato and mayonnaise on sourdough bread, but this thing is a picture of sandwich perfection. Thanks to the open-skillet area, you can watch as the cook assembles the ingredients and browns them step by step. The proportions are perfect, the ingredients top of the line. While the club sandwich probably isn't the healthiest selection on the menu, it is without a doubt one of the best.
Wings
Readers' choice: Buffalo Bros., 3015 University Dr, FW
Critic's choice: Dublin Square, 6651 Fossil Bluff Dr, FW
The only red you'll see here will be the ketchup bottle on your table. In other words, Dublin Square doesn't do "hot" wings. Rather, the North Fort Worth bar/restaurant does wings that are about as close to backyard-grillin' wings as legally possible. These bad boys are not only huge but also fresh (never frozen) and finger-lickin' good. They come in four varieties, including honey barbecue, barbecue (a savory brown sauce), garlic parmesan, and lemon pepper, and all of the dressings are homemade.
Bread
Readers' choice: Central Market, 4651 W Fwy, FW
Critic's choice: Black Rooster Bakery, 2430 Forest Park Blvd, FW
These folks treat bread as something more than bookends for sliced turkey or as a vehicle to deliver butter into your mouth. Black Rooster's artisanal breads are made from a long fermentation process that extends freshness and enlivens flavor. Specialty breads include oatmeal cranberry pecan, pain au fromage (baked with asiago, gruyere, or parmesan) and kalamata-stuffed fougasse. They also pour free-trade coffee and serve up gourmet sandwiches that range from French ham, butter and sea salt to goat cheese and black olive tapenade, making for a stellar, European café experience.
Dessert
Reader's choice: Dixie House Café, 3701 E Belknap St, FW
Critic's choice: Warm cocoa brownie at Fireside Pies, 2949 Crockett St, FW
Perhaps ironically at this local mini-chain, there's no pie for dessert on the menu. There is, however, a decadent, molten-cocoa brownie. With a gooey center and slight exterior crunch, the brownie is good on its own. Add a river of sea-salted caramel, toasted hazelnuts, and a generous scoop of vanilla ice cream, and you get an over-the-top dessert experience. At the Grapevine location, the warm brownie concept is the same, but the execution — vanilla ice cream and cherry sauce — is a little different.
Appetizers
Readers' choice: Buttons
Critic's choice: Sapristi! Bistro & Wine Bar, 2418 Forest Park Blvd, FW
True foodies like to pack as much variety into their dining experience as possible. For them, Chef Carlos Cavazos is a godsend. He breathes intelligence and creativity into his appetizer menu, which walks the line between classic French and modern Americana. Sapristi! offers a multitude of preparations of mussels, an ever-changing tapas plate, and one of the last few excellent cheese plates in the city.
---
Ice Cream
Readers' choice: Sweet Sammie's, 825 Currie St, FW
Critic's choice: Braum's, 100 W University Dr, FW
Now that the Bull Ring in the Stockyards has shut down, the best ice cream in town is offered at Braum's. The University location is our favorite — you get soda-fountain service, milkshakes, floats, real banana splits, good fresh toppings, and delicious ice cream.
Wine List
Readers' choice: Winslow's Wine Café, 4101 Camp Bowie Blvd, FW
Critic's choice: Winslow's Wine Café
Oh, the grueling research involved with this one. Winslow's wines vary from the modest to that $250 bottle of Dom Perignon for celebrating something really special (and, we trust, lucrative), but few of the offerings are boring. More than 40 vintages are available by the glass, including some classics but also a lot of small-production wines you might not see anywhere else in town. The list changes with the seasons, so if you enjoyed that last glass, better go back soon — and tell them to buy more.
Atmosphere
Critic's choice: Café Hana, 3610 S Cooper St, Arl
True, this Japanese eatery, which serves excellent noodle and teriyaki fare, occupies a small strip mall space. But Café Hana boasts some of the most modestly effective mood lighting we've seen in such a space. It's soothingly dim but not dark — each table or booth is softly lit from above so there's no confusing your dining partner with the waiter. The booths' polished-wood partitions encourage a sense of privacy and intimacy. Café Hana feels like a sleek, cozy refuge from the crazy South Cooper Street traffic outside.
Place to Buy Ethnic Food
Readers' choice: Central Market
Critic's choice: Fiesta Mart, 275 NE 28th St, FW
There are plenty of supermercados in Tarrant County, most carrying the same products and many with elotes stands in front, but only the Northside Fiesta Mart starts you off with Elotes by Esteban, purveyor of the tastiest mix of corn kernels, crema, grated cheese, chili powder, and lime juice in town. After that pre-shopping snack, head inside to stock up on produce, meats, bakery items, and canned goods from the warmer parts of the Americas — like fresh-cut cactus, frozen pupusas, bags and bags of dried peppers, refrigerated (not canned!) refried beans, Mexicana and Salvadoreña crema, and more banana/plantain varieties than you can shake a monkey at.
Place to Dine Alfresco
Readers' choice: 8.0, 111 E 3rd St, FW
Critic's choice: Lightcatcher Winery & Bistro, 6925 Confederate Park Rd/FM 1886, FW
First, the concept: At times the weather is so pleasant that people want to eat outside. It's OK — we all forgot. But now it's time to refresh our memories, and there's no better place to do that than by driving out of the city to Lightcatcher. They make a merlot with real meat on its bones, and who can guess what magic Caris Turpen — chef, owner, and winemaker — will be up to in the kitchen? Her food is stellar, often featuring local and organic ingredients. Fans, umbrellas, and heaters mitigate whatever the elements are out on the spacious flagstone terrace and pavilion.
Place to Dine Alone
Readers' choice: Chuy's, 2401 W 7th St, FW
Critic's choice: Dallas/Fort Worth International Airport
Yes, it's a bit pricey. And you have to buy a plane ticket, show your ID, and take your shoes off just to get in. Once you're inside, though, no venue in North Texas beats the incredible range of dining options here. Whether you're looking for a quick McDonald's burger you can eat standing up, the upscale sit-down dining experience of the Cool River Café, or anything in between, this Grapevine institution has just the thing to help you customize your dining experience. Plus, you can bond (or even hook up with) your fellow travelers.
Place to Buy:
Car Food
Critic's choice: Roy Pope's Gourmet Deli, 2300 Merrick St, FW
There's nothing wrong with a good sub and a cold soda for a short road trip, but if you're thinking of hitting the road for a long haul, consider making a stop at Roy Pope's. Imagine how much fun your trip will be if your cooler is stocked with a couple of jars of Roy's specialty pickles — including asparagus, okra, and artichoke heart — and relishes and salsas. Then have him cook you up a couple of slabs of alligator tail to slap between thick slices of fresh bread — or just go for the deli meats and gourmet cheeses –– and voila! You'll think you're driving to nirvana.
Place to Buy Fruits and Veggies
Critic's choice: Sprouts Farmers Market, 4650 SW Loop 820, FW
The new Sprouts on I-20 and Hulen Street permanently advertises its "farm-fresh produce" on the side of the building. Like the bigger (but slightly pricier) Central Market, Sprouts sells only the fresh, good stuff. You can blindly grab a cantaloupe or green pepper and trust you'll get a good one. The store runs specials on seasonal fruits and veggies and makes purchases from local growers whenever possible. While the farm-to-table philosophy is commendable, the folks at Sprouts also take chances by importing exotic things like rhubarb, daikon, and taro root.
---
Meat Market
Critic's choice: Woods & Cuds, 5601 E Hwy 67, Alvarado
A half-hour drive from downtown Fort Worth, Woods & Cuds sells hormone-free beef, chicken, and pork from local Johnson County ranches, plus imported lamb, bison, elk, and other exotics. Pork sausage, in half a dozen varieties, is made fresh daily in natural casings. The on-site butcher can't be stumped, whether the question is history, hormones, cut, storage, or cooking method. Best of all, prices run 30 to 40 percent less than the gourmet stores (example: gorgeously marbled rib-eyes, here just $10.24/lb). Even if you're the kind of carnivore who doesn't want to know where your meat comes from, it's well worth meeting it halfway.
Food Truck
Readers' choice: Taco Heads
Critic's choice: Taco Heads
Although it's stationed behind 7th Haven, Taco Heads is good anytime, not just after you've been boozing for hours. Drunks may miss the nuances of the flavorful, generously portioned tacos. Prepared with a gourmand's sensibilities and with a mind toward sating a tipsy person's voracious appetite, Taco Heads' tacos are manna for the masses.
Frozen Yogurt
Readers' choice: Yogurtland, 2600 W 7th St, FW
Critic's choice: Yo! Frozen Yogurt Lounge, 3021 S University Dr, FW
It's the amenities that make the difference with these fro-yo places. Many such establishments have minimal seating areas or none at all; this TCU-area joint has plush booth-like seating and an LCD TV to watch while you partake of your cupcake batter-flavored yogurt with chocolate sprinkles. Because of the college-student clientele, this place also keeps late hours, which helps if your sweet tooth kicks in late at night.
Presentation
Critic's choice: Piola, 3700 Mattison Av, FW
Everything about this Italian restaurant is lovely — its location in an old Cultural District home, the understated décor, the garden out back. And the food is top-notch. But the presentation — ah, we kiss our fingers! On a recent visit, everything from the crabcake appetizer to the roasted chicken entrée arrived looking like works of art. No wonder each table seemed to be having its own party.
Wait Staffer
Readers' choice: Matt Gibbons, Spiral Diner & Bakery
Critic's choice: Jeremy Foiles, Lambert's Steaks, Seafood & Whiskey
Not to categorize people — that's so wrong — but here are the waiter types you generally come across in upper-end restaurants: 1. the waiter who says, "Hi, I'm [insert name], your new best friend!"; 2. the "I'm just here to make rent" musician/actor/writer/artist; and 3. the highly sought-after professional. Jeremy Foiles definitely isn't 1. He won't fake-laugh at your awful jokes or volunteer his life story (which is probably quite interesting). No, Jeremy is the real deal. Following stints at Reata, Kirby's, and Olenjack's, Jeremy has been at Lambert's since it opened in 2008. He's knowledgeable, efficient, courteous, and non-hovery but magically there when you want him: everything you've ever wanted in a server. Well, maybe he could laugh at our dumb jokes once in a while.
Restaurant
Readers' choice: Cat City Grill
Critic's choice: St. Emilion Restaurant
Stepping inside the dining room of St. Emilion is like being transported to a European city. The atmosphere is cozy, quaint, and elegant. The service is efficient and friendly, and the staff members know their stuff. And there is pure magic coming out of the exposed kitchen. The food is classical country French, executed to perfection by Chef Mark Hitri and company. Everything on the menu is special, and the place itself is a local treasure.
New Restaurant
Readers' choice: Shinjuku Station
Critic's choice: Shinjuku Station
There aren't enough restaurants like Shinjuku Station in Fort Worth. The chic yet approachable Japanese eatery is conceptually cool both in menu and décor. It serves izakaya fare: traditional upscale pub food designed to be shared and to complement the drink list. The brick interior and exposed air ducts give the place a very hyper-modern feel, no doubt making diners feel a little cooler for eating there.
Host
Readers' choice: Al Cavazos, La Familia, 841 Foch St, FW
Critic's choice: Vance Martin, Lili's Bistro, 1310 W Magnolia Av, FW
Once you've created a restaurant like Lili's, with sophisticated, welcoming charm, an inventive, delightful menu, and excellent service, what more do you need? Well, Vance Martin tops that by wandering among the tables, bestowing his welcoming smile on regular customers and newbies alike. And then he enlarged Lili's to take in the space next door, adding more tables and a piano bar. If Magnolia needed an ambassador, Vance would occupy the embassy.
Chef
Readers' choice: Keith Hicks, Buttons
Critic's choice: Lanny Lancarte II, Lanny's Alta Cocina Mexicana, 3405 W 7th St, FW
Chef Lanny Lancarte is producing some of the most interesting dishes on North Texas' fine-dining scene. His haute Mexican fare has traditional, classic roots but is firmly based in the here and now. Lancarte is one of precious few upscale chefs who lives out on a limb. He's not afraid to take a risk, and Fort Worth diners get to reap the rewards.
Fries
Critic's choice: Lili's Bistro
French fries are good on their own, but you haven't really lived until you've tried Lili's version, complete with cracked peppercorns and large chunks of gorgonzola cheese. The menu offers them plain, too, which means you get a helping of waffle fries — more potato than oil — covered in a lightly tangy dry seasoning mix. While consuming these tasty nuggets in Lili's low-key, comfortable surroundings and in conjunction with hearty bistro fare, you could easily forget that fries are not actually good for you.
Salad
Critic's choice: All Raw Salad, Spiral Diner & Bakery
Folks who think of salad as something one dutifully eats to be healthy or get skinny should try this offering from Spiral. The chunks of apple and raisins, walnuts, and other nuts put the, um, meat on the bones of this concoction, with salad greens plus thinly sliced or julienned vegetables as the base, creamy avocado slices as the extra goodies on top, and raw walnut dressing for a sweet finish. Satisfying, filling, delish.
Sausage/Hot Dog
Readers' choice: The Wiener Man
Critic's choice: The Wiener Man
Yes, we know hot dogs are bad for you, but damned if they aren't sooo good — especially when the lowly tubesteak is elevated to gourmet heights, an achievement for which The Wiener Man strives with an almost apostolic zeal. Sporting an affable, Keep-on-Truckin'-esque logo, your friendly neighborhood hot dog guy's been food-trucking around town since the early part of the summer, usually landing where people like to drink, serving up specialties like the fried, bacon-wrapped Crunch Wiener; the Alchemist, which tops the Crunch Wiener by adding spinach and sriracha mayo; and the locals-only Rahr Wiener: a Hebrew National dog marinated in Rahr's Ugly Pug.
Nontraditional Burger
Critic's choice: Bison burger at Shaw's Hamburgers and Shakes, 1057 W Magnolia Av, FW
Lean without being dry or bland, the bison burger at Shaw's is a thundering herd of flavors. The combo of Wisconsin cheddar and blue-cheese mayo gives the sandwich some nice tang, mellowed out by tasty Cabernet-grilled onions. Pair this bad boy with a side of baked beans for a nice departure from the burnt-patty-'n'-fries doldrums.
Spicy Dish
Critic's choice: Bryan's Brutal Tacos, Spiral Diner & Bakery
Bryan's Brutal Tacos are delicious mixed veggie tacos on corn tortillas served with a side of guac. The mixture of spicy onions, red peppers, and chipotle seasonings in the tacos erupt like a bonfire in your mouth because there's not a drop of animal fat to absorb them. This Spiral Diner favorite is definitely proof that healthy doesn't have to mean dull.
Carb-Loading
Critic's choice: Dickey's Barbecue Pit, 451 University Dr, FW
Meat gets all the love at barbecue joints, but the star attraction for carb lovers at Dickey's is the plate of homestyle mashed potatoes filled with yummy butter, cheese, and pork bits –– oh yeah, and potatoes. Best of all, you get to scoop your own mashed potatoes onto your plate, so the sky's the limit.
Menudo
Critic's choice: Chuy's, 4441 River Oaks Blvd, FW
The color is gorgeous — reddish-orange with a shade of deep purple speckled in black, making you wonder if Jackson Pollock is working in Chuy's kitchen. The meat is tender-chewy and never slimy, the hominy-versus-meat ratio is right, and the bold seasonings stop shy of being overbearing. This stuff does more than just cure hangovers.
Buffet
Readers' choice: Terra Mediterranean Grill, 2973 Crockett St, FW
Critic's choice: Zorro's Buffet & Catering, 4421 S Fwy, FW
The buffet is a dying breed. Food costs have zoomed upward, and many folks are struggling with portion control, so the all-you-can-eat buffet is too much temptation. But Zorro's continues to put out a quality assortment of meats, veggies, salads, and desserts at a reasonable price, all while offering discount coupons at www.zorrosfortworth.com to boot.
Fast Food
Critic's choice: Pollo Regio, 715 N Riverside Dr, FW
From the outside, Pollo Regio is your standard fast-food joint. But inside, it's like a city park on a Sunday, the kind that has kids tearing around and dads charcoal-grilling their special-recipe marinated chicken. Only here, you don't have to be a family member to eat your fill of that smoky, tender chicken served with rice, charro beans, and a homestyle (rather, outdoor-style) grilled onion half. The asada, barbacoa, and other meats are excellent, too, but our loyalty is to King Chicken.
View
Readers' choice: Reata Restaurant
Critic's choice: Reata Restaurant
The view at any time of evening is nice, but no place in town can beat the Reata's balcony patio, four stories above downtown, as a place to watch the sunset, urban-style. Especially now that it's sunset-watching weather again. (You may want to get your view on before February; Reata's balcony patio will be closed in early spring while the restaurant gets a small facelift.)
Soul Food
Critic's choice: Good Luck Drive-In, 900 W Rosedale St, FW
Good Luck Drive-In on the South Side has been operating mostly under the radar for four decades now, probably because it's not really a sit-down establishment –– there's only a handful of tiny tables. Regulars swing through to get the top-notch, fresh-fried catfish and chicken livers, pork chop sandwiches, hot links plates, and very good chicken-fried steaks.
Restaurant with Locally Sourced Ingredients
Critic's choice: Potager Cafe, 315 S Mesquite St, Arl
Potager Cafe first drew notice with its pay-what-you-want approach to pricing, which has subsequently been modified to include a suggested payment list. Nice as it is, the gimmick risks overshadowing the quality of the food, which owes a lot to the fresh ingredients that owner Cynthia Chippindale selects from North Texas farms. Right now, Potager buys its meat from Grandview's Burgundy Beef and from Taylor Cooper in Sherman; produce comes from Carter Farms in Bowie and Marilyn Simmons' CSA in Waxahachie. Other vegetables and herbs come from the restaurant's own little garden. Naturally, the menu is seasonal and vegetarian-friendly. Main and side dishes change daily, as well as the recipes for the regular offerings of quiche, salads, and house-baked bread.
Field of One
Critic's choice: Spiral Diner & Bakery
It's the obvious choice but also the correct one — there's nothing like it in Fort Worth. The vegan eatery stands in open defiance of our chicken-fried nation by consistently delivering flavorful, healthy, and well-presented food. It's easy to take a place like this for granted, but every now and again it's nice to take a step back and reflect on just what owner Amy McNutt and company have accomplished: a successful vegan restaurant in the heart of Cowtown. Bravo.
Best-Kept Secret
Critic's choice: The Cupcake Cottage, 5015 El Campo Av, FW
It can't be all that big of a secret to Westsiders, because The Cupcake Cottage sells out its made-from-scratch selection almost every day. But it's a good bet that the rest of the Fort has yet to discover the wonders of these tiny treats, all made with the highest quality ingredients and no preservatives.