It's noon on a weekday, and the cafeteria is loud and lively. Silverware clatters against plates filled with fried tilapia, peas, cornbread, and coleslaw. Large chocolate cupcakes donated by Central Market wait at the end of the line. Some people here look healthy while others are terribly thin and pale, missing teeth and missing hair. They are all races and ages. But here at Fort Worth's Samaritan House, everyone has at least one thing in common: They are all HIV-positive.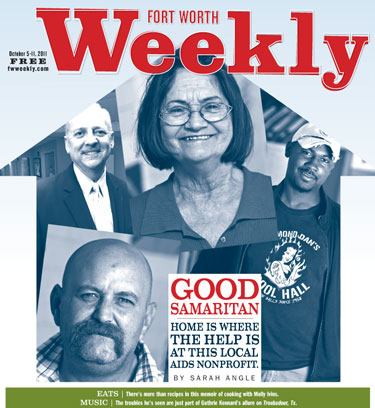 "You can't joke about having AIDS in public," said Sterlyng. (Like all the Samaritan House residents interviewed for this story, he asked that only his first name be used.) "But here, we are able to laugh about it, and say, if we did it right we wouldn't be here. People here are gay, straight, or kids born into HIV/AIDS. We all have that sense of spirit: We have the disease … and are coping with it."
Ten years ago Sterlyng's home was among Fort Worth's well-heeled movers and shakers. He was a young socialite, throwing HIV fundraisers, donating to arts organizations, and campaigning in local politics. His elocution still rings of that world.
But last year, he landed in another world. His recreational drug use turned into addiction when he ended a relationship with an unfaithful partner of 10 years. He wound up broke, homeless, trying to survive on the streets, and sick with full-blown AIDS.
This August marked a milestone, his entry into a third world, you might say— he celebrated one year of sobriety. Life on the streets and his search for himself had led him to Union Gospel Mission and to God. From there, he found his way to Samaritan House, which he said is providing him the other tools he needs to start over.
Ironically, Samaritan House is the kind of place he used to support just a couple of years ago. "I've lived on both sides of this world," he said.
Samaritan House provides a long list of services to HIV-positive folks and their families, including one that makes it unique among Fort Worth agencies: It gives HIV sufferers and their families a home.
Only 12 other nonprofits in the country provide HIV/AIDS clients with long-term shelter along with other services. It's that total package of care that enables Samaritan House residents not only to survive much longer but to thrive.
"We call it 'rescue, nurture, launch,' " said Steve Dutton, president and chief executive officer. "Rescue" refers to basic services such as food and housing, while "nurture" means counseling and medical case management that enables residents to understand and overcome problems like drug addiction. The final step in the process – the "launch" – provides life skills and job training that helps residents move out and lead independent, productive lives.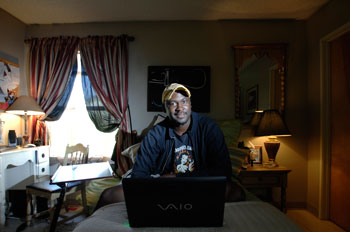 Not everyone who comes through the doors at Samaritan House ultimately succeeds, but the success rate is well over 50 percent. During its 20 years of operation, more than 2,000 people have been helped. And three-quarters of those people are still alive today, with many transitioning back into the workforce or returning to school.
The nonprofit's first building was located on the north side of Fort Worth. For the past 10 years, Samaritan House's main facility, offering housing and HIV-related care and services to about 100 people each year, has been at Hemphill and Rosedale streets. Additional facilities provide housing to another 300.
After an expansion project was scuttled last year due to neighborhood opposition, Samaritan House leaders partnered with another nonprofit agency in January. The move more than doubled Samaritan House's capacity by adding two more apartment complexes to the program.
Success hasn't made Samaritan House's job any easier, however. Housing is an expensive service. Funding cutbacks, and growth in the HIV-positive population are increasing the pressures on the nonprofit to find more private funding. That's a challenge, Dutton said, because of the bad economy and the fact that many people think that the HIV/AIDS crisis has faded due to the development of drugs to treat the disease.
Samaritan House is very good at diversifying its funding sources, said Jamie Schield, planning coordinator for the North Central Texas HIV Planning Council. He said the nonprofit has been a good model for other organizations in how it generates financial support for its programs and services.
For Sterlyng, six months at Samaritan House has allowed him to get his disease under control, build his confidence, and begin imagining a new future.
"It's wonderful to think about the future when you realize you still have one," he said. "The possibility of every day is endless."
The three-story red brick apartment buildings along Hemphill could almost pass for a West 7th Street housing development. With enviable patios and green manicured grounds, the six-year-old buildings look fresh and relatively new. But the Villages at Samaritan House were designed with a specific set of residents in mind: people infected with HIV/AIDS, families affected by the disease (such as children, spouses, and partners) and people with other special needs, either medical or mental. The 66 apartments here provide one-, two-, or three-bedroom homes to singles, couples, and families. Right now, about 50 percent of its residents are HIV-positive. Dutton said the Villages were created to enable families to live together in a stable, affordable environment.
The city's need for this type of housing is great. Three months after completion, the Villages at Samaritan House were already filled to capacity, and at any given time about five families are waiting to move in. But that's not surprising, considering the apartments are nice and affordable, two adjectives that don't always go together.
Located just across the street is the main Samaritan House facility. It's a former nursing home that was converted to a 60 single-occupancy rooms building. Unlike the Villages, it houses only people infected with HIV/AIDS and only accepts residents who are homeless. Multi-colored, laminate floor tiles lead from the entryway door to a small receptionist desk. From there, long hallways split off like spider legs.
People are everywhere, coming and going. It's a little crazy, loud, and unpredictable. But there is a sense of happiness and security for many residents, the result of knowing that they have a place to stay, something to eat, and someone to care for them. Near the front door, residents lounge around a television set playing an old horror movie. The sound of a screaming damsel in distress is momentarily drowned out by an announcement over the loudspeaker.
At the single-room facility, residents receive 24-hour care and services. The accommodations resemble college dorm rooms, and residents can stay as long as they like (the average residency is 18 months to two years).
---
Income is a qualifying factor at both facilities. At the main building, rents are on a sliding scale, based on residents' income, with a minimum of $50 a month and an average of $200. The Fort Worth Housing Authority underwrites the rents in that facility only.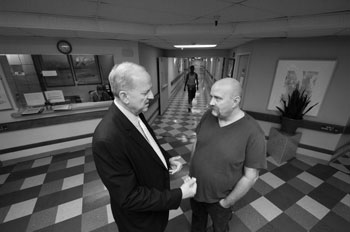 Expansion has always been a challenge, even when the nonprofit had the money to buy property. Last year, the nonprofit tried to buy and renovate an old motel in the Como community on Fort Worth's West Side. But the community resisted. The idea was met with "a lot of fear," said Dutton, so, the plan was scratched.
In January, Samaritan House found a different way to expand. When another nonprofit learned of the problems in Como, it offered to help. The two agencies worked out a partnership that allows Samaritan House to manage two additional apartment complexes on Fort Worth's Near South Side. The additional 184 apartments doubled Samaritan's capacity, to about 800 people.
The new units filled quickly, and there are still a couple of dozen people on a waiting list to get into a Samaritan House facility. With recent federal budget cuts, that list is expected to grow.
The Ryan White Treatment Extension Act provides HIV-related services to people without adequate healthcare coverage or income. Fort Worth's funding under that law was cut by about 5 percent last year. According to the HIV Planning Council, the region as a whole received 12 percent less in overall funding than last year, and more cuts are expected in the future. Samaritan House's total budget for 2011 was $1.7 million; next year it's projected to be $1.8 million.
Those cuts won't jeopardize Samaritan's programs, at least not this year. But they did help shut the doors on another agency. AIDS Resources of Rural Texas, which served residents in 26 counties from offices in Weatherford and Abilene, closed in September, leaving its 350 clients looking for new sources of care and support.
AIDS is no longer a death sentence. That's good news, but ironically, it's also increasing the workload for groups like Samaritan House. New advances in HIV/AIDS medication can allow people to live a normal lifespan, if taken properly and consistently. Those people need long-term, specialized healthcare, which doesn't come cheap.
At the same time, HIV/AIDS infection rates nationally are holding steady at around 50,000 new cases each year. In Texas, there are 4,500 new HIV diagnoses each year, which makes it the 4th highest state per capita for total HIV/AIDS diagnoses, behind New York, California, and Florida.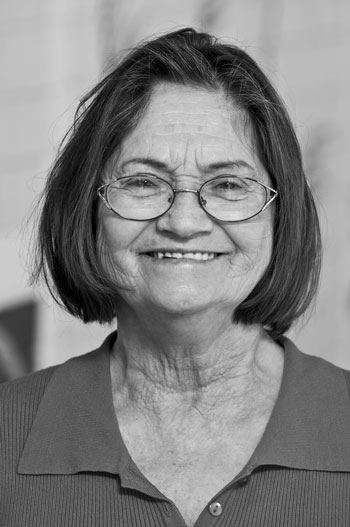 A small room inside the Samaritan House has been turned into a chapel, one wall bearing plaques with the names of former residents who died of AIDS. Joe and Julia sit beside each other on one of the couches. They have been living at the Samaritan House for more than five years. Julia, 57, is a petite woman with fair skin and a grandmotherly sweetness (and a grandmother she is). Joe, her partner of 19 years, is 48, tall and solid-looking, with intense blue eyes, a booming voice, bald head and thick blond mustache. Both are self-described drug addicts who have survived — just barely — since they were diagnosed with the disease in 2003.
"We were sick and tired of being sick and tired," said Joe. "We made a decision that we weren't going to use anymore. That's what made going to Samaritan House so appealing — it gave us a chance to relearn how to live."
When the couple arrived at Samaritan House in 2006, they were shadows of their former selves – Julia down to just 64 pounds and the now 240-pound, 6-foot-tall Joe weighed in at 190. They had come to Texas from California in 2001 to get away from drugs, but found that they couldn't outrun their addictions. In Harlingen they hit rock bottom.
"We were doing so much dope that we prayed on our knees to get busted and go to jail," said Joe.
And they did — "glory to God," Julia said. That saved them for a while. After spending 30 days in prison for possession of stolen property (a tow chain they were trying to sell to get high), they moved to Brownsville and found a place to stay at a church.
After seven months they moved out, "and it wasn't a couple of weeks until we were using again," said Joe.
Everything went to feed their addiction. Their TV and the rest of their modest possessions were sold to buy drugs. When it was all gone, Julia began panhandling. It was Valley AIDS Council, a nonprofit serving HIV/AIDS residents in south Texas, that suggested they go get help at Dallas' Homeward Bound.
After 100 days in rehabilitation at Homeward Bound, a substance abuse and mental health treatment agency, the couple came to Samaritan House.
Drug counseling is one of the many services that Samaritan House provides. There's a zero-tolerance drug policy at the house, and AA and NA Narcotics Anonymous meetings are held every week to support and reinforce residents' resolve to stay clean. But ultimately, it's up to them.
Joe remembers what it was like when they arrived: "The first thing we did was spend every minute of everyday in recovery. Samaritan House supports you … they have a very good LCDC [licensed chemical dependency counselor]. We needed to learn to live our life without drugs — we didn't know how to do it."
During the interview for placement into the program, a counselor asked Julia what she wanted from Samaritan House. "I want to live," she told him.
Living with AIDS is hard, even when you have medical support. In 2007, Julia was so sick with a lung infection that she wasn't expected to live. Her lungs had almost shut down, and she stayed in a coma for 33 days.
"Samaritan House supported me 100 percent," Joe said. He read her the Bible every day. "And the first thing she said to me when she woke up was, 'I want a cigarette.' "
---
Each resident at Samaritan House has a medical case manager who coordinates with residents and their doctors. Those case managers also supervise residents' medications, which in Julia's case, is 13 different prescriptions that she takes each day. The goal is to enable residents to manage their own medications, explained Dutton. But many remain dependent upon case managers.
Samaritan House knows what it takes for residents to achieve independence and to live a life with their disease. Dutton said the residents who begin to take active roles in their own healthcare and well-being are usually the ones who do well. Those are the people most likely to take advantage of the nonprofit's programs for relaunching residents into the wider world.
But moving back into the workforce can be hard for somebody infected with HIV/AIDS, even with the support of a strong organization.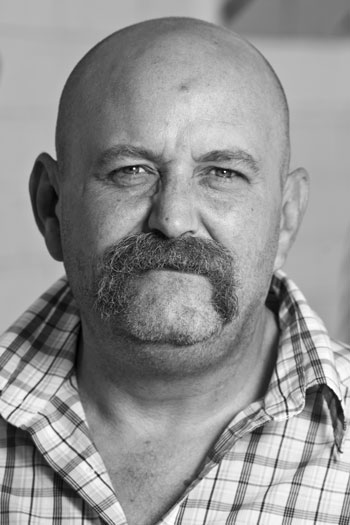 "If you've got 20 people applying for the same job, are you going to consider hiring somebody living at the Samaritan House?" Dutton asked. He said that residents who can find jobs usually turn out to be excellent employees, working hard and showing up on time. But then they get sick. Maybe it's just a cold or sore throat, but they have to be out of work for an unusually long time. "Rumors start," said Dutton. "And when they go back to work, it's not the same." When that happens, the AIDS sufferers may end up leaving voluntarily or getting fired, Dutton said.
"Nobody is supposed to discriminate but everybody does," Dutton said. When employers do hire people with HIV/AIDS, he said, they don't want other employees to know about it.
To give Samaritan House residents an edge in re-entering the workforce, the nonprofit teamed up with a local restaurant and also started its own community garden. Z's Café is a restaurant and catering service located in the Fort Worth Community Arts Center; working there gives residents a gentler transition back into the work force.
At Harvest of Hope community garden, residents grow food that they can keep for their own use, donate to Samaritan House, or sell to Z's Café. "Our residents can adopt a plot and raise anything that's legal — corn, lettuce, tomatoes. And they're responsible for it," said Dutton.
"Going back to work is a big step," he said. That's especially true for somebody who's been seriously ill or recently homeless. Z's Café gives residents something to put on their resumes so when they're ready to start pounding the pavement they've got work history and confidence.
Today, Sterlyng is working two jobs and saving up as much money as he can. In April, he plans to move out of Samaritan House and move on with his life.
He wants to go back to working at high-end restaurants and bars as a waiter. "The night life," he said, "I love the night life." Sterlyng has always worked in the hospitality industry, but Dutton advises him and other residents to take it slow when they move out of Samaritan.
"Once they [residents] get their health back they get excited about life," Dutton said, but they also need to be careful.
Sterlyng would also like to take film classes at Tarrant County College (he has an idea for a documentary that he'd like to produce). He still goes to counseling almost every day to learn more about himself and how to move past his last relationship.
Even though he's doing great now, he worries about the future, including how to handle dating someone who isn't HIV-positive. At 40, he doesn't want to waste any more years living for someone else.
"Life is short," Sterlyng said. "And when you have a chronic illness it's even shorter."
Tarrant County's public hospital, the John Peter Smith health system, now tests all emergency room patients for the HIV virus. The reason for the policy: the county's infection rate is going up.
Mike Parker, manager of Healing Wings Clinic, which specializes in caring for HIV/AIDS patients, said his clinic is seeing 50 percent more patients than it did three years ago. In the last few years, he said, he's seen the infection rates among high-risk groups (such as gay men and drug users) go up from 1 or 2 percent of those tested to 2 or 3 percent.
Why the increases? Schield, the HIV council planner, said Tarrant County has a lower cost of housing and a lower cost of healthcare than many similarly sized cities, so people may be actually moving here for treatment and then staying on. Secondly, attitudes toward the disease have changed.
"In the gay community, a lot of young gay men will test positive and feel relieved — they thought they were going to catch it and now they have," Parker said. He and Schield agree that many people, especially young gay men, are less terrified of the disease because they see it as less of a killer than it once was.
People think, "You just have to take a pill," Parker said. "In general, there's a complacency about it … not a fear like there used to be."
The face of AIDS is also changing in other ways. In Tarrant County, black men, statistically, are being hit harder by AIDS and HIV than any other group — a development that's not being seen in most other parts of the country. Black males make up 10 percent of the population but around 35 percent of the reported HIV and AIDS cases, a much higher percentage than in the past.
"It's becoming an epidemic in the black community," said Schield.
To cope with these changing demographics, Samaritan House is reaching out to educate the black community about the risks they face. And the nonprofit is encouraging young black leaders to get involved in the work that the Samaritan House is doing.
That education includes dispelling myths about how the virus is transmitted. Dutton said most people still think of it as a disease limited to gay men, one that can be transmitted by kissing, sneezing, or casual skin-to-skin contact. In reality, he said, it is passed by blood, sexual fluids, and breast milk, and anyone can get it — including, for instance, women who contract it from husbands or boyfriends who have gotten it from sharing needles in drug use or from other sex partners.
He also said young people are still not getting much information about AIDS. A Texas Christian University official said students there don't seem very concerned about sexual health issues of any kind, and the college does little education on HIV/AIDS. And yet, at least one Samaritan House resident is a local college student.
Joe and Julia both say it's taken them years to learn how to deal with their disease. Even today, when they wake up in the morning feeling bad, they don't really know if it's just a cold or something really serious. That aspect of their lives will never change.
Julia isn't ready to even think about moving out of Samaritan House, which would mean facing the "black cloud of drugs" again by herself. "If I were to fall again … this time I would die," she said. "Using drugs didn't just go away. It's in the back of my mind every day."
Joe worries about the future of the nonprofit, afraid it will run short of resources to support people like him.
He readily credits Samaritan House with saving his life, providing help that he couldn't have gotten from any other group in Fort Worth.
"It gives you back your life, and it gives you a home," Joe said. "None of the others can do that. This place does both."

Fort Worth-based freelancer Sarah Angle has written for national and regional publications.