Who'd a thunk a 60-year-old acoustic bluesman with a basset-hound face, myriad health problems, and a growling, raspy voice would emerge as the most intriguing and watchable character on the new docu-reality TV series Troubadour, TX?


Fort Worth singer-songwriter Guthrie Kennard jumped off the screen during a red-carpet premiere of the show in late September, and appears poised to get more face-time in future episodes. The show airs on Sundays at 10 p.m. on TXA/Channel 21.
"For an ugly dude, you sure look good onscreen," a laughing Steven Cooper told Kennard after the premiere.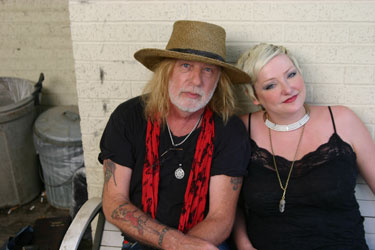 Cooper, a lead guitarist from Dallas, and his Americana band blacktopGYPSY are also featured.
Dallas-based 41Entertainment produced the show and spent months auditioning artists. The producers wanted authentic and original artists with intriguing stories, and they hit the jackpot with Kennard, who's been featured in Fort Worth Weekly both for his music and his battles with Hepatitis C.
"Old dogs like me, as well as the young artists, are just struggling to make a dollar, trying to make something of their lives by playing music," he said. "Troubadour, TX is nothing like American Idol. That's the first thing they said. It's not a competition. It's about the journey, the passion, the dream."
After decades of toiling in near anonymity, Kennard suddenly finds himself with a TV show, new management, and a new EP. Still, he's not going diva anytime soon.
"I'm still borrowing money to eat and put gas in the car," he said. "I'm still a bluesman trying to figure out how to get through the day. It's a little better than it was, but it's still a struggle."
Fred's Texas Café, The Basement Bar, Filthy McNasty's Saloon, and Mambos are a few local venues where Kennard regularly performs, and he's usually accompanied by violinist Marian Brackney. Kennard tunes his Washburn guitar to a D, and Brackney also drops her tuning down a full step, giving her violin a deep, resonant, haunting sound. Together they create a fitting musical palette to color Kennard's stripped-down lyrics of saints and sinners often grabbing for the same last straw.
One of Kennard's friends knew about 41Entertainment's plan to document the working lives of musicians, and he sent the company a video of Kennard in performance during a recent European tour. The producers asked Kennard to come by the studio to sing a song for them. They liked what they heard and were impressed with Kennard's poverty-stricken efforts to create and perform authentic music despite health problems. Currently he needs a gall bladder removed but has no health insurance and can't afford the surgery.
"I'm hanging in there," he said.
Being included in the new show is something of an elixir in itself.
"I've been really flattered and kind of shocked by all this," he said. "I'm proud they asked me to do this stuff. They thought my songs were top shelf and that made me feel really good."
Kennard's previous full-length CDs are full-band electric blues, but his new six-song EP, Cross Your Heart, is an acoustic affair, with songs designed to showcase Brackney's violin along with Kennard's gutbucket vocals.
"There's no guitar leads on this one," he said.
Cross Your Heart is more representative of what local fans hear when they see Kennard perform, and it's a gem. The CD is available at all of Kennard's shows.