For nearly 30 years, jazz pianist Jhon Kahsen (né Johnny Case) has been tickling the ivories at Sardines Ristorante Italiano (509 University Dr, 817-332-9937). But long before he began that gig, he performed Western swing with his older brother, guitarist Jerry Case, all over the Southwest. The two were something of a youthful phenomenon. Jerry eventually relocated to Los Angeles and quickly became an in-demand player. A couple of years have passed since the brothers shared a stage, but through Thursday at Sardines, Jerry and Jhon will perform together –– Jerry is in our neck of the woods visiting, mostly in celebration of some good news: He's reportedly free of the colon cancer that he's been battling since 2008, after undergoing three major surgeries and multiple chemotherapy treatments.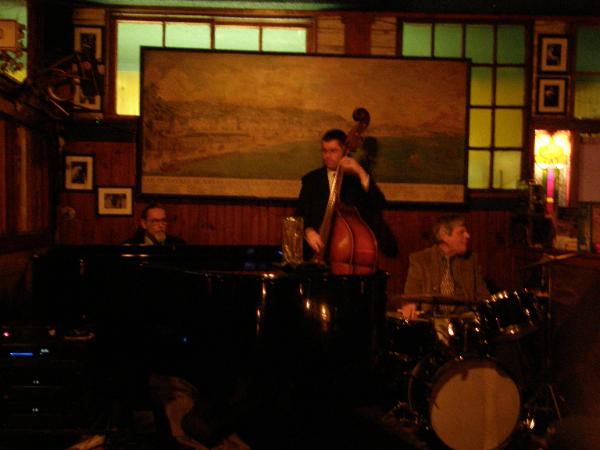 "He says he feels great and intends to spend about three weeks in Texas visiting with longtime friends in Cowtown and elsewhere," Kahsen said. At the Sardines performances, Kahsen said to expect "a lot of friends, musicians, and vocalists." Admission is free.
Among dozens of awesome artists and CDs worth writing about, near the top of my list is Psychosomatic Immortality, the debut full-length by North Texas' most Pink Floyd-ian outfit, Fort Worth's Secret Ghost Champion, on Hand Drawn Records. Any sort of write-up will also mention the just-released bonus track, "Teleportation #1," a trippy sitar-flavored ballad that (check out this segue) wouldn't be out of place in the repertoire of Madràs. A project of Indian brothers and recent TCUers Jeevan and Mathew Antony, otherwise known as two-thirds of Fou, Madràs features contributions from Secret Ghost Champion frontman Ben Hance, who ('nother super-sweet segue) is producing Fou's forthcoming 10-track debut album. Recorded at Hance's home studio in Fort Worth, boy should be out before the end of the year. On Saturday, Madràs opens for two superb experindie (that's "experimental" and "indie") Fort Worth outfits, The Cleanup and headliners Skeleton Coast, at The Grotto (517 University Dr, 817-882-9331).
Along with producer David Castell (The Toadies, Burden Brothers, Blue October), Pawn Shop Gentlemen are wrapping up their debut EP. Slated to be released sometime this fall, The Breaks was recorded partially at Fort Worth Sound with owner Bart Rose engineering. A debut show is in the works for guitarist Brett Bledsoe (Cervus, Engine of the Ocean), vocalist/guitarist Paul Reid, drummer Robbie Dibble, keyboardist Maui, and bassist Austin Bayne.
I liked Metric –– until I saw frontwoman Emily Haines and company perform on some late-night TV talk show. Never having seen them before, I was expecting some cute, young, brunette indie chick playing bass and singing, backed by young, skinny indie casualties. Of course, the, um, distinguished folks onstage shattered my illusion. Nothing against people my age (and older), but the Metric folks just looked so darn professional. Their Establishmentista appearance belied their groovy, bratty, anti-Establishmentista tuneage. Anyway, I've recently come across a possible Metric replacement: the Dallas/Fort Worth quartet Darstar, whose sound is reminiscent of Metric's –– fuzzy, soaring, Smashing Pumpkins-esque guitar, honey-sweet vocals –– and whose debut full-length, Tiny Darkness, will be released on Dallas-based Idol Records (Calhoun, Little Black Dress, Here Holy Spain) next month. Darstar's CD release show will be at La Grange in Dallas on Fri, Nov 18.
Fort Worth singer-songwriter Nathan Brown, a.k.a. one-man R&B machine Browningham, is in the process of digitally releasing archival solo material (early '90s through mid '00s) via his Bandcamp page. Though only three tracks are up so far, they're all pretty stellar. "Cover the Ground" is a hyper-melodic Goodwin-esque rocker, while the instrumental "Banana-Seat Bike Chase" is a vintage-synth-happy slice of powder-puff drama. Each song is only $1.
Contact HearSay at hearsay@fwweekly.com.