Bonnell's Fine Texas Cuisine celebrates its 10th anniversary this month. A decade of existence in the same southwest Fort Worth location is impressive, especially considering that, 10 years ago, "fine Texas cuisine" was something of an anomaly. A white-tablecloth restaurant located anywhere other than downtown was, at best, laughable. The idea of using locally grown produce served in season was accepted in San Francisco at that time but not here.


And then there was the economic slump after 9/11.
Owner and chef Jon Bonnell spent almost two years conceptualizing his restaurant, which was set to open Oct. 12, 2001, right before his birthday. Shopping for the location alone took months. "Real estate is so important," he said. "There's less traffic outside downtown, but rent is easier to make."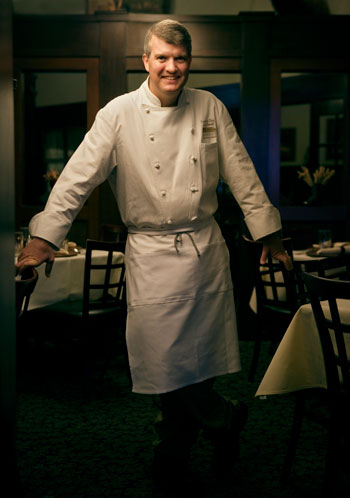 He picked a spot on Bryant Irvin Road where he leased the real estate and built what he wanted. Demographic studies indicated that the neighborhoods nearby were heavy on moderate to high-income families and lacking in non-chain, fine-dining restaurants.
With the restaurant set to open in less than a month, Bonnell, like millions of others, woke up on Sept. 11, 2001 to a changed world. His wife Melinda was working downtown, and he called her to tell her to get out of her tall office building and come home.
At the restaurant, the tile finishers were making American flags out of tile scraps. Bonnell told his workers to add a tile flag to the freshly puttied wall by the front counter. By the next week, Bonnell had realized that his goals hadn't changed, even though everything else had. "We had to push forward and do what we planned," he said.
In the ensuing decade, Bonnell's restaurant earned a top-three rating from the national Zagat Survey. When New York City's prestigious James Beard House wanted uniquely Texan food for a special event, the Yanks called in Bonnell, who literally trucked in fine Texas cuisine for 100 foodies. And then there was BBQ With Bobby Flay, when Bonnell hosted the Food Network personality about five years ago. "They sent a camera, and we did a massive Fourth of July barbecue," Bonnell said. "I get more mileage out of that, because every year around the holiday, they replay it."
Bonnell followed an unusual path to culinary success. The military school grad's family expected college right after high school graduation. He went to Vanderbilt University to become a math and science teacher.
Diploma in hand, Bonnell taught junior high and high school students for two years in Dallas and spent his summer breaks watching the Food Network, trying to recreate recipes he saw. "I never thought of cooking as a profession," Bonnell said. "If you're on the college track, the counselors never mention vocational schools, and cooking is a vocation, like auto mechanics."
But Bonnell and his two older siblings were introduced early on to the responsibility of cooking for the family. "The first Monday of every month was kid cook night," he said. "Even before I could read, I could point to a picture in the recipe book."
In the late 1990s, Bonnell left teaching to pursue his passion. He enrolled in New England Culinary Institute in Vermont, graduating in 1997. But he says that culinary school isn't a prerequisite to being a good chef. "There's no substitute for working on the line, with pans on fire, being in the weeds," he said.
Bonnell developed the blueprint for his restaurant during his second year at the institute, when his assignment was to design a restaurant. For inspiration, he traced his culinary roots, going back to the farmers, ranchers, and agriculture unique to Texas. Even back then, he wanted to feature products that were either local, or sustainable, and in season.
After graduation, Bonnell worked in a large kitchen in New Orleans and small ones here. He credits Frederic Angevin (from the dearly departed Escargot) for teaching him the nuts and bolts of conceptualizing and opening a new dining establishment. "It was a good experience to see how much goes into actually running a restaurant," Bonnell said.
A couple of years ago, Bonnell, a happily married father of two, opened another restaurant, the TCU-area's Buffalo Bros., which he co-owns with chef Ed McOwen, and published his debut cookbook, Jon Bonnell's Fine Texas Cuisine. His second cookbook, Jon Bonnell's Texas Favorites, will be published soon. And his green chile cheese grits, Oysters Texafeller, and elk mini-tacos have become the stuff of local legend.
Instead of putting money into marketing and advertising, Bonnell decided early on that he would engage the community via philanthropy. He often donates time in the kitchen for good causes and also opens his restaurants for nonprofits to use. Over the past decade, many local organizations have benefitted from Bonnell's largesse. "The community-service work is important, personally and business-wise," he said. "I donated a dinner for the local Juvenile Diabetes Foundation that raised $60,000 –– and all I have to do is cook for a few people."