Chow, Baby was born with an insatiable wanderlust. Cruelly, I wasn't also born into a wealthy family that could satisfy my fantasies of summering in France. Still, I do my best at exploration — meaning, generally, places within driving distance of my Cowtown villa (it's shabby-chic without the chic). Recently, I pointed my luxury sports car (Hyundai) southwest, programmed my GPS system (Google maps) and drove to a city I admittedly knew very little about. I recalled that Granbury had a lake, a town square, a July 4 celebration, and that's about it. But I was pretty excited about the adventure. Some not-so-big towns are culinary wastelands, but others are full of little gems, and Granbury didn't disappoint.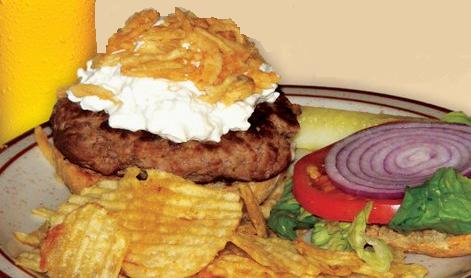 The Nutshell Eatery & Bakery (137 E. Pearl St.), on the Victorian-style town square, turned out to be one of Granbury's best cafés, and home to one of its most bizarre legends. The story goes that John Wilkes Booth worked in the building as a bartender under an alias, many years after Abraham Lincoln's killer was allegedly captured and killed. A mural at the Nutshell depicts Booth and Lincoln, and the menu includes a burger named after Booth ($8.95). It would be a lot funnier, in a sick sort of way, if the burger cost $5 — that way you could drop a Lincoln every time you ordered one.
I passed on the presidential assassin-burger and opted instead for aerial tragedy. The Hinden Burger ($8.95) is a 10-ounce ground sirloin patty with blue cheese and little bits of fried onion served on a house-made bun with chips and a couple of pickles. There was nothing about that burger that wasn't perfect. The meat was juicy and dripping with creamy blue cheese, and the fried onions and lettuce provided a nice crunch. The star of the show was the bun, which tasted just-out-of-the-oven fresh. Which makes sense because the place is also famous for its fried pies, cookies, assorted pastries, and bread. I sampled some of the cinnamon bread, and it was like eating Christmas morning. There's also a bed-and-breakfast over the café (which is true for a lot of businesses on the square), but I fought the temptation to rent a room just for between-meal naps.
One thing I was not expecting to find in Granbury was a cool little coffee shop, but there on the square was The Coffee Grinder (129 E. Pearl St.), where I enjoyed a large after-lunch cup o' joe ($2). I was tempted by the variety of pastries in the display case, but the Hinden Burger had wrecked my appetite.
For dinner, I hit the Buffalo Gap Steak House & Cantina (1470 E. Hwy. 377). This is exactly what I expected out of a Granbury steakhouse: western-themed décor, enormous portions, and friendly service. I decided to celebrate the fact that it wasn't 1,000 degrees outside and sat on the rustic, wood-themed patio. The appetizer calf fries with onions ($9.99), were crispy on the outside, tender on the inside, and served with sautéed Vidalia onions, potato sticks, and a delicious, tangy Creole mustard sauce. I barely had room for the big-as-your-head chicken-fried steak ($11.99), a battered cutlet topped with peppery bacon gravy and served with white-cheddar mashed potatoes and peas. The highlight was the bacon-infused gravy. Buffalo Gap, you had me at bacon. And then again at gravy. My server was speedy and friendly, which was an accomplishment considering the patio was jumping that evening.
There are tons of independently-owned, charming-looking restaurants that I need to go back and try. Pearl Street Station (120 W. Pearl St.) boasts that it roasts whole pigs, and a friend of mine raves about a German restaurant, Neister's Restaurant & Deli (4426 E. Hwy. 377). Until I can afford a vacation home on the Greek coast, Granbury will make a nice day-trip substitute. Does the Nutshell make baklava? Clearly, more research is needed.
Contact Chow, Baby at chowbaby@fwweekly.com