Earlier this year, Ronald Gierhart left his gig as guitarist in Neon Indian, one of the country's hottest indie acts, to stay home in Fort Worth, pursuing his own music and art and generally enjoying a slower pace. The 26-year-old has quietly been at work on a solo album of electronic music as Ronnie Heart. Everything about the effort is humble and low-key –– the recording is being done not in a studio but at several places around town: his house, his "office" (he gives guitar lessons in the Cultural District), and in local coffee shops.


Before starting the project, Gierhart had never written a complete song from start to finish. Though the new music is electronic, it has roots in his area of expertise. "It's riff-oriented because I play guitar," he said on a recent fall evening on West Magnolia Avenue on the Near South Side. He had just emerged from Avoca Coffee, where for several hours he had been working at his laptop on the album.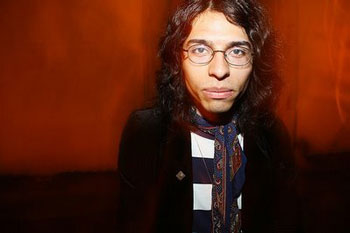 With his brand of electronic music, Gierhart is aiming for a sound simultaneously propulsive and atmospheric, rounded out only by his voice and guitar work, nothing distracting, just enough color to let the songs breathe. "Once I have a melody, I form a word around it and then see what themes come up," he said. The "lyrics," then, matter more for the sound and shape of the words –– and how the vocal melodies interact with the rest of the music –– than the literal meanings that might be conveyed.
Gierhart has uploaded a few cuts online and while dee-jaying a set at The Where House on the Near South Side last week debuted some more, sans vocals. When he left Neon Indian and began as Ronnie Heart, he didn't really shock anyone. Around that time he had released a slow, psychedelic burner, "Sultan Flower," featuring his languorous, wistful vocals and drumming by Alex Bhore of This Will Destroy You. Gierhart subsequently released two tracks: "NEWIE," which could be the foundation of a Bibio track, and "Howdy, You'd Do It?," a jaunt straight out of the '80s.
Gierhart's musical education has been all over the map in both genre and geography. He didn't start playing the guitar until he was 17 ("late," he calls it) after he and his family moved from Houston to Pueblo, Colo. Growing up in Texas, Gierhart had made friends through breakdancing and listening to cumbia, salsa, and merengue. His new Colorado digs had none of that. Instead, he found that every teenager was playing guitar, so he picked up the instrument and quickly devoted himself to the six-string. It didn't win him any friends as he'd originally hoped, but he found a new creative outlet in place of the old one. Upon returning to Texas several years ago, he joined Denton bands Gazelles and, with Neon Indian's Alan Palomo, VEGA. That led to Neon Indian, which he said was originally something of a side project that took off rather unexpectedly.
The association will probably follow him for a while, and his decision to leave while Palomo was at work on the group's hotly anticipated sophomore effort, Era Extraña, at first seems a little curious. Released last month, the new album met with favorable, if not ecstatic, reviews and has only helped build more buzz for Neon Indian. But the band's recorded output –– its compositions and production –– is almost exclusively the work of Palomo. While Gierhart appeared on a couple of tracks from the first album, Psychic Chasms, he was part of the band mainly to round out its sound in live settings. Still, he said, onstage he and the other players were always given ample "freedom to work within the structures" and rhythms that Palomo had conceived. Gierhart really cut his teeth during the three years he spent with Neon Indian and with VEGA.
Gierhart may be out of the spotlight at the moment, recalibrating while his former bandmates tour relentlessly in support of Era Extraña, but he has stayed busy all along. He's kept his live chops from rusting by filling in on bass for Denton's Sextape, though when the key players relocate to Brooklyn soon, he won't follow. More recently, he's begun moonlighting as a DJ at Where House dance parties, spinning what he only loosely defines as disco, and he displayed some of his paintings for the first time, at last weekend's Arts Goggle.
Otherwise, Gierhart is mostly consumed by the new album, which won't be out for a while. He's hesitant to discuss a timeframe –– "I set deadlines to motivate myself, but they're not definitive," he said –– and though he's not ready to make any announcements, he said he's put together a live ensemble for when he properly debuts the material. By taking informal gigs and building connections with local artists, Gierhart is easing his way back into the public eye. The scale may be smaller, but for the time being, he's far more comfortable.