Giselle, a Romantic ballet from the 1840s, travels from happiness to tragedy to a redemptive finale, leaving you moved and glowing rather than exhilarated by the end. Girl doesn't get boy, as in many storybook ballets; rather, she dies in a fit of madness after learning her suitor is engaged to someone else.


Her spirit joins the Wilis, a band of earthbound female souls jilted before marriage (there seems to be a lot of them) who are dedicated to killing any male who comes their way. Giselle's betrayer, Albrecht, is caught up by them, but she saves his life, an act of forgiveness that momentarily unites them before her spirit leaves forever: not the usual ballet ending but a satisfying resolution.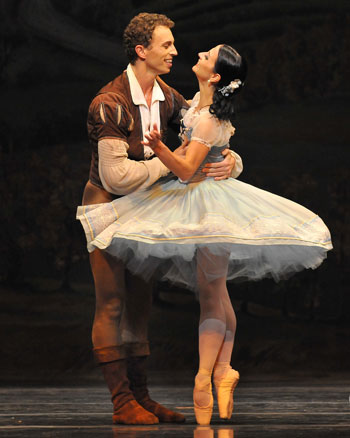 Texas Ballet Theater revived the work last weekend in Bass Performance Hall, with a stunning new production staged by company artistic director Ben Stevenson, his first Giselle in more than 40 years in the business. The scenery and costumes were from American Ballet Theater, with the original choreography by Jean Coralli and Jules Perrot. Stevenson's most dramatic addition was in the Mad Scene, in which the crazed Giselle takes the sword she has been dragging around the stage by the blade and plunges it into her midsection, an act of realism that I didn't recall having seen before. Stevenson also took a page from Czech Black Theater and employed black-clad dancers to lift Giselle from the grave, creating the illusion that she was rising on her own, and float her rapidly across the stage using the same technique, a great effect.
Principals Leticia Oliveira and Lucas Priolo danced Giselle and Albrecht on opening night, and fast-rising principals Carolyn Judson and Carl Coomer were seen on the second. Oliveira's dazzling technique and assured presence came closest to realizing the languid style of early French ballet, especially as a spirit in a white calf-length tutu and with nary a thump from her toe shoes. In fact, the whole Wilis corps of 12 dancers did its crossing sequences in almost military precision without a sound, earning a roar of approval each night. Priolo was an ardent admirer and also brought cheers for his brilliant solos. His turns and jumps are first class, and if he tended to rely a bit on stock gestures to express the character, he was still a strong Albrecht.
Judson had some technical hitches, cutting short her first-act variation that requires the dancer to hop on one pointe with bent leg, the other leg describing a slow arc in front: a grueling sequence. And she is still working on smoothing out the iconic Wilis spring-like step in the second act: a repeated rising up on the balls of both feet and hopping forward, the body straight, arms crossed over the chest, like a weightless bird hopping across the stage.
But Judson's Mad Scene was awesome. She threw herself into the anguished few moments holding nothing back, her face changing from youthful radiance to sagging, haggard mask; the eyes vacant, scraggly hair going everywhere. A special moment, too, was the brief, enigmatic smile she gave at the end of the ballet as distant church bells announced the dawn and Albrecht's safety. She had won. By forgiving him and renouncing revenge, the spell that kept her earthbound was broken. She was no longer a Wilis and could rest in peace. (I read somewhere that some old productions actually had the ballerina wired to a harness that allowed her to be hoisted heavenward as the curtain came down, an effective picture but cumbersome to arrange, not to say dangerous.)
Coomer, her Albrecht, was equally impressive. His leaps and turns were secure, and he has an open and natural presence on stage. The agony he felt in his run-in with the Wilis was palpable. The final moments with Giselle would have broken your heart.
Not to be overlooked was Simon Wexler's solo variation in the first-act peasant pas de quatre on opening night.
Adolph Adam's engaging score was heard on tape, making you long for a live orchestra. He is known today mostly for "O Holy Night," a Christmas carol he dashed off in 1850. His slew of operas and many ballets have fallen by the wayside, except Le Corsaire, which is still performed in Europe. All TBT needs is underwriting to engage an orchestra, but that hasn't come forward. And judging by the limited size of the audience both nights, the company has other problems to work on.