As a professional diner-out, I don't get to go to my old favorite restaurants as often as I'd like — I know, poor me. But when I do get to stop in at one of the standbys these days, I look at the place through different eyes, thanks to all the new and new-to-me joints that I've eaten at over the last several months. These are simply the places I was raised on — their food was mother's milk to me, and I never considered it critically. So, now that I'm such an experienced hand at this restaurant reviewing stuff, I decided to visit a few of my old faves to see if they actually deserved my blind loyalty.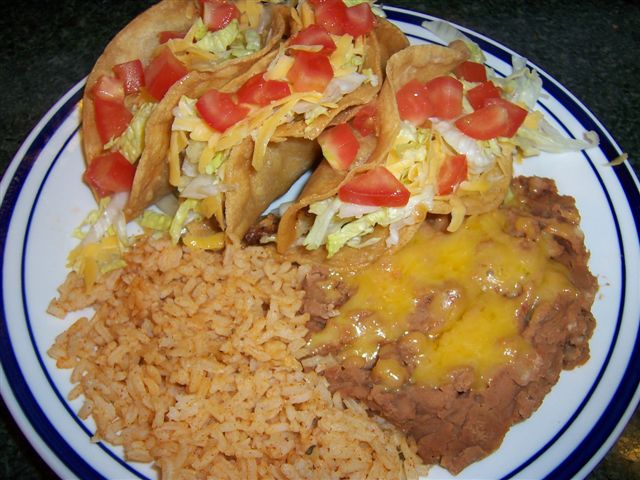 The recently renovated Original Mexican Eats Cafe (4713 Camp Bowie Blvd.) may have a sleek new look, but the menu has been more or less the same since I was a kid. The restaurant that famously hosted President Franklin D. Roosevelt (and named a dish after him) has swapped out its dive-y charm for a more generic, McRestaurant aesthetic. The venerable eatery now boasts wood floors, new tables and leather banquettes, and a bar top that houses thousands of chili peppers under glass. The new look doesn't bother me — or wow me, for that matter — but the dining room needs a dimmer switch on the lights. It's like eating in a tanning bed.
I always get the combination tacos ($10.50), comprised of three crispy tacos — one beef, one refritos, one cheese. The entrée comes with a bowl of melted cheese, and it's my custom to drench the tacos in so much cheese and salsa that the plate looks like a Jackson Pollock painting.
The meal is all about starch, starch, and more starch, and afterward it's all I can do to sit alone on my couch, staring off into the middle distance. The refried beans are lard-y and delicious, though I can feel the blood running slower in my veins for having eaten them. Ditto for the wonderfully greasy cheese taco. The meat in the beef taco was way overcooked and tasted like charred chewing tobacco — though it was nothing a mound of melted cheese and salsa couldn't overcome. I guess I always knew The Original wasn't refined or elevated, but I had no idea it was so average without the cheese and salsa bath.
I hadn't been to Carshon's Deli (3133 Cleburne Rd.) in a while, but there was a time, not that long ago, when I was a fixture at the 83-year-old eatery. There aren't many places as authentic and timeless as Carshon's. Entering Fort Worth's only kosher deli is like stepping through a time portal — but in a very good way. The menu has all of the standard deli favorites: corned beef, pastrami, roast beef, etc. I'm a sucker for a good corned beef sandwich, which is harder to find than you may think.
On my recent visit, I ordered the Rachel ($7.95), a grilled hillock of corned beef and turkey, Swiss cheese, coleslaw, and Russian dressing on rye bread. Everything is sliced fresh and made to order. The hot corned beef and turkey were drenched in the melted cheese, and the Russian dressing was creamy and tangy. In all, that sandwich was comforting perfection. I passed on Carshon's house-made pies, having foolishly devoured the Rachel without much chewing.
There is something to be said for places with the staying power of the Original and Carshon's. The two veterans have taken different approaches to surviving our city's recent surge in restaurant competition. Carshon's has chosen to stay the way it's always been, and since it was always great, that's a fantastic decision. The Original, on the other hand, gussied up its décor and raised prices. With that change comes new expectations — and I'm not sure that menu lives up to them.
Contact Chow, Baby at chowbaby@fwweekly.com