In a comment on the Weekly's web site, a reader points out that our food critics seem to favor fare light on the red meat and unacquainted with the deep fryer. It's true. Our foodies reviewed four Asian restaurants in a single month not too long ago. So for you, gentle reader, allow us to examine Tollie's Barbecue in South Arlington.


The story behind the place is heartwarming: Fort Worth-raised Tollie Giddings grew up helping his grandfather, Otis "Papa" Chess, barbecue just about anything that didn't move. Papa's dream was to own his own 'cue joint, but he passed away before that could happen. However, his vision resonated with Giddings, who catered barbecue out of his garage before opening the restaurant that anchors a strip mall so far south in Arlington that it's almost in Mansfield.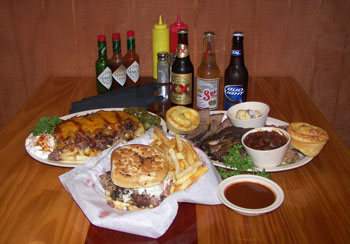 Tollie's offers all of the old favorites –– ribs, brisket, chicken, sausage –– but the unusual Smokehouse Nachos might be the best dish in the place. A generous serving of chopped beef and beans on homemade chips came out slathered with melted shredded cheddar cheese, with sour cream and jalapeños. The meat was on the spicy side, thanks mainly to all of the sauce it's bathed in. Brisket nachos may not be an original idea, but Tollie's does them very well.
On to the 'cue: The restaurant's dry rub was overwhelmingly peppery. The fresh, slightly thin sauce was also heavy on the pepper, but the brick-colored liquid did have a unique vinegar-sweet taste. The meat, and everything else in the restaurant, is suffused with hickory smoke. Whether you spend six minutes or 60 in the restaurant, your clothes will tell the tale.
There's no pink ring around the sliced brisket, but that's OK. The beef was moist but firm and so flavorfully smoky that you barely need any barbecue sauce. The baby-backs, ordered Kansas City-style, were a mess of falling-off-the-bone meat. Distractingly, they were coated with a little too much baked-on peppery sauce — not really necessary when the meat is so tender and flavorful already.
If turkey isn't smoked just right, the result tends to be more like shoe leather. That's not the case at Tollie's. The bird was moist, although it could have used a touch less smoke. The leftover turkey was still succulent and tender after a night in the refrigerator, a testament to the food preparation.
Tollie's sausage is not served sliced but as a full link. This probably contributes to the meat's juicy center, and when you bite into the skin, you get that satisfying "pop."
The restaurant offers quite a few sides. The delicious New Orleans-style mashed potatoes were loaded with cheese, green onions, and bacon. The chunky, fresh coleslaw was tasty, and the side-as-a-meal pit-barbecue beans were loaded with brisket and were also useful later as leftovers with the turkey. The only side dish that was flat was the green beans, which were a little mushy and looked to be unremarkable canned green beans with some bacon and onions added.
Save room for dessert at Tollie's. The peach cobbler consisted of chunks of sweet biscuit dough awash in a thick, sweet, slightly cinnamon-y peach filling that was soul-food good.
Tollie's is open every day except Tuesday, and you can bring your own alcohol if you're dining in. If you're short on time, hit the drive-through.
Tollie's Barbecue
6407 S Cooper St, Ste 101, Arlington. 817-465-8300.
Sun 1-8pm, Mon, Wed-Sat 11am-9pm. Closed Tue. All major credit cards accepted.
Smokehouse Nachos ………………………….. $7.95
Meat plate w/two sides ………………………. $9.95
Kansas City-style baby-back rib plate w/two sides……………………… $15.95
Homemade peach cobbler …………………… $3.50
1/2-pound of smoked turkey or sausage ………. $6.95 each