Maybe it's just us, but it seems like this year offers up more Halloween events than usual, not just in numbers but in variety. You can go the traditional route with haunted houses like Hangman's House of Horrors and Texas Scaregrounds. TCU is showing a couple of holiday-themed movies this week in Mary Shelley's Frankenstein and Man of a Thousand Faces (the latter a biography of horror-movie actor Lon Chaney Jr.). However, there are some other things to do as well.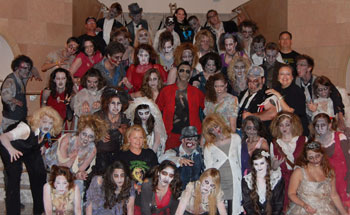 For example, if you're one of those people who likes to dress up your dog, there's (count 'em!) three events this week for you: a pet costume contest at Fort Worth's Tumbleweeds Sports Bar, Dogs4Dystonia Walk at River Legacy Park in Arlington, and Pug-o-Ween 2011 at Grapevine Convention Center. All these benefit worthy causes, and the pug event welcomes dogs of other breeds, who are sure to be confused at the sea of pugs that will be swirling around them.
Other events include the Ms. Zombie Pageant and Monster Pub Crawl at Avoca Coffee and the HalloWOD 2011, which challenges exercisers to work out in costume. And no summary of events would be complete without the Día de los Muertos celebration at Rose Marine Theater. They all take place over the weekend, a mere prelude to the real All Hallow's Eve festivities on Monday.
Check Calendar for dates, times, locations, and prices of these various Halloween events.