My sister has always been considered the more normal daughter. I'm the one people usually describe as "crazy." My sister would almost never consider eating food that was passed out of a trailer window to her by a multiply pierced guy named Ransom. But my un-crazy sister has been visiting the Crazy Sisters Gourmet Food Truck on Fridays at lunchtime, when the chicas locas are parked outside Avoca Coffee (1311 W. Magnolia Ave.) on the Near South Side.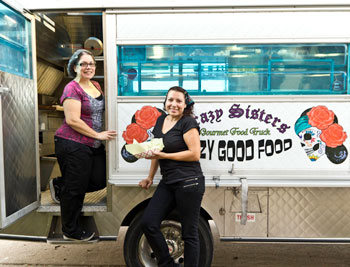 San Antonio-raised sisters Gina Sanchez and Michelle Sanchez-Lawrence credit their dad for their love of cooking, as well as for some of their recipes. The Sanchez sisters are of Spanish, Italian, Puerto Rican, and Mexican descent, but the cuisine that comes out of their truck plays heavily on their Latin roots, although you can get a plain burger and fries if you want.
The signature item, the one that sets Crazy Sisters apart from the other food trucks motoring around Fort Worth, is the gals' Mexican grits. That's why my sister has gone back every Friday since mid-September for lunch. When she finally brought me to the truck, I found the price a little staggering: $8 for a plate of corn mash? But the dish is impressive. Featuring polenta and three cheeses (smoked gouda, asiago, and pepper jack), the grits were heavy on the asiago but offered a little gouda-smokiness. And the entrée-sized portion, served as a cube, was topped with a ton of pulled chicken, grilled onions, bell peppers, tasty melt-in-your-mouth mushrooms, and shreds of bacon. You can also pick beef or pork for your protein topper.
My sister had never made it past the grits, so we sampled a few tacos. You've got two options: "street style," a corn tortilla with fajita-style grilled onions and green peppers, tart cojita cheese, and a schmear of jalapeño-laced sour cream, or the "gringo," a flour tortilla filled with lettuce, tomato, and shredded cheddar and jack cheeses. We tried both the chicken and brisket street-style and added a gringo-style chicken for good measure. The corn tortillas were nice: thick and not all dried out. The beef was tasty and moist. All three were topped with perfectly caramelized onion plus green pepper. However, everything was spiced so similarly that it was hard to tell one taco from the other. They weren't the eye-rolling best tacos ever, but they were better than a lot of stuff that arrives on plates from traditional restaurants.
The only missteps: The mini-tortas and side of fries. The sandwiches consisted of two small buns (they're called something fancier, but they're buns), piled with a generous serving of meat –– we picked pork carnitas –– plus tomato, cojita cheese, and just enough spicy chipotle mayo to give everything a little kick. The pork tasted a lot like the beef. There was nothing wrong with the tortas, but they weren't as oozy-delicious as the tacos. The fries were thick, hand-cut potato slices that were unfortunately undercooked. If you're craving extra carbs, stick with the plethora of choices in bagged chips. Or double down on those grits.
Part of the appeal of Crazy Sisters (and, really, any food truck) is that the truck seems to appear by magic when and where you want it most. Actually, that's not true. Crazy Sisters occupies defined chunks of territory at set times: outside Times Ten Cellars on Foch Street on Tuesday evenings, by Avoca at lunchtime on Wednesdays and Fridays, and next to Lola's Saloon in the West 7th Street corridor on weekend nights. If you want to find the truck any other time, check the web site. The sisters do a lot of catering and private parties, so plan ahead.
Crazy Sisters Gourmet Food Truck
Visit www.crazysisters.net. Times vary. MasterCard and Visa accepted.