Chow, Baby never met a falafel it didn't love. OK, that's not entirely true. But it's an awful falafel that doesn't meet or exceed my admittedly low expectations. The same is true for gyros, hummus, and most things Middle Eastern — you've got to try to mess up for me to not eat it. Still, not all Arabic and Middle-Eastern fare is created equal, as a recent visit to a scene from my youth reminded me.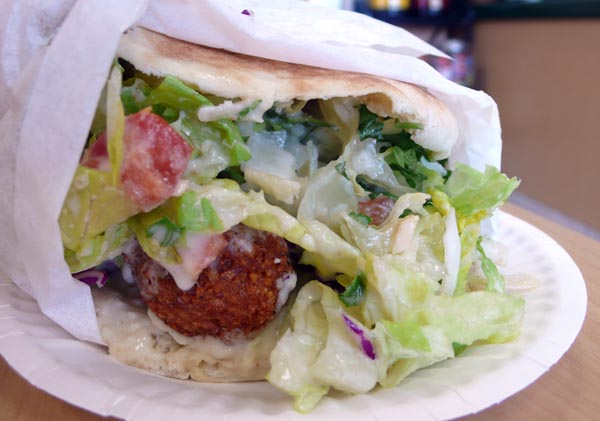 My love affair with the cuisine started during my teenage years. As a burgeoning foodie, I frequented Pak-A-Pocket (5512-D Bellaire Dr. S., Benbrook). There was a time I thought the strip-mall eatery was the height of exoticism. When I went back a few weeks ago, the place didn't seem that exotic anymore, but the food was as consistent and delicious as ever. I relived my youth and ordered the gyro ($4.60), or as I used to call it, a "lambwich." The thinly sliced lamb steak is served in pita bread with tahini sauce, parsley, onions, and tomatoes. It was actually better than I remembered. The marinated lamb was bursting with garlicky flavor that complimented the tangy tahini sauce.
Inspired by that visit, on a reader's recommendation, I headed out to Irving to check out the Kasbah Grill (2851 Esters Rd., Irving), a Moroccan restaurant where the décor is just as authentic as the food. Though it's a little more than a half-hour drive from my West Fort Worth villa, it's well worth the gas money. The baba ghannouj ($3.49) was a little bland, but the rest of the meal was spectacular. The chicken tagine ($8.99) was fall-off-the-bone tender and served with rice and green olives swimming in a lemony sauce. But the highlight of the dinner was the Marrakesh couscous with lamb ($10.99), which, like the tagine, was slow-cooked and brilliantly tender. The dish is topped with a sweet sauce of caramelized onions and raisins. Not to be out-sweeted, the bastella ($12.99), layers of ground seasoned chicken with almonds, wrapped in fillo dough and then baked, is topped with powdered sugar and cinnamon. The dish struck a savory/sweet balance like an entrée and dessert all in one.
One of the most unusual restaurant experiences in the area is at Al Hamra (701 E. Pioneer Pkwy, Arl.). The tiny Middle-Eastern restaurant offers a small but excellent buffet ($7.99) Friday through Sunday, with enough variety to satisfy a United Nations delegation. It had dolmas from Greece, chicken biryani from Pakistan, lamb kabob from Lebanon, and more. All of it was flavorful and fresh. As a bonus, the café is attached to the Halal Import Food Market, where it gets its ingredients. The market is an experience unto itself, with an impressive selection of imported cheeses, olives, teas, nuts, and house-made baked goods. It also houses an immigration lawyer, hair salon, jeweler, and clothing store. Like a burqa with your lamb? You can get it there.
My predecessor and other writers have championed Al Wadi Café (2712 Brown Tr., Bedford), with good reason. The small Greek/Lebanese joint boasts one of the best lunch buffets ($8.95 on Monday and Tuesday, $9.95 on Sunday) this side of the Adriatic Sea. The pastitsio ($9.95), baked layers of pasta, seasoned ground beef and marinara sauce, topped with a creamy béchamel sauce, is four-star cuisine in a strip-mall setting.
Though my Western palate may be easily impressed by pedestrian Middle-Eastern fare, I still recognize superior work — even if my taste-bud training was purely occidental.
Correction:
Last week I mistakenly reported that Carshon's deli was kosher. What I meant to write was kosher-like. Chow, Baby regrets the error.
Contact Chow, Baby at chowbaby@fwweekly.com