Chow, Baby had to see it to believe it. Walking into the building that had housed Sardines Ristorante Italiano (509 University Dr., FW), its heart sank. The walls, once cluttered with dusty bric-a-brac representing decades of memories, are now covered in posters for 1980s movies like Dirty Dancing. The Italian eatery was a fixture on the Fort Worth scene for 33 years, remembered as much for its dim, cheesily romantic interior as for its cuisine. The restaurant survived a move from Camp Bowie around the corner to University several years ago. It had its ups and downs, but when it was good, it was brilliant. When it was bad — well, Chow, Baby chooses not to speak ill of the dead.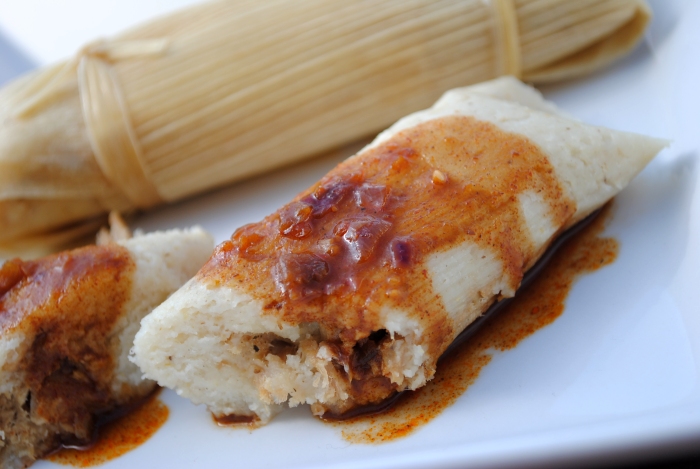 Owner/ landlord Louie Jacobini has traded the jazz-inspired atmosphere and garlicky Italian fare of his restaurant for the nightclub equivalent of leggings and parachute pants, called Studio 80. A smallish dance floor now occupies the space where restaurant patrons used to listen to Johnny Case tickle the ivories. The bar at the '80s-themed joint was open last weekend, but the kitchen won't be serving until at least early December. In full operation, the place will have DJs, theme nights, arcade-style video games — and food service that's pretty much limited to good bar food. On that point, there is some reason for optimism: Studio 80's chef will be long-time Fort Worth favorite Pam Pride.
Pride, who has owned and designed menus for numerous restaurants and bars over the last two decades, is preparing an appetizer menu that includes steak tartare, shrimp cocktail, meat- and veggie-filled crepes — and tamales.
She recently rented an industrial kitchen as her own tamale central, and has been peddling the delicacies bar to bar. It was in fact her tamales that landed her the gig at Studio 80. She wandered in one day, and Jacobini was so impressed by her tamale trolley and track record that he offered her the job on the spot.
I had a chance to sample the vegetable tamales ($5 for half a dozen) one evening at The Grotto bar next door (517 University Dr., FW) and can understand why the Studio 80 folks were so jazzed. That night, Pride offered either chicken or spinach tamales; since Chow, Baby was with vegetarian friends, the spinach variety seemed like a diplomatic order. And a delicious one. The tamales were moist, and the spinach tasted fresh. They were also piping hot, despite being carried from venue to venue.
Chow, Baby feels conflicted about Studio 80. On the one hand, it's a little like a church being converted into a strip club. After all, Sardines was my baseline for how classic Italian food should taste. But the place was slipping. And as much as I hate to see something so gimmicky take Sardines' place, Pride's hiring gives Studio 80 some initial credibility.
I expect excellent things from her. Then again, it may not matter how good the food is if, in order to enjoy it, I have to fight my way through a gaggle of TCU students (born in the '90s) gyrating to music like "The Safety Dance." Because nobody puts Chow, Baby in a corner.
Contact Chow, Baby at chowbaby@fwweekly.com.