The atmosphere inside the little strip-mall Mexican eatery Pansayena is modest, to say the least. There are the typical framed Mexican travel posters on the walls above arrangements of plastic flowers. A handwritten sign on the counter indicates that the place is BYOB. The menu is short and includes predictable items such as burritos, tamales, and soft or crispy tacos. But the folks in the kitchen also know how to create some fresh and tasty versions of the Mexican staples you might've grown bored with.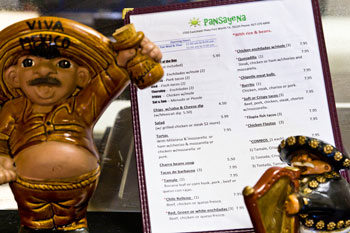 The good news begins arriving immediately. Pansayena doesn't treat its chips and salsa as an afterthought. Before the meal, a server brought out a small plastic bowl of house-made salsa verde created from a savory blend of tomatillos, red onions, cilantro flecks, and a couple of different peppers, including jalapeño. It had a sharp, fiery kick that didn't linger in the mouth to hijack the rest of the meal.
The ham, chorizo, and mozzarella torta was also superior. It had a lot of flavor for a relatively modest-looking sandwich: The crusty, flaky bolillo bread was grilled and pressed around a thick, tender slice of ham, a gooey layer of earthy mozzarella, and spicy little sprinkles of Mexican sausage. Fresh slices of bright red roma tomatoes and buttery wedges of avocado were served on the side along with warm, fluffy gold-red rice and steaming refried beans that weren't just a dreary paste. They were full of large pieces of pinto.
Rice and beans also came with the chicken enchiladas in mole sauce. I've never developed a particular affection for this dark Mexican confection made from multiple peppers, tomatoes, tomatillos, garlic, and unsweetened chocolate, but I'm told there's a lot of bland mole out there. Pansayena's version wasn't amazing, but it had a smokiness that was quiet and appealing. The corn tortillas inside the enchiladas were stuffed with large chunks of chopped chicken breast, so the poultry flavor didn't get lost.
The tilapia fish tacos were wonderful in the best style of Mexican street tacos. No weird meddlesome sauces to try and hide the fact that you're eating a modestly priced white fish. Just grilled, large, fresh, and tender filet pieces accompanied by crisp bell pepper slices in a firm but soft corn tortilla. Simplicity itself, but a memorable fish taco nonetheless.
During our recent visit, the restaurant was pleasantly packed with a surprisingly diverse crowd for a weekday midafternoon. Many of the people were getting takeout. Pansayena deserves applause for delivering high-quality Mexican fare in a city overcrowded with so many mediocre choices.
Pansayena
1550 Eastchase Pkwy, FW. 817-275-6800. Sun-Thu 11am-8pm, Fri-Sat 11am-9pm.
All major credit cards accepted.
Chicken enchiladas w/mole …… $7.95
Ham, chorizo, mozzarella torta.. $7.95
Tilapia fish tacos ………………….. $7.95