Immortals (R) Tarsem Singh (The Cell, The Fall) directs this epic starring Henry Cavill as Theseus, a mortal picked by the Greek gods to stop an evil king (Mickey Rourke) from destroying the human race. Also with Stephen Dorff, Freida Pinto, Luke Evans, Kellan Lutz, Stephen McHattie, Isabel Lucas, and John Hurt. (Opens Friday)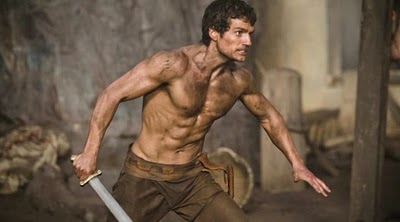 Into the Abyss (PG-13) The latest documentary by Werner Herzog (Grizzly Man, Cave of Forgotten Dreams) focuses on the odd details surrounding the impending execution of a triple-murderer in Texas. (Opens Friday in Dallas)
Jack and Jill (PG) Adam Sandler portrays both a family man and his identical twin sister who visits him for Thanksgiving and then refuses to leave. Also with Katie Holmes, Elodie Tougne, Rohan Chand, David Spade, Nick Swardson, Tim Meadows, Allen Covert, Norm MacDonald, Dana Carvey, Gad Elmaleh, and Al Pacino. (Opens Friday)
Abduction (PG-13) The setup for this movie is promising, as it splits the difference between teen romance and spy thriller. However, director John Singleton doesn't have flair for either of those, and the resulting movie is indifferent paced, terminally lightweight, and generally bad. Taylor Lautner stars as a high-school kid who's caught up in a CIA espionage plot — along with a classmate and neighbor (Lily Collins) who has a crush on him — after discovering his own picture on a web site devoted to missing children. Lautner, alas, is no better an actor outside the Twilight series than in it, but he is an impressive martial-arts performer. (Check out the parkour leaps he does during the climax set at Pittsburgh's PNC Park.) That might be a way forward for him. Also with Alfred Molina, Michael Nyqvist, Maria Bello, Jason Isaacs, Denzel Whitaker, and Sigourney Weaver.
Anonymous (PG-13) Total crap as history, but surprisingly watchable. Roland Emmerich's attempt to credit Edward de Vere (Rhys Ifans) as the real author of Shakespeare's plays, ensnaring him in even more cracked history that involves Ben Jonson, the Earl of Essex's rebellion, Christopher Marlowe's murder, multiple hidden illegitimate children borne by Queen Elizabeth I, and possibly an alien invasion of 17th-century England. Emmerich does keep this thing moving reasonably well and gets some nice performances from his actors, especially David Thewlis as a ruthless royal advisor. This is better than any of the disaster-porn movies that Emmerich is known for. Faint praise, that. Also with Vanessa Redgrave, Sebastian Armesto, Rafe Spall, Edward Hogg, Jamie Campbell Bower, Joely Richardson, Sam Reid, Paolo de Vita, Xavier Samuel, Trystan Gravelle, Mark Rylance, and Derek Jacobi.
Courageous (PG-13) Alex Kendrick appears to be regressing creatively in his latest Christian drama. In addition to directing and co-writing, he stars as a deputy sheriff who vows to become a better father after his young daughter is killed in an accident. Every scene in this male weeper seems to end with a guy putting a fatherly hand on someone's shoulder and dispensing a homily on how a man should behave. The acting is terrible too. A few well-executed action sequences can't counteract the stifling preachiness of this exercise. Also with Ken Bevel, Ben Davies, Kevin Downes, Robert Amaya, Angelita Nelson, T.C. Stallings, Rusty Martin, Taylor Hutcherson, and Renée Jewell.
Dolphin Tale (PG) The true story of a dolphin who lost its tail to a crab trap and the boy who saved its life becomes this sleep-inducing kids' movie. The dolphin in question (named Winter) portrays herself and Nathan Gamble portrays the boy who finds her beached in Florida and convinces the financially struggling water park that's sheltering her to take a chance. The material has potential, but director Charles Martin Smith (Air Bud) dials up the cute animal shtick and drowns out all complexity and anything else that might make this an interesting story. The pelican steals a few scenes, though. Do not pay the 3D surcharge for this movie. In fact, just save your money and go to an aquarium. Also with Morgan Freeman, Ashley Judd, Harry Connick Jr., Cozi Zuehlsdorff, Michael Roark, Frances Sternhagen, and Kris Kristofferson.
Dream House (PG-13) Daniel Craig stars in this slick but forgettable supernatural thriller that might well work better if you haven't seen the movie's spoiler-tastic trailer. He portrays a writer who moves into a new house with his wife (Rachel Weisz) and young daughters (Taylor and Claire Geare), only to encounter hostile neighbors and supernatural phenomena, both related to the house's previous occupants, who were murdered. David Loucka's script is ingenious enough and the movie looks good, but director Jim Sheridan (In America, In the Name of the Father) has no flair for horror. Too bad. This could have been a terrific scary movie with even a modestly talented producer who fit the genre. Also with Naomi Watts, Marton Csokas, Elias Koteas, Rachel G. Fox, and Jane Alexander.
50/50 (R) This comedy about surviving cancer isn't as ground-breaking as it thinks it is, but it does have its moments. Joseph Gordon-Levitt portrays a 27-year-old Seattleite who's diagnosed with a rare form of spinal cancer that has a 50 percent chance of killing him. Will Reiser's script is based on his own life experience, but it doesn't go much deeper than other narratives we've seen before about disease. Thankfully, the movie is funny, largely thanks to Seth Rogen as the main character's best friend, a weed-smoking layabout who's forced to assume a few adult responsibilities. There's a great scene near the end, too, when the patient finally calls his even-younger therapist (Anna Kendrick) and lets her hear how scared he is. This may only be a disease-of-the-week movie, but it's rather good. Also with Bryce Dallas Howard, Anjelica Huston, Serge Houde, Matt Frewer, and Philip Baker Hall.
Footloose (PG-13) Better than the original. This remake of the 1984 hit movie stars Kenny Wormald as the dance-loving big-city teen who finds himself in a small Southern town that bans public dancing. Director/co-writer Craig Brewer (Hustle & Flow, Black Snake Moan) fits the assignment perfectly, bringing his feel for the local atmosphere and his ear for music while also making small but noticeable improvements on the original's script. Newcomer Wormald can't match Kevin Bacon's charisma (then again, who could?), but he is a better dancer, and he matches up well with Julianne Hough as the preacher's rebellious daughter. Rejiggered for a new era, this is a terrific piece of entertainment. Also with Dennis Quaid, Miles Teller, Ziah Colon, Ray McKinnon, Kim Dickens, Patrick John Flueger, Ser'Darius Blain, and Andie Macdowell.
The Help (PG-13) Kathryn Stockett's wildly popular novel becomes this charming but flawed film about two African-American housemaids (Viola Davis and Octavia Spencer) in Jackson, Miss., during the 1960s civil rights movement and one white Ole Miss graduate (Emma Stone) who decides to interview them and write down their stories in a book. The film is impeccably cast down to its smallest roles, but writer-director Tate Taylor's inexperience is plain to see in his inability to transition between scenes. The main characters never seem in any degree of danger, and Taylor yanks on your heartstrings rather shamelessly. This movie is just good enough to make you wish it had been better. Also with Bryce Dallas Howard, Jessica Chastain, Allison Janney, Ahna O'Reilly, David Oyelowo, Chris Lowell, Nelsan Ellis, Anna Camp, Leslie Jordan, Cicely Tyson, Mary Steenburgen, and Sissy Spacek.
The Ides of March (PG-13) Like the other movies George Clooney has directed, this political thriller is stylish, literate, well-acted, and icy cold to the touch. Ryan Gosling portrays a campaign strategist whose errors in judgment lead him to information that could destroy a presidential candidate (played by Clooney himself). Based on Beau Willimon's play Farragut North, the film has some sharp writing and a deluxe cast that pays dividends (especially Paul Giamatti and Evan Rachel Wood). Yet the movie fails both as a broad critique of American politics and as a human tragedy. It's still a neat little story about a clever guy maneuvering out of a tight spot of his own making. It should have been more. Also with Philip Seymour Hoffman, Marisa Tomei, Jeffrey Wright, Max Minghella, Michael Mantell, Gregory Itzin, and Jennifer Ehle.
---
In Time (PG-13) This truly odd sci-fi thriller takes place in a dystopian society where time is used as currency, poor people die at 25, and rich people live indefinitely without aging. Justin Timberlake plays a working-class rebel who falls afoul of the law when a rich man who wants to die (Mark Bomer) gives him a century, which leads to him kidnapping an heiress (Amanda Seyfried) in order to redistribute time to the poor. Director Andrew Niccol renders this parallel reality in antiseptic surfaces and harsh light, and instructs his actors to play like they're mummified. The result is a mishmash of wayward satire and logy action thriller. For a movie built around a crime spree, this feels curiously low-energy. Also with Cillian Murphy, Vincent Kartheiser, Alex Pettyfer, Johnny Galecki, Yaya DaCosta, and Olivia Wilde.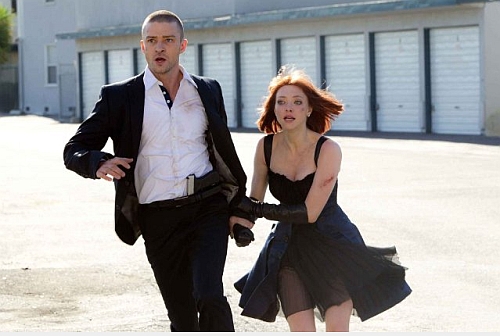 Killer Elite (R) Better than your average Jason Statham action flick, this brutally nihilistic thriller set in the 1980s stars Statham as a retired mercenary who's forced to kill three ex-soldiers from Britain's elite military unit, a mission that earns him the attention of a vengeful operative from that same unit (Clive Owen, rocking a pencil mustache). What's notable about this film is its overhanging sense that there are no good guys here, as all higher ideals about love of country and the glory of military service are revealed to be shams. The feel of a world that has completely lost its moral compass is stronger stuff than most action thrillers give you. Also with Robert De Niro, Dominic Purcell, Aden Young, Yvonne Strahovski, Ben Mendelsohn, Rodney Afif, and Adewale Akinnuoye-Agbaje.
Labios rojos (NR) Rafael Lara's comedy stars Jorge Salinas as a Mexican advertising executive whose marriage is strained when he develops erectile dysfunction. Also with Silvia Navarro, Diana García, Jesús Ochoa, and Fernando Luján.
Moneyball (PG-13) Based on Michael Lewis' book, this drama tells how Oakland A's general manager Billy Beane (Brad Pitt) and his assistant (Jonah Hill) built a winning baseball team on a budget by upending the sport's conventional wisdom and acquiring underrated players. Pitt and Hill are starkly different comic actors, and the chemistry between them never quite takes, even though they do fine work on their own. Writers Steven Zaillian and Aaron Sorkin turn the story into some good comedy, but repetitive scenes keep this from achieving the streamlined momentum of The Social Network, the movie this so badly wants to be. Still, the ending is near magical, with Billy finding value in sports and life beyond the wins and losses. Also with Philip Seymour Hoffman, Chris Pratt, Stephen Bishop, Arliss Howard, Reed Thompson, Brent Jennings, Kerris Dorsey, and Robin Wright.
Paranormal Activity 3 (PG-13) The premise remains the same: vérité horror flick about a family filming themselves as they're terrorized by a poltergeist haunting their improbably large house. By all rights this should be tired by now, and yet the directing team of Henry Joost and Ariel Schulman (Catfish) keeps it all fresh. This prequel set in 1988 stars Chloe Csengery and Jessica Tyler Brown as the two young sisters whose parents (Christopher Nicholas Smith and Lauren Bittner) are the unlucky first to discover the malign force that only their younger girl can see. The mix of special and practical effects makes for a third movie that offers different scares from its predecessors. Also with Dustin Ingram, Sprague Grayden, and Katie Featherston.
Puss in Boots (PG) Five years too late. The feline adventurer voiced by Antonio Banderas is a funny character, but he was introduced to us in Shrek 2 back in 2004, which is why this spinoff feels so stale. In this tale, Puss must team up with his ex-best friend Humpty Dumpty (voiced by Zach Galifianakis) and a beguiling pickpocket (voiced by Salma Hayek) to steal some magic beans that'll lead them to a golden-egg-laying goose. The movie gets off to a nice start, and the animators clearly have fun animating the ungainly Humpty. Yet an extended flashback sequence derails the film's momentum, and the relationship between Puss and Humpty never carries the weight that it's supposed to. Additional voices by Billy Bob Thornton, Amy Sedaris, Constance Marie, and Guillermo Del Toro.
Real Steel (PG-13) For a movie with such a silly premise, this is far more entertaining than it should be. Hugh Jackman stars in this drama set in the near future as a down-on-his-luck owner of giant boxing robots, who enjoys an unlikely run of success after unexpectedly having to take charge of his unacknowledged 11-year-old son (Dakota Goyo). The rock-em-sock-em robot action falls apart at the end, but the thing is carried off with an unusual amount of conviction, and Jackman in particular looks revitalized. Watch for a cameo by screenwriter John Gatins as a tattooed mohawked lowlife fight organizer. Also with Evangeline Lilly, Anthony Mackie, Kevin Durand, Olga Fonda, Rick Yune, Hope Davis, and James Rebhorn.
The Rum Diary (R) Based on a Hunter S. Thompson novel written early but published late in his career, this film stars Johnny Depp as a hard-drinking journalist who lands in Puerto Rico in 1960 and finds his voice during a series of encounters with corrupt officials. This long-shelved film has a nifty cast and some nicely staged hijinks, but director Bruce Robinson (Withnail & I) only succeeds in raising dry chuckles. Except for a few scattered instances (like the reporter's first hit of LSD), this thing raises never evokes the psychedelic madness of Thompson's world-view. Agreeable though this is, it's still Thompson denatured. Also with Amber Heard, Michael Rispoli, Aaron Eckhart, Giovanni Ribisi, Amaury Nolasco, and Richard Jenkins.
Sarah's Key (PG-13) Adapted from Tatiana de Rosnay's novel, Gilles Paquet-Brenner's drama takes in parallel storylines, one about a Jewish girl (impressive newcomer Mélusine Mayance) in 1942 Paris trying to get back to her apartment to free her hidden little brother, the other about a present-day American-French journalist (Kristin Scott Thomas) who digs into her husband's family history after learning that they moved into that same apartment after its Jewish residents were evicted. The present-day stuff is a good deal less compelling than the past sequences, which focus on the relatively neglected French Holocaust. This doesn't measure up to the best Holocaust dramas, but it's a sturdy piece of work that performs a valuable task. Also with Niels Arestrup, Frédéric Pierrot, Michel Duchaussoy, Dominique Frot, Gisèle Casadesus, Charlotte Poutrel, and Aidan Quinn.
The Three Musketeers (PG-13) Maybe this isn't the silliest version ever of Alexandre Dumas père's story, but it's certainly the most unintentionally silly version. Paul W.S. Anderson (Resident Evil) directs this period action flick that stars Logan Lerman as D'Artagnan, who teams up with Athos, Porthos, and Aramis (Matthew Macfadyen, Ray Stevenson, and Luke Evans) to protect the French throne against the machinations of Cardinal Richelieu (Christoph Waltz) and Milady de Winter (Milla Jovovich). Somehow a couple of giant floating airships armed with cannons get involved, as does a lot of bad "period" dialogue. Anderson's action sequences are as implausible as ever, especially the ones with Jovovich, and they don't bring nearly enough swashbuckle to this affair. Also with Orlando Bloom, Til Schweiger, Mads Mikkelsen, Freddie Fox, and Juno Temple.
Tower Heist (PG-13) Brett Ratner's plush comic thriller wants badly to be awesome but enjoys only a few isolated moments of awesomeness. When a Bernard Madoff-like financier (Alan Alda) is placed under house arrest in his deluxe Manhattan apartment tower, the building's manager (Ben Stiller) recruits a small-time neighborhood thug (Eddie Murphy) to help the building employees steal back the money that the financier conned them out of. The premise is clever, but hole-filled plot shifts all the weight onto the comedy. Some of the jokes land but not enough of them. Even though the street-hustler role rejuvenates Murphy, his partnership with Stiller and the chemistry among the cast as a whole doesn't yield much. The movie's a modest little diversion, but it should have been much more. Also with Gabourey Sidibe, Matthew Broderick, Casey Affleck, Michael Peña, Téa Leoni, Stephen McKinley Henderson, Zeljko Ivanek, Jessica Szohr, Heavy D, and Judd Hirsch.
A Very Harold & Kumar 3D Christmas (R) Our favorite Asian stoner pals (John Cho and Kal Penn) are back in top form, having to find a new tree on Christmas Eve after Kumar accidentally burns down Harold's tree. Along the way, they sling in-jokes at each other, become claymation figures, run from Russian mobsters, almost kill Santa Claus (Richard Riehle), pick up a waffle-making robot that falls in love with Kumar, acknowledge that they're getting older, and take part in a fabulous dance number with Neil Patrick Harris. With better use of the 3D than you find in most Hollywood blockbusters, this is great surreal fun. Also with Paula Garcés, Danny Trejo, Danneel Harris, Thomas Lennon, Amir Blumenfeld, Bobby Lee, Elias Koteas, RZA, Jordan Hinson, Patton Oswalt, Eddie Kaye Thomas, and David Krumholtz.
DALLAS EXCLUSIVES:
Hell and Back Again (NR) Danfung Dennis' documentary follows U.S. Marine Sgt. Nathan Harris as he struggles to readjust to civilian life after his deployment in Afghanistan.
Like Crazy (PG-13) Drake Doremus' romance stars Anton Yelchin as an American college graduate who tries to keep his relationship with a British fellow student (Felicity Jones) going after she's forced to leave the United States. Also with Jennifer Lawrence, Charlie Bewley, Oliver Muirhead, Finola Hughes, Alex Kingston, and Chris Messina.
Margin Call (R) J.C. Chandor's drama set at a brokerage firm trying to cope with the early days of the 2008 financial crisis. Starring Kevin Spacey, Demi Moore, Stanley Tucci, Zachary Quinto, Paul Bettany, Penn Badgley, Mary McDonnell, Aasif Mandvi, Simon Baker, and Jeremy Irons.
Mozart's Sister (NR) René Féret's French-language historical drama stars Marie Féret as Maria Anna Mozart, who in 1762 finds her musical career being overshadowed by that of her younger brother Wolfgang (David Moreau). Also with Marc Barbé, Delphine Chuillot, Clovis Fouin, Lisa Féret, Adèle Leprêtre, and Valentine Duval.
Nuremberg (NR) Stuart Schulberg's 1948 documentary follows U.S. prosecutors during the first set of Nuremberg trials.
The Skin I Live In (R) Pedro Almodóvar's latest film stars Antonio Banderas as an insane plastic surgeon who uses a captive patient (Elena Anaya) as a human guinea pig for his new artificial skin. Also with Marisa Paredes, Jan Cornet, Roberto Álamo, Eduard Fernández, and José Luis Gómez.
Take Shelter (R) Michael Shannon stars in Jeff Nichols' thriller as a possibly delusional man trying to shield his family from what he believes is the looming apocalypse. Also with Jessica Chastain, Tova Stewart, Shea Whigham, Katy Mixon, and Robert Longstreet.
The Woman (R) The cause of a near-riot at this year's Sundance Film Festival, Lucky McKee's horror film stars Sean Bridgers as a prosperous country lawyer who takes extreme measures to "civilize" a feral woman (Pollyanna McIntosh) whom he finds in the woods. Also with Angela Bettis, Zach Rand, Lauren Ashley Carter, Tommy Nelson, Frank Olsen, and Marcia Bennett.