Burning Hotels, the electro-pop duo of Matt Mooty and Chance Morgan, are stuck in the middle. Hahaha. "Stuck in the Middle" is their most popular song. (What.) Well, it was their most popular song –– not that it's no longer popular or, with its driving beats and sublime melodies, is not as close to pop perfection as any song can hope to be. It's still genius. But Mooty and Morgan have oh-so-gently distanced themselves from it. The song was recorded several years ago, when indie-rock was ruled by post-punk, a sub-sub-sub rock genre in which human beings with guitars, basses, and drums impersonated severely bipolar and highly caffeinated musical robots with guitars, basses, and drums.


The Burning Hotels –– like drummer Wyatt Adams, the "The" was a casualty of the separation –– were masterful. Their post-punk songs were catchy but also technically brilliant, their strenuousness never obvious but so integral to the songs that you couldn't imagine them without it. But either post-punk became clichéd or Mooty and Morgan decided it was clichéd, because they parted ways with Adams and pretty much relegated bassist Marley Whistler to live performances only. Oh, yeah. Mooty and Morgan also got their hands on a bunch of keyboards, locked themselves away in Morgan's Cultural District bedroom studio for several weeks, and began writing what would become one of the most accomplished, best albums ever to come out of North Texas.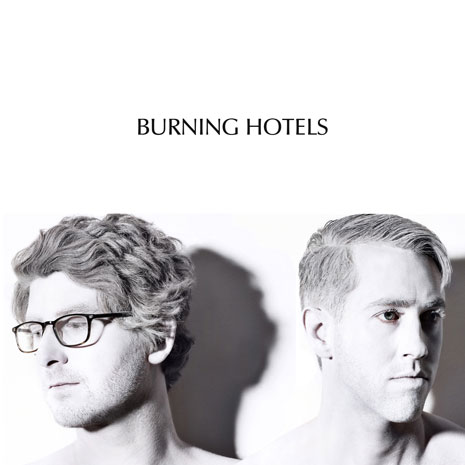 Released a couple of months ago, the eponymous eight-track disc puts Burning Hotels in a certain position, one that may seem awkward: Y'know, you develop a solid, respectable following not only in North Texas but also across the country and then you throw that following a curveball by changing sounds. Maybe the Hotels' move was calculated –– post-punkers like The Strokes, The Killers, and The Vines are sooooo 2005. But one listen to Burning Hotels will shatter any nasty thoughts of careerist subterfuge. The album simply had to happen. As stupendous as the band's previous, post-punk output is, Burning Hotels is less an homage to established titans and more the work of artists completely in control of their powers. The Burning Hotels were in control of their powers, but Burning Hotels are completely in control.
The difference is startling. Produced by Will Hunt (Evanescence's Amy Lee, Green River Ordinance), who produced The Burning Hotels' two previous recordings (2010's Novels, 2007's Eighty-Five Mirrors EP), Burning Hotels sounds like a jewel –– with help from engineer Chad Copelin, who owns Blackwatch Studios in Norman, Okla., the production work is meticulous, and thick choruses with elegantly repetitive vocal melodies abound. One of the album's most memorable and brightest tracks is the lead-off "Beard," a toe-tapper that twinkles in the verses, has a moody bridge, and stomps in the chorus, with Mooty, his voice as masculine and suave as ever, singing, "Why did I / Why did I love you? / Why did I / Why did I love you / Why did I, why did I ever love you at all?" The similar-sounding "To You With Love From Me," a kind of post-apocalyptic valentine, skips and bounces along, layers on top of layers of instruments and vocals during the chorus, creating an eerie, almost psychedelic tribal meditation. Hunt, who played drums on the album, and Copelin, who played bass on a majority of the songs, keep the atmospherics from becoming cloying or messy. The album could have been done as a throwback to the 1980s, clearly the era that's most on the minds of Mooty and Morgan, but "you could go throw that in the pile with all the other ones that sound like that," Morgan said, nursing a Jack-and-Coke on the back patio of 7th Haven recently.
Burning Hotels also points up Mooty's and Morgan's growth as musicians, not necessarily songwriters –– the big hooks for which The Burning Hotels were known have remained inviolate. The guys always dug keyboards but never really got into them until Dallas photographer/videographer Thom Jackson asked Mooty and Morgan, friends of his, to compose a song for a concept video he wanted to make. "It was a blank canvas," Morgan recalled. "No pre-existing ideas. We started from zero, knowing I was wanting to incorporate [synths] into what I was doing" –– Mooty and Morgan had already grown stale on Novels. "We were just ready for something different," he said.
The result was the album's next-to-last track, "Allison," a slow-burner that pivots on the chorus, "I get whatyersayin', whatyersayin', whatyersayin' / I get whatyersayin' tonight," delivered over a crisp snare and high-hat, zooming synth washes, and sparkly little guitar plucks. "It was one of those organic things," Morgan said. "We had no idea what we were trying to get. We never said, 'This isn't going to be a post-punk song.' We just said, 'Let's write a song.' "
After the video came out, The Burning Hotels toured the Midwest and Northeast, splitting with Adams not long after they returned home. Mooty and Morgan spent the next several months writing. Recording with Hunt at his home studio by TCU was the next logical step.
Hunt's precise production –– and guidance –– situated Burning Hotels as natural pop-rock songwriters extraordinaire perhaps despite their disco-floor aspirations and some songs' danceable DNA. We're not saying Burning Hotels want to be the next whoever-is-popular-in-techno-music-these-days, but the duo's shimmering, snappy tunes do have a booty-shaking aspect to them. "Days Are Gone," with its ping-ponging beat and plinking keyb's, could set your bones to doing The Smurf, and "The Incident" powers down Rodeo Drive in a bitchin' Camaro.
While a certain species of nostalgia has always found its way into the Hotels' songs, it's never been as pronounced as it is on Burning Hotels. Yes, Mooty and Morgan are getting older –– Mooty is a married father of a young boy, and Morgan is about to become the manager of a major venue, the new Moon ("The Moon Ridglea," Sep 7, 2011). The guys aren't over the hill by any stretch –– they're only 26 –– but there's something about the onset of 30 that sends some folks scrambling to establish some sort of stability. Settling down can be almost as scary as starting over, and with any sort of change, there's always a soft spot for the way things were (at least the way the good things were).
In the swirling, upbeat "Days Are Gone," the nostalgia becomes literal. "Remember when we used to sing / On Wednesday nights?" Morgan sings, his voice distant and scratchy. "I use to try to pick the songs / I know / She liked." At one point, he also mentions "a silver cloak," referring to the silver-painted walls of The Cellar, long a TCU staple for rowdiness. More memories are called on in the bittersweet midtempo number "Always," in which Morgan sings, "So I remember things / Something out of a movie scene / … / The walls are stained / And drenched in blood / Forgetting memories of setting suns."
The Hotels' melancholia also takes the form of dark tones and echoing, shimmering riffs (on keyb's and electric guitar). On "The Incident," the Hotels dance through some traditional Echo & The Bunnymen-ish and The Smiths-esque straightforwardness, nothing too offensive, before delivering the big payoff of the chorus, a delicious refrain sung passionately over a blindingly bright synth sonicscape, "When they come for you, come to meeeeee," Morgan sings. "When you will run, run to meeeeee."
Maybe the best song on the album is Morgan's favorite, "Sound City," a haunting but locomotive track that's noteworthy not only for its lush, guitar-based riffage and sweet/sad chorus but also its origins –– Morgan sees the song as a culmination of his friendship with his childhood friend and lifelong collaborator, Mooty. "Once we did it, we listened back, and we were, like, 'Holy shit.' Just us coming together and being so connected. … Not to discount the older stuff, but I feel like this is our first record."
Burning Hotels leaves you with the vague sense that you've spent a night in New York City with your loved ones and had a wonderful time reminiscing and going over old photos. The album's the kind of piece of art that could be enjoyed for days on end, and the evocative highs and lows of the music can make you wish you were in love or could love more fully.