About two years ago, tattoo artist Drago Reid heard a commotion in the parking lot behind his Knuckle Up parlor in the Stockyards. It was late at night, and a man was trying to break into a car. The owner of the furniture store next door was already outside trying to stop the would-be thief. Reid grabbed the pistol he keeps in his shop and went out to assist. They chased the man and caught him as he was descending a stairway next to Cattlemen's Steakhouse.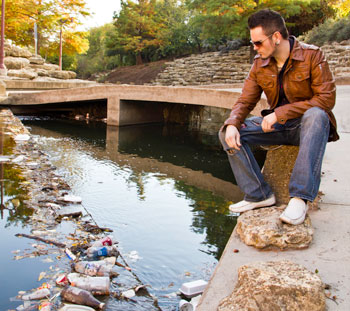 Reid was surprised at what he saw at the bottom of the stairs. "I had been in business on North Main Street for about four years at that point, and I never knew there was a park with a bike trail and a creek right across the street from me," he said. "It was below road level, seemed very peaceful and quiet, but no one really seemed to know it was there."
Reid had accidentally found Saunders Park, a half-acre of open space along Marine Creek where it runs through the Stockyards. He began to visit more frequently, to release his pet turtles when they became too big for his indoor aquariums and to set up his easel for painting. But during the past two years, the 31-year-old Reid has discovered two things about the park: Few people go there because of poor access and no signage, and Marine Creek can often be a cesspool of debris and stinky water.
The debris probably shouldn't be a surprise, given the city's schedule of maintenance. Trash cans are emptied twice a week, but other than that, cleanup crews hit Saunders Park only about once a year — still far better than other pools, creeks, and fountains in city parks, which get cleaned only once every three years. So think of all the parties and parades in the Stockyards every year, the tides of tourists, restaurantgoers, clubgoers, and shoppers who hit the area every week, and you can imagine why the debris builds up. The annual city budget for maintenance of the park is a meager $2,150.
"After big rain events, we clean the water in parks more frequently, but unless we hear from the citizens there is a real problem somewhere, it is hard for us to know about it," said city spokesman Bill Begley.
Reid initially tried to remove the debris in the creek himself. This past July, he and a friend donned wetsuits and armed themselves with pool-skimmers on long poles. Over a two-week period, they logged more than 30 hours of cleanup in the four-foot-deep water, hauling out enough trash to fill dozens of huge garbage cans.
But as with most urban waterways, even ones as small as Marine Creek, the debris quickly comes back. "I tried to contact Mayor Betsy Price about this problem," Reid said, "but I got no response. So I decided to show the before-and-after photos of our cleanup to the news media to show how bad it was and how it can be cleaned up if the city thinks it is important to do so."
Saunders Park was dedicated in 1981, built mostly with federal money as part of flood-control efforts on Marine Creek. It was named for Thomas Bailey Saunders I, a cattle rancher who died in 1908. His son and grandson, who both took on the family business, became major players in the Stockyards and the Fort Worth Stock Show in the early 1900s. Their descendants still ranch in Parker County.
If more people frequented the park, it might get more city attention. But few tourists or locals walk there, for several reasons. Most probably don't know it's there. No signs direct people into the park at either of the two entrance points on North Main near West Exchange Avenue. In fact, one entrance point is through an alley near Lonesome Dove Western Bistro that holds nine garbage bins.
"There are two problems," said Teresa Burleson, director of the Stockyards Museum. "No one knows about [Saunders Park], and that creek is nasty. Compounding that is that people have to walk through an alley and pass dumpsters to get there. People shouldn't have to walk past trash to get to a park."
The other problem is the design. The park is basically a concrete bike trail next to a creek. There is no green space –– the creek banks are mostly concrete "rocks." There are no picnic areas. And the other entry points to the park connect it to the Trinity Trails system, giving bikers a route between downtown and the North Side that allows them to avoid Stockyards street vehicle traffic.
On a recent hour-long visit, at about 3 p.m. on a weekday, only one bicyclist and no pedestrians came through the park. The sidewalks above were full of tourists, but the park was empty. On a recent Saturday afternoon, there were about a half-dozen people in the park, but most of them were just using it as a cut-through from a free parking lot at the southern edge of the park to places like the White Elephant Saloon.
Of the businesses that back up to Saunders Park, only Lonesome Dove has built an access stair to it. The restaurant also has a patio dining area overlooking the park. The White Elephant's back door is also accessible from the park near the garbage-bin alley.
Longtime Stockyards property owner and developer Steve Murrin said the origin of the problem lies in design and the history of economic development in the area. He said the horse and mule barn property on West Exchange was originally slated for development that eventually landed farther west as Stockyards Station. The bike trail coming from downtown hooks into Saunders Park behind the long, empty barn property, but with no foot traffic in that vicinity, the park never really drew people, Murrin said.
"We tried to throw acoustic country music concerts in the park in the 1990s, but no one came," he said. "There was just no room for people down there with the bike trail open. And I don't think people wanted to sit on rocks listening to music.
"We need to have better access and maybe tweak the park a bit," Murrin continued. "But until we have more development on both sides of the park, the use will be limited. And until that happens, the creek will be dirty, because property owners with a financial interest in that park will volunteer more to keep it clean. But given the economic realities these days, I don't see that happening very soon."
Begley said there are no plans for the city to change the park in any way; however, he said the city's parks and recreation department may put up signage now that they know there is none.
"I can't blame the city for not doing a better job of keeping that creek cleaner," Murrin said. "With all the development northwest of us, trash flows downstream. And the priorities for park maintenance should be the [parks] that people use the most. Saunders Park isn't one of those."
There had been some speculation that new dams on Marine Creek and the West Fork of the Trinity River as part of the Trinity River Vision might raise water levels in Saunders Park. But Clay Church, a spokesman for the U.S. Army Corps of Engineers, said the dams would raise "water levels slightly on Marine Creek but will not have any impact on Saunders Park."
For Reid, the issue is about trash and not redesign of the park. "Just look at all the Styrofoam cups and plastic bottles and car tires and plastic bags floating around," he said on a recent visit. "We are going to have to organize better to make businesses in the Stockyards more aware of the problem in Saunders Park. But the city needs to take a lead role. They shouldn't be cleaning the creek just a few times a year. Once a month should be the minimum."