If you're a barbecue enthusiast, living in Fort Worth is tantamount to dying and going to hog heaven. Or beef anyway. According to my roommate, Texans have trouble figuring out pork. I don't know if that's true or not, because I'm from Northern California, and we eat tri-tip. Either way, I make do with barbecue, regardless of whether it mooed or oinked when it was still on the hoof. The thing I've noticed about Fort Worth's 'cue is that it is vast and largely awesome — people in Dallas even acknowledge which side of the river does barbecue better — so finding the top one in town is practically a Herculean task.


Sampling the city's barbecue then turns into a matter of personal preference. While Off the Bone BBQ isn't my favorite, it does OK against a lot of the other joints in town.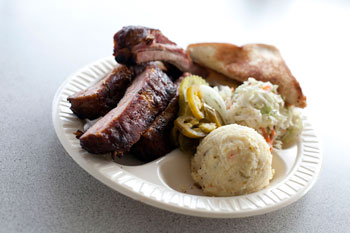 I grabbed my date and headed toward Mansfield, not realizing that A) Off the Bone has two locations, and B) Forest Hill is an actual place. This is a charitable way of saying I got lost. Eventually, with the Tom Tom bellowing directions over everything I tried to say, we found our way north on 287 from I-20 and saw our destination on the left side of the road, in what looked like an old Dairy Queen. Making sure to get there by 7 p.m. (when the "lobby" closes, according to the restaurant's web site), we stood a pace back from the counter to peruse the menu overhead.
OTB's fare is kind of pig-heavy; it has staples like sliced beef, chopped beef, smoked sausage, but it showcases pork ribs and stuff like ham and pork tenderloin. (You'll also find smoked chicken and bologna.) I went with the pork tenderloin dinner, paired with potato salad and green beans. My date went with ribs and sausage, with fried okra and corn. Both dinners came with a big, thick slice of Texas toast.
After we ordered, we sat down at a booth to finish our car conversation interrupted by "veer left! for! eight hundred! feet!" I guess I spend a lot of time at Railhead, because I wasn't accustomed to getting my barbecue delivered. It was a nice touch — even though the room is sparsely decorated. (It's a lot of white on dingy white, undoubtedly a leftover from the building's long-gone previous tenant.) Two TVs at opposite ends of the dining room blinked with NBC 5's news; my date noted that watching opposite TVs is a weird way to have a conversation, and she was right, because your eyes never quite connect. Once we'd dug into our plates, I kind of thought the same thing about the food.
Thing is, I figured the place would be good in the beef department — you pretty much have to be to stay in business around here, and OTBB's been around for 26 years — so I thought I might as well try as much of the pork as I could in a sitting. If my roommate is to be believed, I shouldn't have been too surprised that my tenderloin was a little dry. I was, though. I didn't expect that spearing a slice of pork would cause it to leak juice like it was on a commercial, but I was hoping not to resort to barbecue sauce. But sauce it up, I did, and again, I got different results than what I expected. The sauce, served in a ketchup bottle next to the salt and pepper, was a tad too sweet for my tastes; I prefer a lot more zip, and this had about as much as a button-fly.
The sausage fared a little better. Again, while I don't want my mouth to erupt into flames, I think sausage is best when it has a little tang. Off the Bone's had a hint of spice that sussed the sweet out nicely, and I didn't need to doctor it with a blast from the sauce bottle. Of all the sampled meats, the ribs were the best. The meat was nicely crisped in places, succulent and juicy everywhere else. The pork didn't exactly slough off the bone like the restaurant's namesake would have you believe, but they were tender enough.
My one out-and-out, wish-I'd-gotten-the-cole-slaw complaint came with the potato salad. Like everything else I ate, the potato salad was a lot sweeter than I prefer — it could have used some more dill or onions, anything to make it a little more memorable. I don't think I've ever left a potato product on a tray, but I moved on to the green beans after only a few bites.
Making the drive to Forest Hill for Off the Bone BBQ probably isn't worth it for anyone who lives near a Railhead, but if you're a Fort Worth barbecue completist or live in the neighborhood, Off the Bone makes for a good meal, which is all right when the field is really great.
Off the Bone BBQ
5144 Mansfield Hwy, Forest Hill. 817-563-7000.
Open 11 am-8 pm Tue-Sat. Closed Sun-Mon. MasterCard, Visa accepted.
Rib dinner ………… $10.49
Pork loin dinner …… $9.49
Hot link dinner …….. $8.19