When Alexander Payne made Sideways seven years ago, George Clooney lobbied hard for the role that was eventually played by Thomas Haden Church. Payne passed on Clooney, figuring that the star was too famous and good-looking to be credible in the part of a burned-out has-been actor. The Descendants, which opened the recent Lone Star International Film Festival, is Clooney's chance to finally work with Payne, and their partnership still emerges an odd fit. Payne's films are about finding poetry, grace, and humor in the lives of ordinary people, and movie stars like Clooney are who they are precisely because they don't come across as ordinary. The uneasy fit between the actor and his role is perhaps what keeps this movie from masterpiece status, though it's still very good indeed.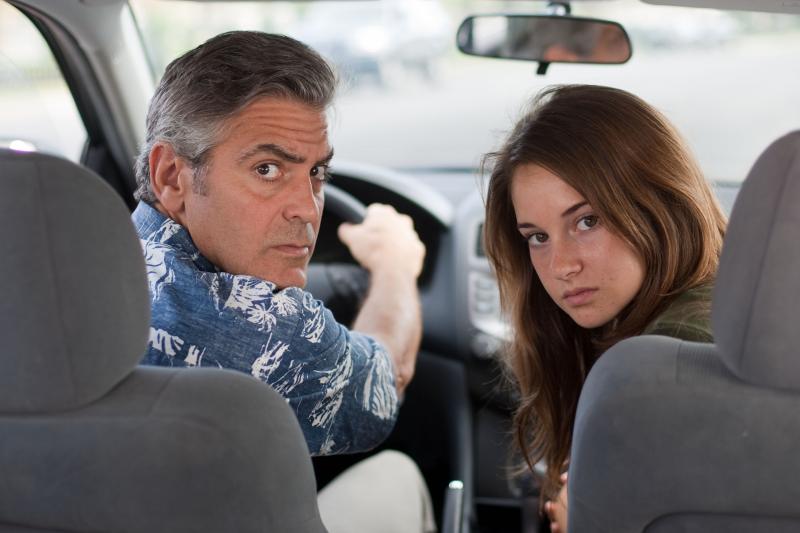 Clooney portrays Matt King, whose last name is ironic given that he's a direct descendant of King Kamehameha of Hawaii (albeit one so white that he describes himself as haole) and doubly ironic given the unkingly figure he cuts as a wealthy lawyer in Oahu. His wife Elizabeth is in a coma thanks to a boating accident, forcing him to deal with medical bills and updates while raising two daughters on his own. It's the older one, a hell-raising 17-year-old named Alexandra (Shailene Woodley), who throws his life into further chaos by revealing that her mom was having an affair.
The movie bears all the hallmarks of Payne's other films. The sharp script is adapted from an impressive debut novel by Kaui Hart Hemmings (who also has a small cameo role in the film), and it addresses early on the inconvenience of dealing with tragedy while living in a sun-drenched vacation spot that's supposed to banish all negative emotions. (Matt's voiceover narration: "I've been living in a paradise of IV tubes. … Paradise can go fuck itself.") Payne doesn't get enough credit for his eye for landscapes, but just as he captured the natural beauty of California wine country in Sideways, here he finds some breathtaking vistas in our 50th state.
The cast is top-notch, starting with Clooney, who's excellent despite being miscast. You probably haven't seen Woodley unless you watch TV's The Secret Life of the American Teenager, but she is magnificent here, especially in a scene in a pool when a frustrated Matt breaks the news that her mom's never going to wake from her coma. The two actors' chemistry leads to a deeply satisfying scene when Matt and Alex track down Elizabeth's secret lover (Matthew Lillard) at his house and make him squirm for his life while his wife (Judy Greer) remains mostly oblivious. The excellence extends to the smallest roles, including Nick Krause as Alex's tone-deaf surfer-dude boyfriend and the underappreciated Greer, who shines in a late scene after the wife has figured everything out. If The Descendants never quite matches the exquisite balance of comedy and pathos that Sideways o
The Descendants
Starring George Clooney and Shailene Woodley. Directed by Alexander Payne. Written by Alexander Payne, Nat Faxon, and Jim Rash, based on Kaui Hart Hemmings' novel. Rated R.
ffered, it's still a terrific new piece of mature drama on a weekend when our theaters are swamped with kids' movies.