One of my favorite theatergoing experiences in recent years was Circle Theatre's 2008 holiday production of A Very Merry Unauthorized Children's Scientology Pageant. If you missed that nontraditional and rather biting musical, it featured a cast of children reenacting the story of L. Ron Hubbard's founding the Church of Scientology as if it were a warm-hearted Christmas show.


I'm still not sure how Circle executive director Rose Pearson got approval from the board for that one, which left some audience members cheering and others clapping politely but suspiciously, perhaps fearing they'd been duped. But that show remains my gold standard for artistic bravery during a holiday season when many theaters rely on familiar, comforting cash cows to help fund the rest of their seasons. Audiences are assaulted by so many nutcrackers, Scrooges, and workshop elves during this time of year that any fare that's significantly different feels like a thrilling daredevil display.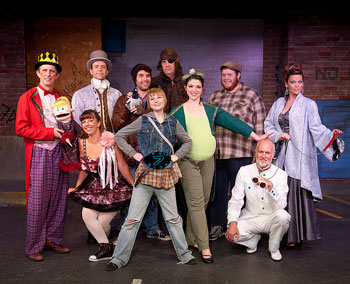 Circle's newest holiday high-wire act is the regional premiere of Seven in One Blow, or The Brave Little Kid. This contemporary urban retelling of a Brothers Grimm story was adapted by New York playwright Randy Sharp and first staged in 2002 by the Off-Broadway troupe the Axis Company. It has since become Axis' own warped little Christmas tradition, revived each December. Circle handed this interactive show to its unofficial resident director of farce, Robin Armstrong, and the results are just as glorious as I'd hoped. While Seven in One Blow is sweeter and more commercial than Children's Scientology Pageant, Armstrong –– a self-professed Monty Python fan –– has brought out compelling hues of Terry Gilliam-esque grotesquerie and absurdity that give this show a nice edge. Circle's staging achieves the impressive feat of appealing to "children of all ages" as well as tired, leather-hearted critics looking for a new reason to cheer holiday theater.
The protagonist of the original Brothers Grimm tale was a mild-mannered tailor who undergoes a series of challenges with monsters and tyrants to become a king. In Sharp's stage adaptation, the lead character is The Kid (played in the Circle show by Mikaela Krantz), who wanders away from neglectful parents and must overcome various obstacles on the city streets. The title Seven in One Blow refers to The Kid's recurrent boast that he killed seven bothersome flies with one swat –– he even gets the phrase emblazoned on a huge belt buckle. Full of foolish bravery, he tangles with the eyepatch-wearing Ogre (Jim Johnson, a towering and goofy presence); a king named QK (Kevin Scott Keating), whose queen is a screechy blonde puppet in a black sequined dress; and QK's greedy, superficial daughter, Princess Fartina (a delightfully vulgar Hannah McKinney). The Kid also encounters the green Pea with self-esteem issues (Amy Elizabeth Jones, who brings surprising tenderness to a despised dinner staple) and the Witch (an icy and disdainful Sherry Hopkins), who has kidnapped the month of December (the aristocratic Michael James) –– she holds him on a glittery leash to keep the land forever cold. The Kid's sidekick is the dandy-ish, French phrase-dropping Scarlet Pimpernel (Brad Stephens). Through all of this, the audience is encouraged to sing, boo, and cheer by two wisecracking homeless men (Shane Strawbridge and Eric Dobbins, both boisterous and inventive) who serve as the show's masters of ceremonies.
Set designer Clare Floyd DeVries and costume designer Armstrong have apparently borrowed ideas from sources as diverse as Sesame Street and The Who's Tommy. The look of Circle's show veers from utilitarian ghetto chic to Bob Mackie fabulous. Similarly, the performances are comically gritty and elegantly subversive, achieving a lunatic pitch that allows each actor to carve a memorable character from what could have been a hallucinatory mishmash of random Alice in Wonderland-style types. Saturday's opening-night performance (which was attended by playwright Sharp and several members of the Axis Company) had a couple of problems with pacing as the show alternated between songs and comic vignettes, but those will likely be worked out as the run goes along. All of the performers had inspired command of their roles, but a special nod should go to Keating for making his shrewish queen puppet an authentic and bizarre cast member.
Krantz tied Seven in One Blow together with a marvelous turn as The Kid. Though she's in her mid-20s, she could easily pass for 14, and she infused her character with the unsentimental tomboy charm of child actors like Tatum O'Neal and Jodie Foster. The gender-bending twist at the end of the show wasn't much of a surprise, but by that point Krantz had successfully created a universal child hero who drew a bit from both genders. Circle's Seven in One Blow pulls from a crazy menagerie of inspirations but, beyond all odds, finally comes together as a bold and sophisticated holiday adventure.
Seven in One Blow
Thru Dec 17 at Circle Theatre, 230 W 4th St, FW. $10-30. 817-877-3040.