Chow, Baby has fond memories of being taken by Chow, Daddy to Rangers' games as a kid. Looking back, my father should have won some kind of parenting award for the patience he showed at those games. He would ply me with Dr Pepper and hot dogs, buy me over-priced merchandise, and put up with my novice baseball questions until I demanded to go home. I still go to the ballpark, but I'm not so keen on its food anymore — it's no coincidence that Rolaids is a sponsor of Major League Baseball.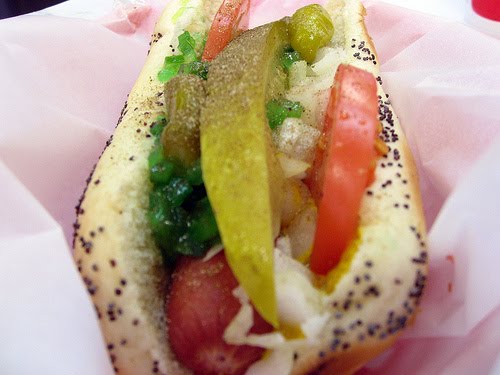 I was recently struck with a brief moment of nostalgia at Curly's Frozen Custard (4017 Camp Bowie Blvd.) and decided to order a hot dog (or three). It's easy to get caught up in moments like that, and soon as I realized what I had done, I grabbed some Pepto and braced for the worst. The thing is, those were some pretty good dawgs — and consequence-free, as it turns out.
Curly's, known more for its custard and sugary beverages, serves Nathan's Famous Hot Dogs, the same pure-beef, fifth-of-a-pound weenies used in professional eating competitions. I decided to go for gusto and ordered three variations: the full-sized ($3.25) was just a plain-Jane meat-and-bun; the Chicago ($3.95) hemorrhaged mustard, onions, relish, tomatoes, dill pickle, and peppers; and the German ($3.95) was a regular with sauerkraut. All three were good, but I daresay not the best in the world (as the brand boasts). My favorite was the Chicago, but mostly because I'm a sucker for a pickle.
I started to wonder where one gets a really great dog in these parts. The "jumbo hoot dog" ($3) at Chubby's Burger Shack (7618 Camp Bowie W.) is enormous at a quarter of a pound, and the meat was tender and, well, tasted like meat — an admittedly low bar.
In my mind, there are two establishments at the top of the local hot dog heap, and both are food trucks. Sassy Hot Dogs (700 Carroll St.) features a re-imagined take on the classic ballpark fare called the BS Dog ($2.99), a jalapeño sausage inside a fresh-baked French bun loaded with pepper jack cheese, grilled onions, pickled jalapeños, and a raspberry-and-pepper barbecue sauce. The BS seemed more like a gourmand's barbecue experiment than a traditional dog. It was delicious, and the sweetness of the sauce balanced the jalapeño nicely.
The Weiner Man, which mostly parks in front of Avoca Coffee (1311 W. Magnolia Ave.) takes home the best in show award. All of the buns are fresh-baked, the wieners are Hebrew Nationals, and the ingredients are purchased daily. The Alchemist ($4.50), a bacon-wrapped, deep fried link topped with sautéed spinach, avocado, fresh pico, and sriracha mayo on a split-top roll, takes the hot dog to a new level of decadence. There is too much going on to call that thing a hot dog. It's more of a new-age Pizzone, with bacon.
These new gourmet dogs don't exactly fit with my nostalgic trip down heartburn lane, but that's not such a bad thing. If this fancy-shmancy trend continues, I fear the hot dog will follow the same evolutionary trajectory as gourmet pizza and super-fancy nachos. I still have a soft spot for traditional ballpark franks, but maybe it's time to rethink my stance. I can have my good old dogs and eat the trendy ones too. After all, Chow, Baby's memories are a lot like hot dogs: You don't want to see how they're made.
Contact Chow, Baby at chowbaby@fwweekly.com.