A little over a year ago, a franchise of the regional chain Pho Noodle & Grill arrived in the Chapel Hill shopping complex next to Central Market on the West Side. Everyone rejoiced. There aren't many Vietnamese options on that side of town.


The good news is, if you're a pho aficionado, you're in luck. But if it's other Viet-fare you crave, you might be better off making the short drive to Haltom City or downtown.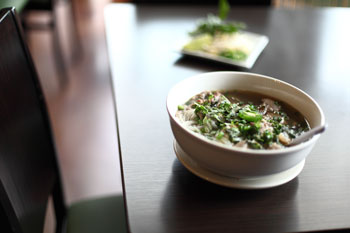 Take, for instance, the grilled lemongrass pork chop, a textbook example of middle-of-the-road Far East cuisine. The average-sized cut of pork came garnished with two small slices of tomato, two similarly sized slices of cucumber, and a reasonably portioned scoop of white rice. Tender? Yes. Flavorful? Somewhat, but by no means in any sort of inventive or authentic way. It doesn't take an Iron Chef to grill a slice of pig as simple as a chop, and the nearly $9 price tag made this dish even harder to swallow.
Same goes for the stir-fried noodle dish dubbed Stir Me Crazy, a popular item, according to a waiter. On paper, this dish has promise, its description containing a mouthwatering list of ingredients: shrimp, filet mignon, chicken, mushroom, cilantro, onion, snow peas, broccoli, carrots, and the cryptically named "in-house special sauce."
The product of this combination, however, is overwrought mall food. To be fair, the stir-fry was better than what you might find at a Chinese buffet, but you will be set back about $11 (unless you go with the children's order, which is about $9) –– just pricey enough to warrant the next level of culinary sizzle. To the dish's credit, however, it will at least fill a growling stomach, unlike the pork chop.
Things improve somewhat on the appetizer front, starting with the trio sampler: egg roll bites, a spring roll, and three barbecued meatballs. The spring rolls had the same drawbacks as any other spring rolls: Eating one isn't exactly going to take you to Flavor Town. The meatballs fared somewhat better, but the stars of this dish were the egg roll bites –– meaning, in other words, you might want to forgo the sampler and opt for a full order of these.
But now comes the good news: Pho Noodle & Grill's pho noodle soup featuring slow-cooked beef broth more than compensates for the rest of the kitchen's shortfalls. These bowls beckon any self-respecting pho aficionado. Expect to shell out about $8 for an already-filling regular bowl or splurge the extra $5 for the enormous TCU Bowl. Either way, it's worth it.
Customize your bowl's ingredients from any or all of the six offerings: round steak, flank, brisket, fat brisket, tendon, or meatballs. You can also pay an extra dollar for sliced filet mignon. Mix and match at will.
The brisket-and-meatball pairing made for a savory duo. The hearty broth accentuated the salty-sweet flavors of the brisket and meatballs without turning their tenderness into a soggy mush. A large tangle of bean sprouts added just the right amount of crunch, and the accompanying basil leaves gave every bite a brisk freshness. The brisket was tender (and plentiful), and the meatballs found a loveliness they lacked independently as appetizers, thanks, once again, to the richness of the silky beef broth. Good luck saving a meatball for the doggy bag.
For dessert, go with the green tea ice cream, or, if you're one to indulge your sweet tooth, dive into the saccharine lychee flavor. Neither disappointed.
The modern, polished décor is kind of odd, striving for the tony at the expense of the authentic, and there's no real indication of anything Vietnamese, meaning no panache but also nothing to complain about. With generic wall art and even more generic –– perhaps questionable –– music (think: Creed and Collective Soul), the atmosphere strikes a solidly average tone.
The service lacked for nothing. During a somewhat slow period on a recent Thursday night, when about a quarter of the tables were occupied, drinks never went empty, and the amiable, accommodating server hovered just the right amount throughout dinner. But never mind about all that. The beef pho will keep you coming back.
Pho Noodle & Grill
4601 W Fwy, Ste 214, FW. 817-737-3111. 11am-9pm Sun, 11am-10pm Mon-Sat. All major credit cards accepted.
Trio sampler……………………… $4.95
Pho beef noodle soup ……….. $7.95
Stir Me Crazy …………………. $10.95
Green tea/lychee ice cream .. $3.50