Straddling the line between street art and high commerce is Brian Donnelly, a.k.a. KAWS. The 37-year-old New Jersey native started as a street artist who balanced that job with working on a freelance basis for Disney, painting backgrounds and contributing to animated shows like MTV's venerated Daria and Doug.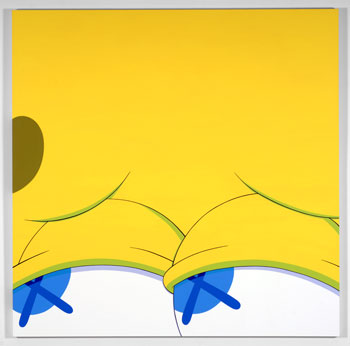 When a fellow graffiti artist gave him a skeleton key in the 1990s that allowed him to open the advertising boxes on the sides of bus stops and phone booths, he started altering those images to suit his own ends, a phase that has influenced his paintings that rework icons such as The Simpsons, Mickey Mouse, The Smurfs, and SpongeBob SquarePants.
When he moved to Japan in the late 1990s, he caught on with a streetwear company and found success designing limited-edition vinyl toys and then couture. The latter caught on not only with hip Japanese youths but also hip-hop superstars such as Jay-Z and Pharrell Williams. Recently, his work, which is frequently likened to Takashi Murakami's, has caught the attention of galleries and museums, which have not always been the most hospitable venues for street artists. The Modern Art Museum of Fort Worth now joins the still-short list of museums to spotlight KAWS' work. Now is a good time to take in the poppy, subversive work of this artist.
Focus runs Dec 11-Feb 19 at Modern Art Museum of Fort Worth, 3200 Darnell St, FW. Admission is $4-10. Call 817-738-9215.