When Texas Music singer-songwriter Charla Corn turned 19, the Panhandle native moved to Nashville to make it big. The young, fit, attractive blonde achieved some success, landing a gig as a part-time on-air personality for CMT, but her music wasn't exactly taking the city by storm.


"I really struggled," she said. "It seemed like there was a pretty, talented blonde on every corner who wanted to be a star."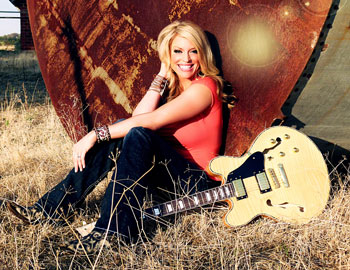 Then one summer, Corn went to Bryan to attend ZiegenBock's annual Texas Music showcase, ZiegFest, and watched the Cleburne-based Randy Rogers Band perform before an enthusiastic crowd of about 5,000. It was a revelation to her: She'd been so enmeshed in the corporate starmaking machinery of Music City that she'd completely ignored the thriving scene of her own home state.
So three and a half years ago, she sold her Nashville home and moved here, charmed by Fort Worth's "certain style," accentuated by Sundance Square and the Stockyards. She also said she's too down-home to be an "Austin or Dallas girl."
In Fort Worth, she began performing crowd-pleasing sets, mostly solo-acoustic. Corn has since released an album and an EP and become the face of Fort Worth-based Texas Music radio station KFWR/95.9-FM The Ranch. After she earned a big following as a DJ in morning and night shows, she was promoted to The Ranch's primo drive-time spot (3 to 7 p.m. Mondays through Fridays) in November after the popular host Tom Bigbee left. That's her weekday gig. On weekends, she travels across the state with her backup band, The Trainwrecks, playing bars, rodeos, festivals, and corporate events. Although she has no regrets about leaving Nashville, the return to Texas has involved a few complications.
"Texas is a chivalry state," she said. "A lot of bar owners and festival people have to be convinced that a woman can get up on stage and pull in a crowd. I think they're always expecting you to get married, pop out babies, and leave the scene. You have to convince them that you're in this for the long haul."
Unlike a lot of artists, Corn has seen the music business from a lot of different angles. Besides her TV host work and radio deejaying, she competed unsuccessfully on the shows American Idol and Nashville Star. She even had a small part in last summer's dreadful CMT reality show Texas Women, when one of the main cast members, another aspiring singer, had her song played on Corn's radio show. Corn herself interviewed to be one of the stars of Texas Women, but she said the meeting never progressed further than an audition.
"It was immediately obvious that my life didn't have enough drama [for reality show fodder]," Corn said with a laugh. Although she had friends on the show, she saw only one episode and wasn't thrilled with its portrayal of blonde, air-headed redneck gals. "That depiction was unfortunate," she said. "There's a lot more to being a Texas woman than I can drink beer and shoot guns with the boys. But the producers were great about promoting The Ranch on the show."
Corn has high hopes for 2012. She's preparing to release another EP and plans to ditch playing smoky bars in favor of more fairs and festivals. Last year she was named Female Artist of the Year by the Texas Regional Radio Music Association and hopes to be nominated again this year. And sorry, fellas: Corn will be getting hitched soon, to a guy who's not in The Biz but is totally supportive of her career. Of course, that does not mean she's going to just sit back and raise rugrats. Corn has worked too hard to prove herself as a serious musician to retreat now.
"The thing about being a Texas musician is that you can have a successful career and a family that you see on a regular basis," she said. "That's what's great about working at The Ranch. I get to stay in one place for four or five days a week."
Charla Corn
Wed w/Aubrey Lynn, Lauren Walley, Whitney O'Neil, Lenzi Lenaye, and Heather Roberts at Love & War, 601 E Plano Pkwy, Plano. 972-422-6201.