In a recent story on DC9 at Night, the Dallas Observer's music blog, several local media types, including this writer, were asked to assess the North Texas music scene. Everyone seemed to agree that Fort Worth is the hottest city of the bunch, pumping out such stellar indie-rock bands as Burning Hotels, Calhoun, Telegraph Canyon, Whiskey Folk Ramblers, and EPIC RUINS. Off the record, a big-time Dallas club manager recently said, "Dallas has the venues, but Fort Worth has the bands."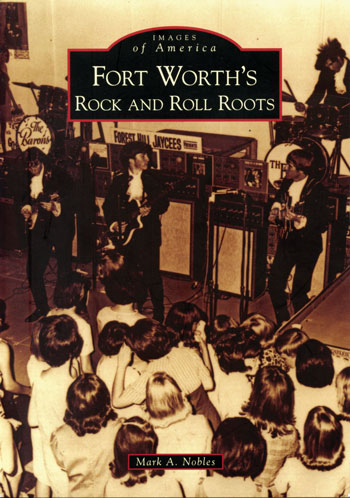 Flashback to 1964: On Feb. 9, The Beatles played The Ed Sullivan Show, and pretty much every kid in the country not living in his parents' basement, including in ol' backwater Fort Worth, wanted to be a rock star. Of all of the subsequent "teen scenes" that formed in the Fab Four's wake, Fort Worth's was easily one of the strongest, a conclusion based not on breakout artists who would go on to become household names –– none did –– but instead on documentation, mostly recorded but also visual and textural.
One solid argument for Fort Worth's historical significance is Norton Records' three-volume box set of tunes by artists such as The Barons, The Cynics, The Elite, Larry & The Blue Notes, and The Nomads. Released in 2004, the discs were mostly the result of research conducted by Fort Worthians Larry Harrison and David Campbell in the late 1980s for a story for the Brooklyn-based underground-music fanzine Kicks. From Cowtown Calamity!, a modest mix-tape compiled by Harrison and Campbell, the Fort Worth song collection expanded to 72 tracks, with prodding by Billy Miller, Kicks editor and Norton honcho. "I couldn't believe how consistently great this Fort Worth stuff was," Miller once told the Weekly ("Fort Worth A Go-Go," Dec. 17, 2003). "In other parts of the country that are supposed to have great scenes, like the Pacific Northwest, you'd get maybe 30 percent good stuff, and the rest was dreck. That's what made me want to release this [Fort Worth] music."
Miller's opinion is reinforced by Teen A-Go-Go, a 2008-2010 documentary film by Melissa Kirkendall and Mark A. Nobles inspired by the box set and the era. The movie has screened in Austin, Dallas, and Limoges, France, and was a recent official selection of the annual Ponderosa Stomp heritage festival and music conference in New Orleans and the annual WFMU Record Fair in New York City.
A sort of companion piece to the movie also underlines the importance of Fort Worth's teen scene. Recently published by Arcadia Publishing, an imprint devoted to highlighting U.S. neighborhoods and niche histories, Nobles' Fort Worth's Rock and Roll Roots contains many of the archival photos used in the film and covers a lot of the same ground, offering nuggets of interesting information that establish Fort Worth's teen scene as a force in popular music worldwide.
Teen clubs were everywhere in town: at the Will Rogers Memorial Center (Teen A-Go-Go), the Sycamore Park Recreation Center, a former bowling alley, a repurposed roller rink, Panther Hall (Panther A-Go-Go), another repurposed skating rink (Jolly Time Teen Hop), and on the East Side in the form of the after-hours joint Candy-Stick A-Go-Go. "If you were booked at a go-go," Larry Roquemore of Larry & The Blue Notes' tells Nobles, "you were a star."
The Excels' Danny Goode concurs. "We really felt like we were stars," he says, adding that fans "would just go nuts … when they saw their own up there … they just ate it up. And the more they applauded, the harder we played; we really fed on that."
Though bands competed against one another, they also supported one another, Roquemore says.
Local media also were supportive. In the days of pre-FM radio, songs by Pat Boone and Frank Sinatra aired alongside tunes from The Beatles and their followers, including locals. Three main stations –– KFJZ, KXOL, and Dallas' KLIF –– regularly spun platters by acts from Fort Worth and the surrounding cities. The Fort Worth Star-Telegram often covered teen-scene events and provided detailed listings of concerts, most of them battles of the bands. At the height of the teen scene's popularity, two American Bandstand-type shows were broadcast from Fort Worth: Teenage Downbeat on Channel 5 and Panther A-Go-Go on Channel 11.
As the Summer of Love and its attendant dark coda advanced and the musicians got older, a sense of seriousness and adulthood emerged and was manifested mainly by one club, the legendary Cellar downtown. "A notorious den of vice where lingerie-clad waitresses and female patrons would occasionally strip," Nobles writes, The Cellar was licensed as a coffee house, but customers could obtain alcohol in the form of "bizarre Everclear-based concoctions." Though founded as a blues and jazz club, The Cellar eventually expanded its musical scope to encompass rock 'n' roll. Legends such as Johnny and Edgar Winter, Stevie Ray and Jimmie Vaughan, Doug Sahm, Joe Ely, and an early incarnation of ZZ Top played there, and locals John Nitzinger (The Barons) and Bugs Henderson became Cellar mainstays. "Musicians who played The Cellar often refer to the club as a school for musicians," Nobles writes. "All the best talent hung out there, playing, learning, experimenting, and trying to one-up each other."
A lot of Fort Worth acts almost made it big. The Elite played with Paul Revere & The Raiders, Herman's Hermits, and The Lovin' Spoonful and almost got to open for the Rolling Stones at Will Rogers. The Stones' manager at the time, The Elite's Roger Brownlee recalls, "didn't want a local group playing with the Stones because –– quite frankly, I don't know; I can't imagine this –– he didn't want anyone competing with them."
Fort Worth did not produce the second coming of The Beatles. However, Nobles goes on to list the outstanding talents –– rock 'n' roll-related and otherwise –– who blossomed here from the '30s through the '60s, including Western Swing pioneers the Light Crust Doughboys and Milton Brown & His Musical Brownies; "hillbilly cats" Johnny Carroll, Mac Curtis, and "Groovy" Joe Poovey; jazzbos John Carter, James Clay, Ornette Coleman, Julius Hemphill, Charles Moffett, Prince Lasha, Dewey Redman, and Ronald Shannon Jackson; pop artists Bruce Channel and Delbert McClinton, whose harmonica riff on Channel's 1962 hit "Hey, Baby" inspired the harmonica part in The Beatles' "Love Me Do"; multiple-Grammy-winning producer T Bone Burnett; and R&B musicians King Curtis, Cornell Dupree, and Ray Sharpe.
"I think there's always been a music tradition in Fort Worth," Rodger Brownlee says. "If you made a list of not just people who went on to become stars but just studio musicians that came out of Fort Worth, Texas, you would be astonished. There's a tradition. I hope it's still here."
It is, Rodger. It is.