Assembling the photos for this blog post made me painfully aware that there are no actors of color on this list. I'm not happy about it, either, but I just couldn't bring myself to list Viola Davis in The Help just to have a black face here. The search for better roles for nonwhite actors is an ongoing battle, one that needs to be fought better in 2012. In the meantime, here are the performances that left particularly vivid impressions on me this past year.
Juliette Binoche
I ran into this same problem at the beginning of my best supporting performances post. It's hard to discuss Binoche's performance in Certified Copy without giving too much away. She spends much of this the first hour or so playing an art devotee discussing the subject with a scholar, only it turns out that the character's been playing a part rather than the actress. You'll need at least two viewings of this film to fully appreciate the layers of this character and Binoche's work as a woman with a sad hidden agenda.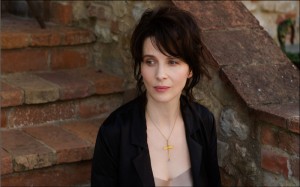 Kirsten Dunst
She delivers the performance of her career so far in Melancholia as a self-destructive bride who falls into a giant black pit of depression and then morphs into some sort of all-knowing celestial being as the world approaches its end. Watch the scene midway through at a dinner table when she crumbles after discovering her favorite food now tastes like ashes. Who would have guessed that the star of Bring It On would be capable of the emotional depths demanded by this role?