An ongoing motif in Roman Polanski's career has been characters trapped in enclosed spaces. The director seems to love watching people unravel in apartments, sailboats, or secluded houses, where they cannot run from their neuroses and fears. He has found such settings congenial in thrillers (Knife in the Water, The Ghost Writer), psychological horror (Repulsion), and outright supernatural horror (Rosemary's Baby). He uses that same setup again in Carnage, which is closer to comedy than any of those other films. This movie wants to be good trashy fun, but despite a deluxe cast, it never quite takes the plunge.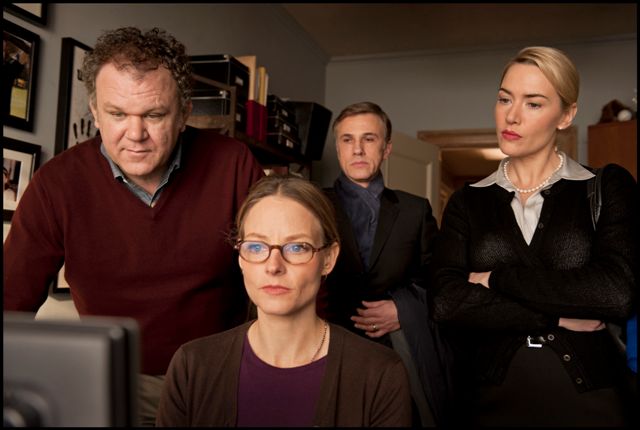 The story takes place in one afternoon at a handsomely appointed Brooklyn apartment belonging to Michael and Penelope Longstreet (John C. Reilly and Jodie Foster), who are hosting Alan and Nancy Cowan (Christoph Waltz and Kate Winslet) to iron things out after a playground incident in which the Cowans' son hit the Longstreets' son with a stick. This only sets up some even more childish hijinks among the parents, who spend an hour and a half engaging in petty power games that alternately pit the couples against each other, the husbands against the wives, and occasionally one parent being ganged up on by the other three.
Most of the movie's flaws come from the French-language stage play on which it's based, Yasmina Reza's The God of Carnage. A spirited but weak contemporary take on Jean-Paul Sartre's No Exit, the script is full of glib ironies and cheap jabs at these upper-class parents who are all just snarling pack animals underneath their civilized veneers. These characters are highly unpleasant people, especially the boorish Alan, who holds loud work-related phone conversations in front of strangers and then gets shirty with them for infringing on his privacy, and the sanctimonious Penelope, who clearly believes that every child in the world would be better off if only she were allowed to mother them.
Of course, bad behavior is often fascinating to watch, especially when it's acted out by the quartet of heavyweights here. (The languid Waltz comes out the best as a corporate lawyer who knows he's a bastard and is comfortable with it.) Sometimes the bad behavior is highly satisfying, as when an exasperated Nancy finally commits violence upon Alan's phone. Yet the ineptness of Reza's stagecraft makes the single setting seem hermetic and artificial instead of claustrophobic. This film doesn't remind you of Polanski's masterpieces but rather his sterile 1994 effort Death and the Maiden, his last previous adaptation of a stage play. Carnage isn't as dull as that, but it expends an awful lot of energy in 90 minutes without accomplishing much.
Carnage
Starring Jodie Foster, John C. Reilly, Christoph Waltz, and Kate Winslet. Directed by Roman Polanski. Written by Roman Polanski and Yasmina Reza, based on Reza's play. Rated R.