A couple years ago, I set out for the Mid-Cities in search of this fabled bar called Volcanos Sports Bar & Grill. I'd heard it was this badass carpet bar, a suburban dive whose legend practically glowed with the soft-hued yellow light fixtures I assumed must have hung from the rafters. Of course, this was before I got an iPhone, directions from which got me totally turned around and lost. By the time I discovered I was in Colleyville, I gave up, opting for a lone beer at Papa G's in Bedford. Then in November, I reviewed Café Medi, a charming Greek-centric restaurant on Grapevine Highway in Hurst. As I made my way through the midday traffic, I saw Volcanos' huge, unlit sign. Kaboom, I thought.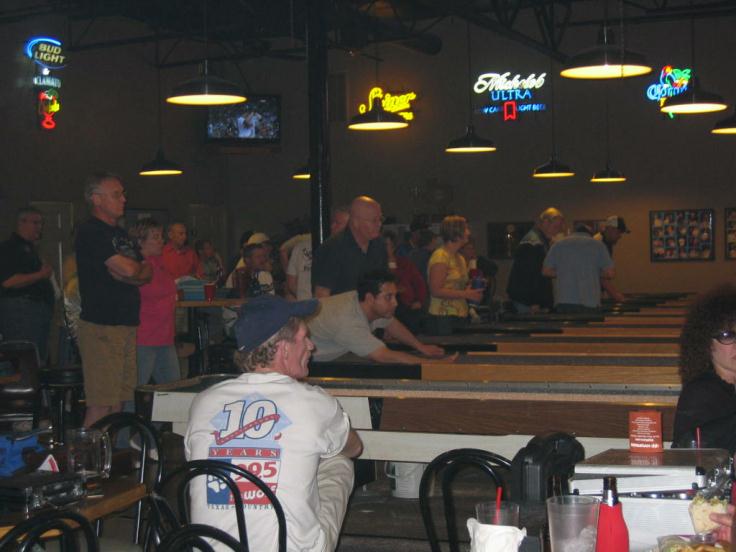 I went back a couple of nights later, when the giant neon sign was alive with color, exploding like its namesake from the front of its strip-mall storefront. The windows were tinted, but there were enough of them to give me the suspicion that Volcanos was a lot bigger than the type of dive I was expecting. When I flung open the door, the thought occurred to me that the person who'd given me the tip about Volcanos had never actually been there. Volcanos is about as far from a quaint neighborhood dive as I am from dunking over Ian Mahinmi.
Instead of low lights, wood paneling, and a dame who's been tending bar for a thousand years, Volcano's was bright and busy, with attractive twentysomething brunettes pouring drinks and a ton of folks shooting pool. If you like bar sports, this is the place to be — I counted 10 pool tables, most of which were full, and when I went back on Monday night, there were probably 35 people clustered at poker tables. Volcanos hosts card games on Mondays and Thursdays, and various dart and pool leagues compete nightly. There's also shuffleboard, Golden Tee, Big Buck Hunter, and Silver Strike Bowling, though I've yet to see someone play that game at any bar ever. Where a little dive might have faux wood and framed photographs on the walls, Volcanos has flat-screens and framed sports memorabilia. So you like that Pujols jersey on the wall? Tell your bartender — every collectible is for sale.
In short, Volcanos is just a gigantic suburban sports bar. I don't hold that against the place, though. The first time I went there, a couple regulars were crowing about the merits of Audioslave, presumably because "Like a Stone" had just come on the jukebox. I'll begrudgingly cop to liking that song, but this one guy took it to the next level, going as far as to say that Audioslave was better than Rage Against the Machine and Soundgarden combined, which sort of makes sense, given that Audioslave actually is Rage and Soundgarden combined. I don't know about the band being greater than its separate constituents, though. If pressed, I'd say Audioslave is definitely better than skim milk, but that's only because no one has ever preferred skim milk to anything in all of time.
Anyway, a week or so later, when I was going over my memories of the Volcanos visits, I ran through all the ways my ill-informed friend might have been mistaken about the place. Maybe there was carpet, I mused. Was there carpet? I hadn't noticed — I was more interested in what the Audioslave superfan thought about Kid Rock, because "Cowboy" had come up next on the jukebox. So I went back on Monday to find out, also figuring that a gigantic sports bar with an unbroken row of 10 TVs above the liquor shelf would be a good place to watch the National Championship game –– except that the LSU-Alabama tilt turned out to be pretty boring. I ended up reading a Wikipedia article about Steely Dan's "Deacon Blues" on my phone. Lyricist Donald Fagen referred to mid-'70s Alabama football players as "cracker assholes." I thought that was funny, and then the current cracker assholes scored a field goal. I paid my tab and hit the road, crawling like a viper through those suburban streets. –– Steve Steward
Volcanos Sports Bar & Grill
129 E Harwood Rd, Hurst. 817-498-0990.
Contact Last Call at lastcall@fwweekly.com.