The details of a brief November road trip to Austin are still hazy for War Party's four members. In an interview on a recent evening, months after the trip, drummer Peter Marsh could only shake his head, grin, and apologize to his three bandmates about what happened one fateful night, though he stopped short of rehashing specifics.


It was the others who shed only a sliver of light on his antics when they alluded to something about Marsh turning into a "werewolf."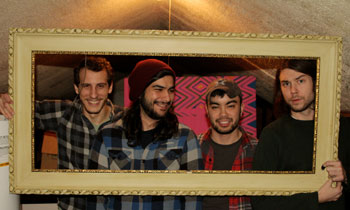 The garage-rocking Fort Worth band was scheduled to play two gigs in Austin but, after failing to find a van to get there, missed the first show. It wasn't until later that night they borrowed a prisoner-transport-turned-touring-van and quickly packed it with a handful of friends, instruments, and enough booze to float a yacht.
From there, the guys said, the details get blurry. In the interview, they barely mentioned their second show, other than to say they made it down there in time to perform. Mostly, the four recounted snippets about a night that culminated in the wee hours of the morning with bassist Tyler Moore and guitarist/trumpeter Ricky Williford throwing quarters at pigeons.
As punk rock-ish as such stories make War Party sound, the Fort Worth band is careful to steer clear of the label, because, in the words of frontman Cameron Smith, punk music "becomes more of a cage than an outlet, because you're just pissed — nothing else."
Still, partying has yet to grow old.
"You're not tired of being in a shitty van that smells like sweat and traveling across the country," said Smith, War Party's 23-year-old co-creator. "You don't get tired of that, but you get tired of some of the other bullshit … like when you are always expected to be pissed off all the time. There's really not a lot of room for any artistic expression in it."
Smith and his bandmates spent many nights making the rounds of Fort Worth's punk scene. His last band, Decades, also based here, toured the national punk circuit and played shows as far away as New York City from 2006 until the group disbanded in 2010.
Smith, who, like many local musicians, has experience working for Starbucks, took the breakup as an opportunity to leave the punk mold behind. He joined his boss' brother, Marsh, to create a sound carefully crafted not to fit any single style. The duo's first set of recordings, the album Year of the D-g, just came out and is available for download at http://thewarparty.bandcamp.com.
As a four-member group, War Party is working on its first official album that will be released through the band's DIY production arm, Lo-Life Recordings. A tour also is in the works.
Smith and Marsh began jamming together in early 2011 and even recorded an early album sketch by that spring. Decades guitarist and Smith's long-time friend Moore joined as War Party's bassist that summer. Williford, another punk rocker who continues to play with the hardcore Fort Worth group Big Fiction, joined War Party on guitar and trumpet shortly thereafter.
How much punk still lingers in War Party's music varies from song to song; most of the band's tracks contain at least a hint of the sound.
First, there are Smith's vocals, which share a hoarse rawness with Rancid vocalist Tim Armstrong's. On the instrumental front, War Party's sound blends fast-and-furious punk strumming and drumming with poppy, up-tempo melodies from '60s doo-wop.
"That was the first kind of music I ever liked," Smith said, referring to everything from Motown to Al Green. His bandmates are equally fond of the pop music from the '60s and '70s: Smokey Robinson, The Monkees, The Everly Brothers, and, above all, Leonard Cohen.
War Party's much edgier, grungier, and R-rated influences range from The Stooges to The Clash to Nirvana. Mash these with the classics, and you might get a sense why the War Party guys classify their music, dryly, as "don't-wop."
"Having that background and then having me idolizing Dave Grohl and people like that, we have these weird backgrounds that intertwine," Williford said. "We have these weird songs that will be really poppy and doo-woppy, and then suddenly it becomes a bit darker for a minute, then it comes back."
The sound caught on pretty quick. War Party had barely played its first show as a four-person band in June when other venues came knocking. The project took off much faster than Smith and Marsh had anticipated during their first garage jam sessions just a few months earlier.
Smith chalks this up to his generation's craving for throwbacks, pieces of simpler eras. "It's almost like we're in this age of remorse, where everybody just sort of misses the past. KitchenAid is making retro-looking blenders. Everybody is like, 'Gosh, shit is getting so fucked up I wish it was like the '50s or the '60s.' "
War Party
Opening w/Vorvon for Stella Rose on Fri at The Grotto, 517 University Dr, FW. 817-882-9331.