The lanky stoner-looking dude at the bar at the White Elephant Saloon in the Stockyards might seem a little out of place amid all the Rockies and Stetsons, and you might wonder if the regulars figure he got lost on his way to a heavy metal show.


But the dude is Cody Jinks, and he's been playing the joint for years.
Since his metal band broke up, that is.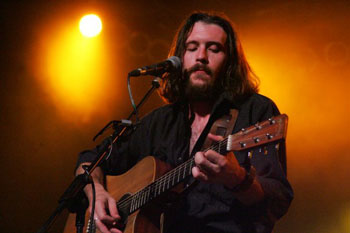 Jinks is the former frontman of Unchecked Aggression, a Fort Worth thrash-metal outfit that caught fire at the tail-end of the era driven in part by the legendary rock club Joe's Garage. The band, from its birth in 1997 to its disbanding in 2003, developed a pretty big following. Jinks sang lead and played rhythm guitar. "I basically wanted to be James Hetfield," he said, but the band fell apart after a rough trip to Los Angeles, a time fraught with heavy drinking and animosity among the band members.
After Unchecked Aggression called it quits, Jinks, a Haltom City native, reverted to his formative musical influences. "I grew up with country music, with some rock 'n' roll mixed in, and I came back to it," Jinks said. He took a year off following his old band's dissolution before hitting the honkytonks in 2005. He's been on the road ever since.
While he's played his share of honkytonks, Jinks is far removed from the ubiquitous Texas/Red Dirt artists normally listed on C&W marquees. His songs harken back to the outlaw sound of Waylon Jennings, sung in an honest, whiskey-wracked baritone. He's already released three albums and is about to drop a fourth.
While still undeniably country, Jinks' music has evolved into a more personal, singer-songwriter style. "The first record I did was very Nashville," he said. "I didn't know what else to do. I'd just come off the metal scene, and I didn't know what country scenes were — I just started covering songs I liked, and that [album] had a pretty big Nashville feel to it."
After a raw management deal a few years ago, Jinks has run his career and that of his band, the Tone Deaf Hippies, on his own, doing most of the booking save for some logistical wrangling in Europe. While the Hippies' lineup has rotated over the years, his current crew has been around for awhile: Lead guitarist Jon Wallace has been in the band for two years, and bass player Joshua Thompson has been around since Jinks made the switch from metal. The newest member, drummer Brendon O'Neil, joined last fall. "He's gonna be the permanent guy," Jinks said. "He wants to do all the road work."
Being able to tour is a requirement. "I don't rely on radio or press to promote my albums," Jinks said. "It's kind of a DIY punk-rock mentality: Just get in the van and go."
And while Jinks has taken his band and their van all across Texas and the Midwest, he's also been on four tours of Germany, selling out shows in a country more famous for hardcore techno than tear-in-my-beer balladry.
Except for his out-of-print debut, Collectors Items, Jinks' albums –– 2008's Cast No Stones and 2010's Less Wise –– are available at Jinks' shows and via Amazon, iTunes, and CD Baby. "I'm not selling a ton of records, but doing it on my own means I keep most of the proceeds," he said. "The only thing I really have to pay out is publishing for the guys whose songs I covered, and I do that gladly."
Less Wise includes a Fort Worth cover, "Last Call for the Blues," Scott Copeland's ode to self-awareness of self-destruction. "Scott's one of my favorite writers, period," Jinks said. "When I first heard that song, I thought, wow." The cover is heartbreaking and unapologetic, wrought with the sentiment that gives the saddest Merle Haggard songs their downtrodden power.
Jinks typically writes alone, though he has collaborated with Hippie Wallace, and for Jinks' forthcoming album, 30, he's partnered with Sam Anderson (Quaker City Night Hawks, EPIC RUINS) for a track. Jinks has finished the recording with musician/producer Nick Choate at Choate's Blue Smoke Studios in Fort Worth and expects the album to be released in the next month.
His second album, also recorded at Blue Smoke, moved away from pop-country gloss, and by Less Wise, he'd gotten comfortable with a stripped-down live-record vibe, using his road band to flesh out a suite of more authentic songs. "I wanted that record to be more 'what you see is what you get,' " he said.
As a songwriter, Jinks has always drawn from personal experience, but with 30, he has been trying to write better "story songs." His drive to improve his songwriting is informed by the skills of his peers. "It's tough," he said, "because I want you to feel like you've lived [a song] in order to believe it, but I'll also look at guys like [Fort Worth/Austin singer-songwriter] Jason Eady –– he can write a song that's so good you don't know where he came from, but you don't care because it sounds real. I just want to be a better storyteller."
After 30's release, Jinks and his band will hit the road on a Midwestern run before embarking on another trip across the pond, his first in three years.
"On the last trip," he said, "I went by myself and had to play with a local band, but on this one, I get to take my guys. And now, the people who saw me four or five years ago get to see my show with my real band."
Cody Jinks
Every Wed 7-9 at White Elephant Saloon, 106 E Exchange Av, FW. 817-624-8273.