Last year around this time, Fort Worth's experimental-improv Hentai Improvising Orchestra had decided to forgo public performances entirely. The quartet's challenging nonlinear sonic art doesn't necessarily jibe with traditional venues, full of drinkers, smokers, and chatty Cathys.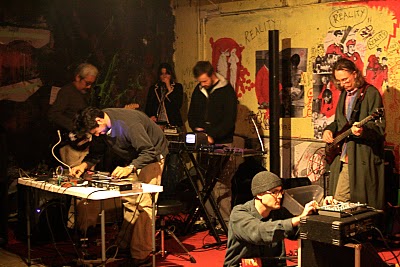 Marcus Brunt, Matt Hickey, Terry Horn, and Ken Shimamoto longed for a forum where they and like-minded cats could perform "without having to worry about bringing a crowd," Shimamoto said. HIO eventually began crawling out of its shell, performing with the Big Rig Dance Collective, a Denton troupe, and hosting/playing shows at Doc's Records & Vintage at the store's original, Montgomery Street location. The Cellar (2916 W Berry St, 817-923-6116) invited HIO to host an "experimprov" music series after a recent HIO gig there. "We played to two people," Shimamoto recalled, "a guy we brought who doesn't drink alcohol and wouldn't even allow us to buy him a ginger ale or orange juice and a kid who works [with Shimamoto] at Central Market who was apparently there –– I didn't see him, but he described what we did accurately, so he must have been. But we drank up all their English beer. A few days later, [Cellar bartender] Billy Wilson reached out and offered us the residency." Thus Improvised Silence, a last-Sunday-of-every-month invitational series hosted by HIO, was born. For the inaugural performance, this Sunday, HIO will be joined by two special guests: Fort Worth bluegrazz ax-man Darrin Kobetich on sitar with Giri Akkaraju on mridangam and other drums. Next month will be HIO with Zanzibar Snails contributor Sarah Alexander and Dentonite Julie McKendrick. In March: with Darryl Wood (The Panic Basket, Confusatron, Parasite Lost). April: with JoCo (Drift Era's Jonathan O'Connor and Alan's Chris Hardee). The near future will also see Cottonmouth TX (Jeff Liles of Dallas' Kessler Theater) and possibly An Evening with Zeitmordor, the synth-y one-man project of drummer Jon Teague (Pinkish Black, Stoogeaphilia). "The Cellar on a Sunday night seems like an appropriate spot," Shimamoto said. "While it's not reasonable to expect something like what the Nihilist Spasm Band up in Canada has built –– they've played every Monday night at the same bar for decades –– we're happy to have the opportunity, and we'll see how long this lasts." The music gets going at 9pm. No cover.
Because of my immense, uh, journalistic integrity (laziness?), I try to refrain from delving into music classifieds. But I'm making an exception in the case of FTW, a killer Fort Worth psych-doom metal outfit seeking a drummer. Don't believe me that they're badass? Read what multi-instrumentalist Ray Liberio (The Me-Thinks, Stoogeaphilia, Vorvon) had to say on FTW's drummer-search FB page: "I love me some FTW! LOVE!" Liberio writes. "If I wasn't already in 97,652 bands I would join this band in a second. Drummers, do [yourselves] a favor and come to [the] slow and heavy side and have some fun with this great Fort Worth band!" (Exclamations his.) FTW's next gig is with Dallas' Wo Fat and Mothership and Fort Worth's Southern Train Gypsy on Saturday, Feb. 11, at The Boiler Room (2723 Elm St, Dallas, 214-758-0104).
Contact HearSay at hearsay@fwweekly.com.