Passersby on Belknap Street may look at Momma Mia's aged outer brickwork and shrug the joint off as just another cheap Italian bistro knockoff that serves oily pizza and stale subs. On the outside, it might as well be a Sbarro.


And such passersby would be missing out, because simply ducking inside the historically significant brick building plopped next to a fume-choked intersection reveals a charming industrial interior replete with exposed rafters and some of the best — to translate into Texan — I-talian food this side of Highway 360.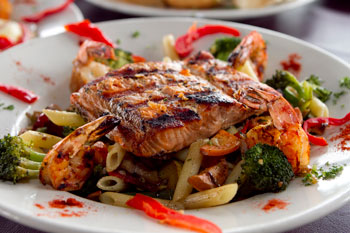 Some restaurants serve only a few gems amid a menu full of mediocre filler dishes. Not Momma Mia, a five-year-old stand-alone that until recently was owned by the same folks who later opened the location with the same name on the Near South Side. You could throw a dart at this menu, and, chances are, whatever arrives at your table will tickle your tastebuds and make you moan ecstatically.
Everything ordered on a recent Monday afternoon was a convincing testimony to Italian food done right –– or at least approximately so –– in the States; really, yummy all around, beginning with a house salad layered with an impressive variety of crisp veggies and topped with a special in-house tomato vinaigrette dressing boasting a subtle tanginess sans any vinegary aftertaste. Dressing this good doesn't come in plastic bottles; it alone is worth the trip. Also, the pre-dinner bread was flaky, soft, and fresh out of the oven.
The spinach and egg soup, however, was probably the only low point of the evening. Though definitely not out of a can, it lacked any particular flavor that might have set it apart.
A calamari appetizer arrived promptly. Skip the accompanying cocktail sauce, because this fried squid needs no help. Anybody who orders calamari in landlocked Fort Worth should know not to expect anything fresh off the boat. The rule held true here: You could tell this calamari wasn't as fresh as you'd find on the coasts, but expert preparation really helped compensate, with a deep-fried crispiness minus the typical grease. And — hark! — the squid itself was not too chewy. Imagine that.
Italian-loving foodies may need some time to choose a main dish –– the menu is lined with all of the Big Boot's usual delicious suspects: raviolis, a litany of pastas, and, of course, pizza. As tempting as it is to go with a pie — because who is not in a pizza mood at any given time and place, all the time, forever? — you may want to experiment. Although this joint's pizza is scrumptious (based on previous experience), it's much easier to find a good slice of non-franchise pie than it is to find, say, a noteworthy plate of tilapia piccata.
Again, ordering seafood in North Texas is like going to a New York City honkytonk: It's a gamble. Momma Mia, however, delivered one fine piece of fish lathered in a hearty garlic-butter sauce and flanked by a medley of steamed veggies. The sauce nicely complemented the fish, meaning it didn't overpower the tilapia, a type of fish that can be easily overpowered. And the veggies managed not to sell their crunchy souls during the steam bath.
Entrée No. 2, baked ravioli, demonstrated Momma Mia's acumen for down-home Italian fare. These handsome pockets of ricotta cheese looked every bit as legit and homemade as they tasted. Perhaps the only, and minor, drawback to the dish was the hefty serving of sauce that almost drowned out the pasta. But the ricotta cheese was plentiful and comforting. Also, this dish will set you back only about $7.50, about the same price as a Double Whataburger with cheese. Authentic ravioli or fast food? No comparison.
For dessert, stick to another Italian staple: tiramisu. A sizable slice of Momma Mia's was fluffy and indulgent without shellacking you with sugar. Again, somebody here has either studied in Italy or has done his or her homework.
Service was prompt and friendly, and kudos to a friendly waitress who sneaked an extra cup of the not-for-sale vinaigrette into the takeout bag for a salad at home later.
Momma Mia's
3124 E Belknap St, FW. 817-759-0100. Closed Sun, 11am-10pm Mon-Sat.
All major credit cards accepted.
Fried calamari ….. $7.55
Tilapia piccata .. $13.95
Baked ravioli ……. $7.55
Dinner salad ……. $2.75
Tiramisu ………….. $4.75