Le Havre made the honorable mention section of the Weekly's list of the best movies of 2011, but only now can Fort Worth audiences get a chance to see this superb French comedy.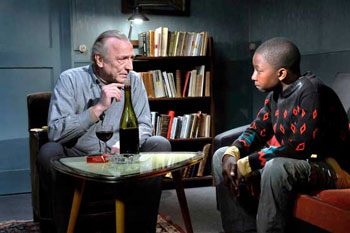 Directed by Finnish filmmaker Aki Kaurismäki, the movie starts with a boy (Blondin Miguel) from the West African nation of Gabon escaping after a shipping crate full of other illegal Gabonese immigrants is held up by French customs. (Is it us, or do all of Kaurismäki's films involve shipping crates?) Anyway, the boy winds up finding refuge in the house of an elderly Frenchman (André Wilms) whose wife (Kati Outinen) is gravely ill in a hospital.
The film takes its name from the French city where it takes place, but it also refers to the literal meaning of "Le Havre" as "The Harbor," with the old man trying to build a corner of the world that's safe from harm while trying to find the boy's mother. Kaurismäki (pronounce his name cow-ris-MACK-ee) treats this all as the occasion for delightful deadpan comedy. It's hard not to be charmed when the plot winds up hinging on the romantic situation of a rockabilly-singing dwarf (played by real-life dwarf rockabilly singer Roberto "Little Bob" Piazza). Kaurismäki films don't make it to American theaters all that often. This film is a beguiling way to find out what this Finnish master of gentle comedy is all about.
Le Havre runs Fri-Sun at Modern Art Museum of Fort Worth, 3200 Darnell St, FW. Tickets are $6.50-8.50. Call 817-738-9215.